Each year, more Americans turn away from Oscar night. There are many reasons for the ratings decline; watching pampered millionaires throw a party for themselves for 3-plus hours isn't a compelling 21st-century entertainment offering. Having that same group of actors, agents and hangers-on lecture us about how to think, vote and behave has only added to the problem. That the entire gaggle thinks alike about almost everything—or pretends to—is lost only on them.
It's been half a century since something interesting happened on Oscar night. Back in 1973—the night Marlon Brando won Best Actor for The Godfather—a Native American actress appeared in his place, explaining that Brando couldn't accept the award because of Hollywood's portrayal of Native Americans. Brando was a rebel, if a clueless one. That Italian-Americans may not have been thrilled with yet another Mafia movie depicting them as mobsters and murderers the actor somehow missed.
Flash forward 50 years, and—through no effort of the producers'—something compelling happened on Oscar night.
By now, everyone in America has seen Chris Rock's joke about Jada Pinkett Smith's shaved head, the result of her struggles with alopecia. Pinkett is actor Will Smith's wife.
"Jada, I love you, G.I. Jane 2, can't wait to see it," Rock joked, referring to a 1997 drama for which actress Demi Moore shaved her head. The camera cut to Smith, who was laughing. Pinkett, however, took offense, rolling her eyes in an outright display of anger.
Then came what many people thought was an impromptu comedy bit, as Smith got out of his seat and approached Rock. Even Rock was laughing as Smith got closer. Then came the shot heard round the world. What we watched was not a mere slap, but a hard shot to Rock's face. The comedian didn't see it coming. The nation didn't either. Not from the Fresh Prince.
Even after getting slapped, Rock did his best to save Smith. "Wow. Will Smith just smacked the s*** outta me," Rock joked. Any chance that we were about to see something playful between the two vanished when Smith shouted from his seat, "Keep my wife's name out of your f***ing mouth!"
That's when the crowd understood this was no gag. "Dude, it was a G.I. Jane joke," Rock pleaded.
"Keep my wife's name out of your f***ing mouth!" Smith repeated. The theater fell silent. Sean "Diddy" Combs came to the stage moments later and assured everyone that Smith and Rock would settle things later "like family."
A mere 40 minutes later, Smith returned to accept the Oscar for Best Actor in the role of Richard Williams—father of Venus and Serena—in King Richard to a thunderous ovation from the crowd. What would he say? Would he apologize to the audience? And to Rock, who deserved the apology even more?
Smith instead played the part of self-righteous defender. And victim. "Richard Williams was a fierce defender of his family," Smith began, giving his earlier behavior emotional cover. "I'm being called on in my life to love people, and to protect people and to be a river to my people," he told the audience, tears by now flowing. As if somehow he were the victim—not Rock, a fellow African-American entertainer, actor and father.
Then came movie-star victimology straight out of central casting. "I know to do what we do, you gotta be able to take abuse. You gotta be able to have people talk crazy about you," Smith said, shamelessly weeping at the awful lines he was uttering. "In this business, you gotta have people disrespecting you. And you gotta smile and you gotta pretend like that's ok."
The only moment of humanity came when he mentioned what Oscar winner Denzel Washington, a man who takes his Christian faith seriously, told him: "At your highest moment be careful, that's when the devil comes for you."
Smith ended by apologizing to the Academy and fellow actors, but failed to apologize to the person he hit in the face. He did so almost a full day later. He was seen soon after at an after-party celebrating the night away with his entourage of Hollywood enablers.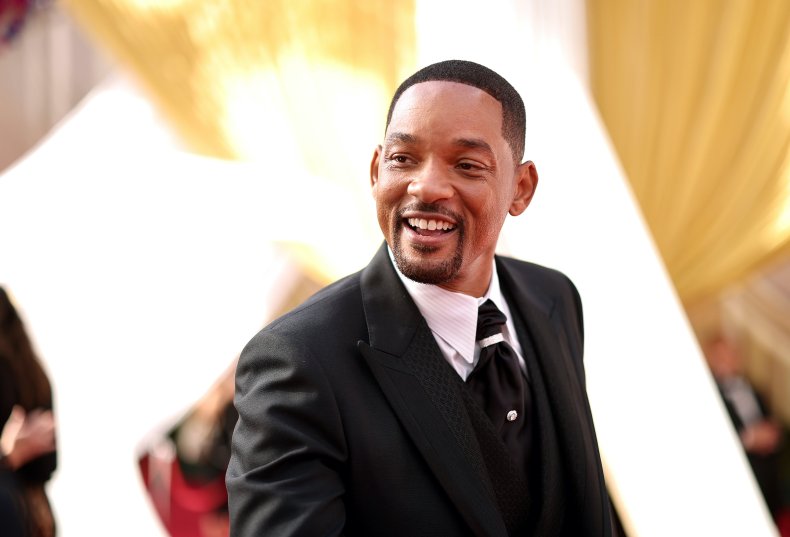 Why did the fun-loving Smith behave so poorly in front of millions on live TV, and billions thanks to YouTube? It turns out the man so many adore is a mere human. A deeply flawed person with struggles like the rest of us.
In a sit-down last year with GQ, Smith revealed some secrets about his life. The kid who grew up in a middle-class neighborhood in West Philadelphia experienced some dark times, including what Smith described as the defining experience of his life at the age of 9—watching the father he loved punch his mother in the head. "It was not the only violence Smith saw his father inflict while growing up, but this particular incident, he writes, 'has defined who I am today'" GQ reported.
For decades, Smith saw himself as a coward for not intervening on his mother's behalf. "His desire to please people, to entertain the crowd, and to make us all laugh...is rooted, at least in part, in the belief that if he kept everyone—his father, his classmates, his fans—smiling, they wouldn't lash out with violence at him or the people he loved."
In his memoir, Smith said this about the character he forged through his work:
What you have come to understand as "Will Smith," the alien annihilating M.C., the bigger-than-life movie star, is largely a construction—a carefully crafted and honed character—designed to protect myself.... Comedy defuses all negativity. It is impossible to be angry, hateful, or violent when you're doubled over laughing.
It took his father's recent death for Smith to come to terms with trauma he'd never grappled with. In addition, his marriage was falling apart in front of the world. An intimacy coach that would be laughed out of business in any zip code but Beverly Hills convinced Smith that his youthful dreams of having "a harem" of girlfriends while being married was not a bad thing.
"What she was doing was essentially cleaning out my mind, letting it know it was okay to be me and be who I was," referring to his youthful dreams of having a harem. "Whereas in my mind, in my Christian upbringing, even my thoughts were sins. That was really the process [the intimacy coach] worked me through to let me realize that my thoughts were not sins and even acting on an impure thought didn't make me a piece of s***."
Tragically for Smith, he believes that nonsense. In Hollywood, where idol worship is everywhere, celebrity infidelity is perhaps the most prevalent evidence of false gods.
Smith also admitted he'd reorganized his moral framework of marriage alongside, and around, his wife. "Jada had family members that had an unconventional relationship," Smith explained. "She grew up in a way that was very different than how I grew up. There were significant endless discussions about, what is relational perfection?" Monogamy, they decided, was the source of their marital problems. That faux insight began their openly open marriage.
"I don't suggest our road for anybody," Smith told GQ, admitting that the normal rules of marriage—rules for all of time—don't apply to him. "The experiences that the freedoms that we've given one another and the unconditional support, to me, is the highest definition of love."
There are many reasons to pray for Smith. That he believes the highest expression of love is found in an open marriage is one, no doubt, along with the violence he witnessed as a boy. That he spent his entire professional career creating a character to avoid grappling with those emotions—and getting famous as a result—may be the saddest part of his story.
A tragic window into Will Smith's world was opened Sunday night. The standing ovation he received from his peers only minutes after assaulting a fellow actor speaks volumes about the world he inhabits and embodies.
So if you're inclined, take a moment and pray for Will Smith. The world props up false idols with joy. And tears them down with greater joy.
Here's hoping Smith isn't one more casualty on fame's dark road. Let's pray he recovers from this episode a wiser, humbler man. With better people around him to face his old and new struggles.
Lee Habeeb is vice president of content for Salem Radio Network and host of Our American Stories. He lives in Oxford, Mississippi, with his wife, Valerie, and his daughter, Reagan.
The views expressed in this article are the writer's own.