#PrayforAmazonia: Photos of Amazon Rainforest Fire Show Devastation of One of World's Largest Ecosystem
People around the world are using the hashtag #PrayforAmazonia as fires continue to rage in Brazil's rainforest.
Fires are moving through Brazil's Amazon rainforest at a record rate this week, and scientists warn it could strike a devastating blow to the fight against climate change.
Dramatic images and videos on social media show giant plumes of smoke rising from trees, and lines of fire leaving blackened waste. The smoke has reached all the way to the city Sao Paolo — more than 1,700 miles away. Images from the city show the sky pitch black in the middle of the afternoon, the sky and sun blanketed by smoke and ash.
The fires are burning at the highest rate since the country's space research center — the National Institute for Space Research (INPE) — began tracking them in 2013, the center said Tuesday.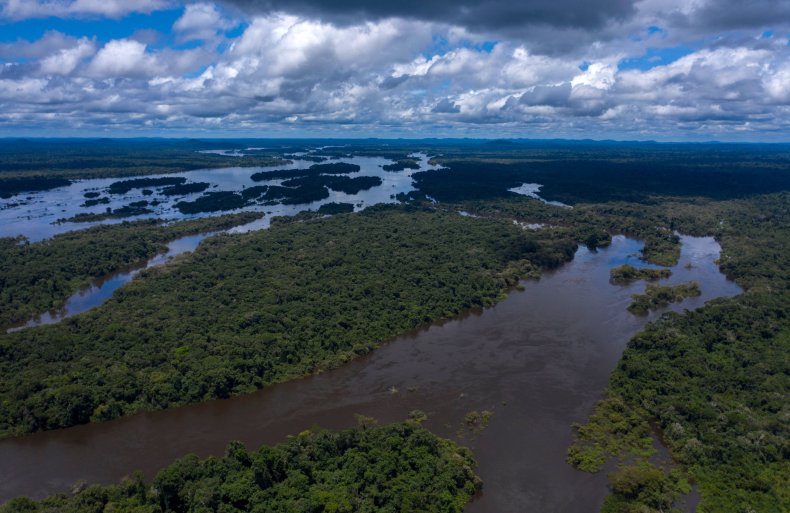 Social media users were quickly drawing attention to the dangers of the fire this week. Biologist Dan Schneider tweeted on Tuesday, "The number of forest fires in the Amazon Rainforest in #Brazil is up 82 percent from last year. The fires are purposely set by ranchers to clear land. They then burn out of control. The Bolsonaro govt has eliminated restrictions on burnings. This must be stopped! #PrayforAmazonia."
Many who are tweeting #PrayforAmazonia are particularly concerned about Brazil's far-right president, Jair Bolsonaro, who has dismissed the severity of the situation.
"I used to be called Captain Chainsaw. Now I am Nero, setting the Amazon aflame," Bolsonaro told reporters according to Reuters on Tuesday. "But it is the season of the queimada." "Season of the queimada" refers to the time of year when farmers intentionally set fire to the forest for agricultural purposes.
One user tweeted on Wednesday, "This is the Brazilian environmental policy under president Bolsonaro. He doesn't care about life. The Amazon Rainforest's burning for about 3 weeks and nothing's been done."
Another said on Tuesday, "Brazil's president is doing nothing to stop what is happening with the Amazon Rainforest. My heritage is from Brazil and it is so sad to see what is happening, it looks like a movie, but it is now."
During his campaign in April, Bolsonaro had promised to roll back protections on Brazil's rainforest and indigenous rights, stating the country's natural resources should be exploited in a "reasonable way."
The Amazon rainforest in Brazil is considered vital in slowing global warming, and it is also home to uncountable species of fauna and flora. Roughly half the size of the U.S., it is the largest rainforest on the planet.
Correction 8/2/21: This article was updated to remove the incorrect statement that the Amazon rainforest produces 20 percent of the world's oxygen.