Preacher's Speech About 'Sin' of Homosexuality Backfires in Hilarious Video
A street preacher's tirade against "sins" including homosexuality and provocative dancing was captured backfiring last month.
The preacher addressed a crowd of Dua Lipa concertgoers outside the First Direct Arena in Leeds, England. The pop singer performed at the venue for her Future Nostalgia tour on April 18.
Spectator Brandon Greaves recorded the preacher's speech in a video that has garnered over 900,000 views on TikTok. Throughout the clip, a diatribe intended to shame Dua Lipa's fans had quite the opposite effect.
"Homosexuality and lesbianism is sin!" he shouted from atop a stool on the curb.
Instead of horror or anger, the preacher was met with a joyful cheer.
"And you celebrate sin?" he demanded.
In response, the group's cheers grew even louder, sprinkled with whistles and affirmative howls.
"How many of you think it's good to get drunk?" the preacher asked. Each question was punctuated with ever more jubilant cheers.
"How many of you think it's good to get high?" he went on. "How many think it's good to dance like a wh**e? How many think that it's good to have sex outside of marriage? How many of you think it's okay to dress in provocative clothing?"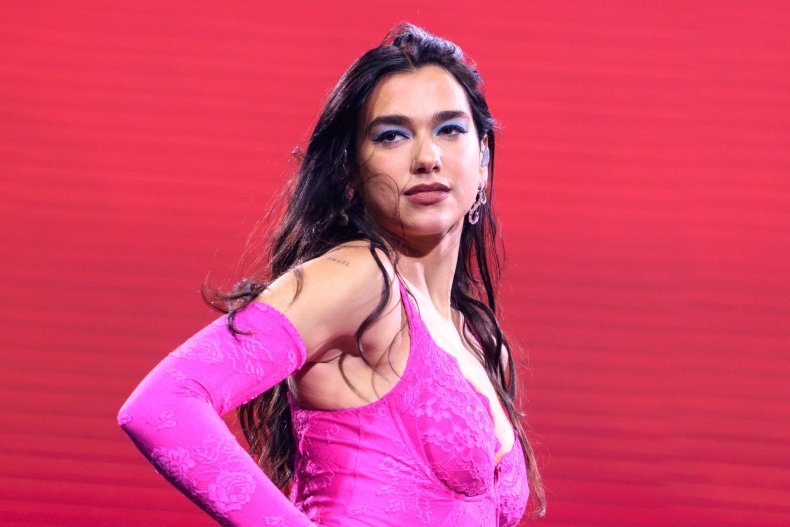 Apparently frustrated with his audience's enthused response, the preacher ended by chastising them, saying, "You're in serious trouble with God. You call evil good and good evil."
His threat did not put a damper on the Dua Lipa fans, some of whom shouted "good," while others laughed and recorded him on their phones.
Last year, Dua Lipa allied herself with the LGBTQ+ community by speaking out against homophobic comments made on stage by her former collaborator DaBaby. At the Rolling Loud Miami music festival, the rapper made widely condemned remarks about gay people and those living with HIV/AIDS.
"I really don't recognise [sic] this as the person I worked with," Dua Lipa said on Instagram. "I know my fans know where my heart lies and that I stand 100% with the LGBTQ community. We need to come together to fight the stigma and ignorance around HIV/AIDS."
On TikTok, numerous viewers of the preacher's speech observed that it had the effect of an opening act for the popstar.
"Best pre-show hype man I've seen so far, nice work sir," joked one comment.
"Threatening us with a good time!" another exclaimed.
"He probably didn't realize he was giving a motivational speech right there," a third viewer laughed.
Newsweek reached out to Greaves for comment.