A predominantly black church in Spokane, Washington has been targeted with flyers featuring racist ideology and Nazi imagery, and a far-right hate group appears to have claimed responsibility.
Feuerkrieg Division (FKD), a neo-Nazi group recently formed in Europe, claimed responsibility for the incident at Spokane's Morning Star Baptist Church on messaging platform Telegram. The encrypted app is said to be a favorite method of communication for alt-right and neo-Nazi groups.
The post made by the hate group claimed the hate-filled flyers were the work of "our recently opened Washington cell." Pictures were included, which showed the flyers posted on telephone poles and signs outside the church. The flyers display images of swastikas and Adolf Hitler alongside statements including "the war never ended and we keep fighting," "turn your sadness into rage" and "it's OK to genocide subhumans [sic]."
The flyers were discovered at Morning Star Baptist Church on Monday. The church seems likely to have been targeted due to a predominately black congregation. It is also home to activist group Spokane Community Against Racism (SCAR).
SCAR was formed in response to racial disparities in the criminal justice system. The group's stated mission is "to identify and address racial disparities through a variety of community efforts, which include education, advocacy, research, community engagement, impacting policy, and challenging existing organizations and structures."
"I'm really concerned about the safety of the people at my church," church pastor and SCAR leader Walter Kendricks told The Spokesman-Review.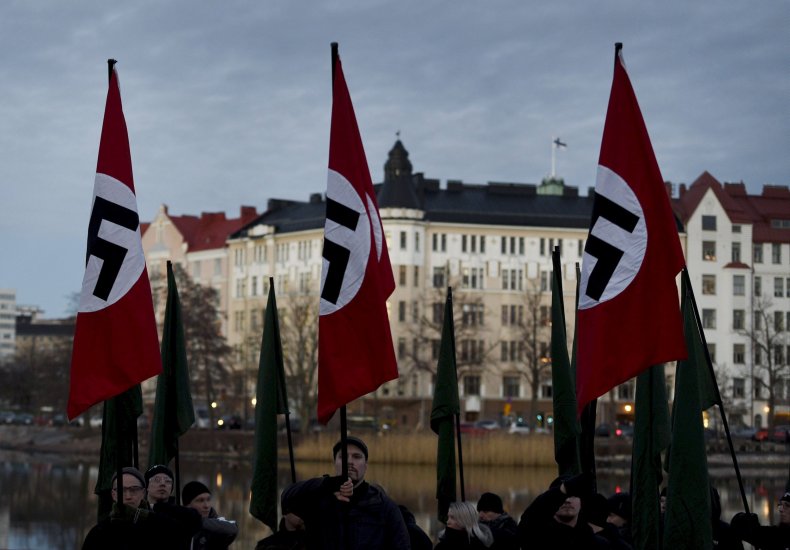 The paper also reports a statement from Spokane police Chief Craig Meidl says that local authorities are "aware of this incident and taking appropriate steps to investigate," and that they stand "in solidarity with all of our community against hate and will relentlessly follow up on those who espouse hateful and violent ideologies."
FKD, which is believed to regularly distribute racist propaganda flyers, was formed in Europe in late 2018, but is said to have an increased focus on American recruits. The Anti-Defamation League (ADL) says the group "calls for violence against their perceived enemies and destruction of 'the system,' or society at large, which they believe is controlled by the Jews."
According to the ADL, the "international group" has around 30 members. A group leader allegedly addressed African Americans in an earlier Telegram posting, saying "It doesn't matter if we kill them now or in the Race War, they will still die and they will be wipped out from the face of our beautiful planet. Black Lives Don't Matter."
While FKD originated in Europe, it is believed to have grown out of the larger neo-Nazi group Atomwaffen Division, which was formed in the southern U.S. in 2015. Members of that group are allegedly responsible for multiple violent incidents and murders. The group has been designated a hate group by the Southern Poverty Law Center, and described as a "terroristic national socialist organization."