Preet Bharara, Fired by Trump, Says 'Absolutely' Enough Evidence for Obstruction Probe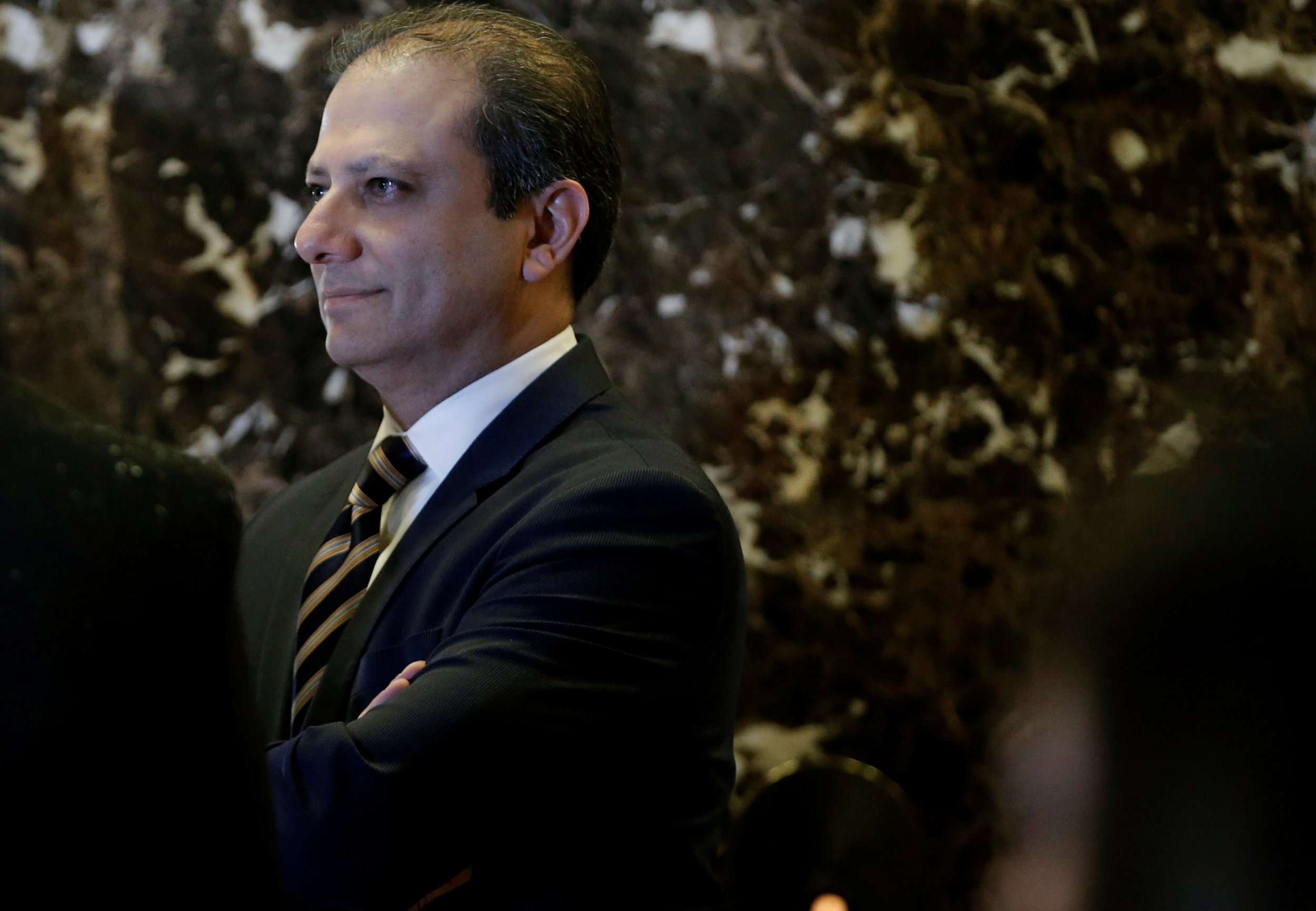 A former U.S. attorney claims there is enough evidence to begin a case against Donald Trump for obstruction of justice.
Preet Bharara said in an interview with ABC's This Week that Trump's alleged effort to dissuade then-FBI director James Comey from pursuing an investigation into former national security director Michael Flynn's contacts with Russia merited an inquiry.
"I think there's absolutely evidence to begin a case," Bharara told This Week host George Stephanopoulos, adding: "I think it's very important for all sorts of armchair speculators in the law to be clear that no one knows right now whether there is a provable case of obstruction."
"It's also true I think from based on what I see as a third party and out of government that there's no basis to say there's no obstruction," he said.
Bharara's comments came on the heels of Comey's testimony to the Senate Intelligence Committee on Thursday, in which the former bureau chief admitted he had leaked the details of a memo about his meeting with Trump in which the president appeared to suggest the investigation into Flynn should be dropped.
"I hope you can see your way clear to letting this go, to letting Flynn go. He is a good guy. I hope you can let this go," Trump said, according to Comey's memo.
However, Trump's lawyer Marc Kasowitz said: "The president never, in form, or substance, directed or suggested that Mr. Comey stop investigating anyone, including suggestions that Mr. Comey 'let Flynn go.'"
Comey's admission that he leaked details of the memo has prompted questions over the legality of the former FBI chief leaking such information.
But Bharara, who was speaking in his first interview since being fired by Trump from his role as U.S. attorney for the Southern District of New York, said this was "a distraction" and should not be the focus of people's attention.
"I think the main point that people should be focusing on… is that you have, you have uncontroverted from someone who was under oath that on at least one occasion, the president of the United States cleared a room of his vice president and his attorney general, and told his director of the FBI that he should essentially drop a case against his former national security adviser," Bharara said. "And whether or not that is impeachable or that's indictable, that's a very serious thing."
"That's an incredibly serious thing if people think that the president of the United States can tell heads of law enforcement agencies, based on his own whim or his own personal preferences or friendships, that they should or should not pursue particular criminal cases against individuals. That's not how America works," he added.
His suggestion there is enough evidence to prompt an investigation over obstruction of justice has support from the leading Democrat on the Senate Judiciary Committee, Senator Dianne Feinstein, who also is a member of the Senate Intelligence Committee.
In letter seen by CNN that she sent to Senate Judiciary Committee chairman Chuck Grassley on Friday, she wrote: "It is my strong recommendation that the Judiciary Committee investigate all issues that raise a question of obstruction of justice.
"These issues should be developed by our legal staff, presented to us, and be subject to full committee hearings," she added.
And Comey said during his testimony to the intelligence committee he was "sure" the matter was being looked into, possibly suggesting Trump was being investigated for obstruction of justice by special counsel Robert Mueller.
"I don't think it's for me to say whether the conversation I had with the president was an effort to obstruct," he said. "I took it as a very disturbing thing, very concerning. But that's a conclusion I'm sure the special counsel will work toward, to try and understand what the intention was there and whether that's an offense."
The White House press office did not immediately respond to Newsweek's request for comment.