Claims That Abortions Can Be Reversed to Save Life Are Shaping State Laws Despite Limited Medical Evidence
Updated | New research claims the effects of the "abortion pill," also known as RU-486, can be safely and effectively reversed to save the embryo. That claim, published in a journal with links to anti-abortion organizations, is not supported by evidence, experts say—but some state laws are using this and a similar, smaller study to make doctors repeat the claim to their patients anyway.
Currently, three states require doctors to tell their patients that a medical abortion could be reversed as part of getting informed consent. In July, Idaho will become the fourth state with a similar requirement after a state Senate bill was signed into law on March 20.
The latest abortion reversal research, published in Issues in Law and Medicine, analyzes more than 500 cases of women who called a hotline after beginning a medical abortion. At that point, their embryos had a detectable heartbeat on an ultrasound. The study does not specify which abortion reversal hotline the women contacted.
But the sponsors of the Idaho legislation were aware of the study and the gist of its results before it was published, state Senator Lori Den Hartog told Newsweek. "We were working directly with the doctors who had pioneered the reversal protocol," she said. Only an earlier, smaller study was referenced in legislative testimony about the bill.
A medical abortion involves two medications, not just one so-called "abortion pill." One drug, mifepristone, binds to progesterone receptors. When it's taken with misoprostol, the drug will soften a woman's cervix and make her uterus more likely to contract—which disrupts and terminates a pregnancy.
Each of the women included in the study took mifepristone but hadn't yet taken misoprostol. Instead, they received a hormone linked with the menstrual cycle and pregnancy called progesterone. About 64 percent of women who got an injection of progesterone and 68 percent of women who got high doses of progesterone in pill form continued their pregnancies. Other doses of progesterone were tried, too. The overall reversal rate was about 48 percent.
"The reversal of the effects of mifepristone using progesterone is safe and effective," the authors concluded. (Among those authors are Dr. George Delgado, a family medicine specialist and the medical director of the Culture of Life Family Services pregnancy center, which appears to be a crisis pregnancy center based in California. In July 2017, The New York Times reported that abortion reversal is considered Delgado's "brainchild." In the paper, Delgado claims to be a "voluntary associate clinical professor" at the University of California, San Diego. A spokesperson for UCSD's School of Medicine told Newsweek he does not have any current affiliation or appointment.)
However, the American College of Obstetricians and Gynecologists disagrees with the authors' conclusion. An August 2017 fact sheet from the organization on reversing medical abortions states that "so-called abortion 'reversal' procedures are unproven and unethical," and that the procedures are "not supported by science." The conclusions of case series studies—like this research and a similar paper published by Delgado in 2012—are considered to be weaker than those drawn from experiments with other designs.
This particular case series excluded hundreds of cases, including ones where there was no detectable heartbeat—and case series can't really lead to strong conclusions on their own, anyway. "In medicine, we will use a case series like this to help inform good research," Dr. Barbara Levy, vice president for health policy for the American College of Obstetricians and Gynecologists, told Newsweek. "But we wouldn't call this research."
There are other technical issues with the paper, Levy said. The researchers compared their results to an older study's findings about what happened to a pregnancy after women took mifepristone to show that progesterone increased the number of pregnancies that continued, Levy noted. The study also used a wide variety of injected progesterone protocols, ranging from one to more than 10 injections of unknown doses. The researchers also didn't measure how much progesterone was in a woman's blood.
Delgado and his co-authors suggest that further research using a randomized controlled trial—an experimental design that allows scientists to draw stronger conclusions than a case series—would be needed to confirm which dose and mode of delivery might be most effective. Newsweek's request for comment to Delgado, sent by e-mail to the press contact at Culture of Life Family Services, did not receive a reply by Wednesday afternoon.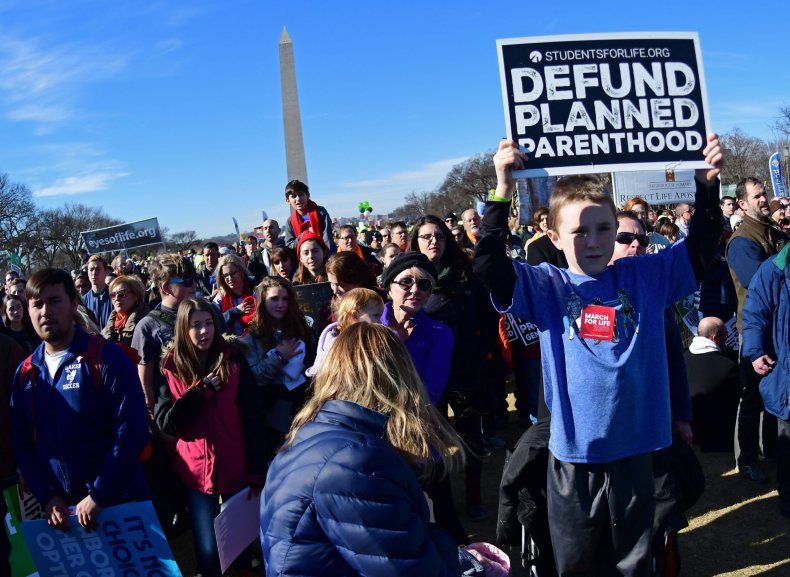 Delgado's affiliations and those of the journal in which he published indicate links to the anti-abortion movement. Culture of Life Family Services appears to be a crisis pregnancy center. The organization's website states that it is a "non-profit organization dedicated to helping women and families in unplanned crisis pregnancies and offering a true choice to abortion methods." Crisis pregnancy centers generally encourage women against getting abortions. Some have argued that the centers are "legal but unethical."
One of the organization's two websites is abortionpillreversal.com. According to WHOIS records, which lists who owns websites, abortionpillreversal.com is owned by Jacob Barr of irapture.com, a web services company based in Tucson, Arizona. "I believe the Abortion Pill Reversal process is the best innovation for the pro-life movement since the ultrasound machine," a blog post attributed to Barr states.
The journal in which the paper was published, Issues in Law and Medicine, is co-sponsored by the Watson Bowes Research Institute, which claims to be the "premier site for balanced research into the life sciences," according to the organizations' websites. The Watson Bowes Research Institute is "an academic institute dedicated to fostering a fair scientific appraisal of claims pertinent to life issues," according to the American Association for Pro-Life Obstetricians and Gynecologists' tax forms. The organization gave the Institute $175,776 in 2016.
Despite the limited medical evidence backing them, abortion reversal studies may be used to influence future state legislation, if the past is any guide. According to the Guttmacher Institute, a policy organization that supports reducing barriers to abortion, state laws like Idaho's are "primarily based" on Delgado's scientific paper from 2012. A 2015 review found that study was the only one that truly looked at reversing abortion.
Idaho's new law states it will require the state's health department to include additional "nonmisleading and medically accurate" information, including about who women can contact to get help reversing an abortion, in materials to assure that women are given "truly informed consent."
Nearly all women surveyed three years after a procedure reported that abortion was "the right decision," according to one 2015 study. Still, researching whether progesterone might counteract mifepristone is a legitimate question, Levy said—but the conclusions of Delgado's latest study have been taken a step too far.
"I would be the last person to look at a woman and say, 'I can reverse this medicine you took with this other medicine,'" she said. "There's just not enough information."
This article has been updated to include comments from Lori Den Hartog, a sponsor of Idaho's new legislation.