Woman Drinks Raspberry Tea, Goes Into Labor, And Has Baby Within 20 Minutes
A TikTok video of a woman who drank raspberry leaf tea to 'kick-start' labor has gone viral, with over 3.2 million views. In the video, UK-based personal trainer, Libby Osaye, can be seen on all fours being wheeled into the labor ward in hospital.
She captioned the post: "When you drank raspberry leaf tea, dilated to 10cm, went into labor, had no time to take your dress off and had your baby in 20 minutes."
Speaking to Newsweek Ms. Osaye said: "I was approaching 41 weeks pregnant and I did not want to be induced. I wanted to have a more natural birth."
Typically, childbirth labor lasts between eight and 12 hours, and a full-term pregnancy lasts around 40 weeks.
She said: "I drank the tea for the first time at 40 weeks and 6 days in the evening, and went into labor the next day at 6am."
The ingredients of the raspberry tea that Ms. Osaye alleges "kick-started" her labor include: Organic hibiscus, organic apple pomace, organic raspberry leaves, and rosehip.
She added: "I wasn't convinced it would work, but I had heard from another woman that it worked for other women so I thought I'd try it out."
UK-based charity Tommy's is the largest UK charity funding research into pre and post-natal care. Speaking to Newsweek, a medical representative of Tommy's said: "Complementary therapies may be offered to women or birthing people by trained practitioners. There are lots of theories about how complementary therapies can stimulate spontaneous labor and get labor going naturally but not enough scientific evidence to prove that any of them work.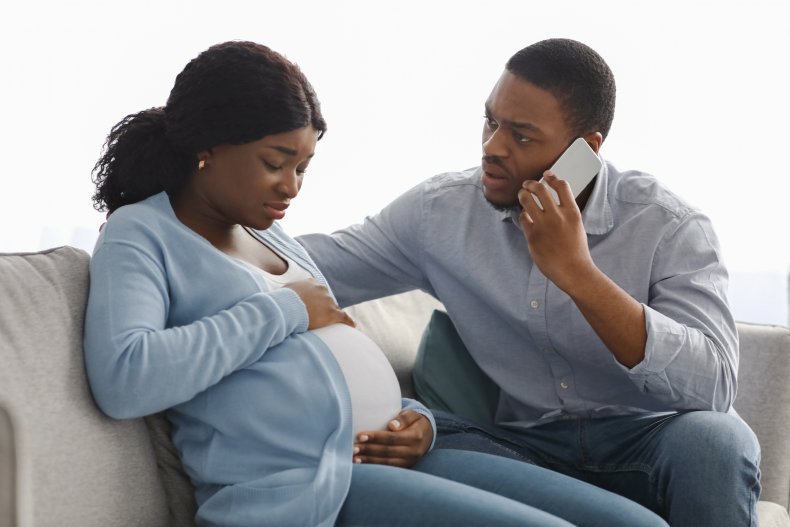 "We will always advise that women and pregnant people consult their midwife before trying anything to kickstart labor. Discuss any plan to use complementary therapies with your midwife or doctor, particularly if you have a low-lying placenta, if there are any concerns about your growing baby, or any other medical conditions such as high blood pressure."
Raspberry leaf has long been thought of as a traditional herbal remedy often recommended in the last three months of pregnancy to prepare for birth.
According to Tommy's, "Containing vitamins, tannins, and minerals, it's thought to help tone the smooth muscles of your womb so they work more efficiently when you're in labor. It is not intended to be used specifically to get labor going when you're due or overdue. It could be dangerous as it may cause excessively strong contractions which could distress your baby."
The British National Formulary, which advises healthcare professionals about medicines, says caution should be used with certain 'natural' remedies to aid birth including, evening primrose oil due to its inconclusive safety profile, castor oil as there is no scientific evidence it works but can make you feel very sick, and clary sage oil due to its ability to cause severe contractions which can be harmful, especially if you have previously had a cesarean.
They added: "Lastly, while there's no evidence that having sex can bring on labor, we'd definitely suggest avoiding it if your waters have already broken as there's a risk of infection."
Tommy's said: "It is vital that women and pregnant people consult with their midwife or doctor who is trained in complementary therapies for advice, rather than relying purely on information from social media.
"It's also important to remember that if your baby is a few days late, there is no reason to worry – most babies will stay perfectly healthy. Most labors will start naturally, but if not, options for induction of labor will be offered together with advice about baby movements which are a really valuable way to monitor the wellbeing of the baby."