Weird Royal Pregnancy Rules Meghan Markle and Prince Harry Have to Follow
Another royal baby is on the way! This time, however, it's not Kate Middleton and Prince William who are expecting. After tying the knot at Windsor Castle in May, Meghan Markle and Prince Harry are set to welcome their first child sometime next year.
"Their Royal Highnesses The Duke and Duchess of Sussex are very pleased to announce that The Duchess of Sussex is expecting a baby in the Spring of 2019," Kensington Palace said in a Twitter statement Monday.
The couple's announcement surfaced as the Duke and Duchess of Sussex were preparing to embark upon their royal tour debut of the Commonwealth realms of Australia and New Zealand. Before sharing the news with the world, Harry told the BBC in November 2017 he'd "of course" be interested in having children with Meghan.
"One step at a time," Harry told the broadcaster during the month of their engagement. "Hopefully, we'll start a family in the near future."
Members of the royal family are required to abide by highly particular rules in all facets of their life. Pregnancy is no exception. With that in mind, here are five weird rules Meghan will have to follow.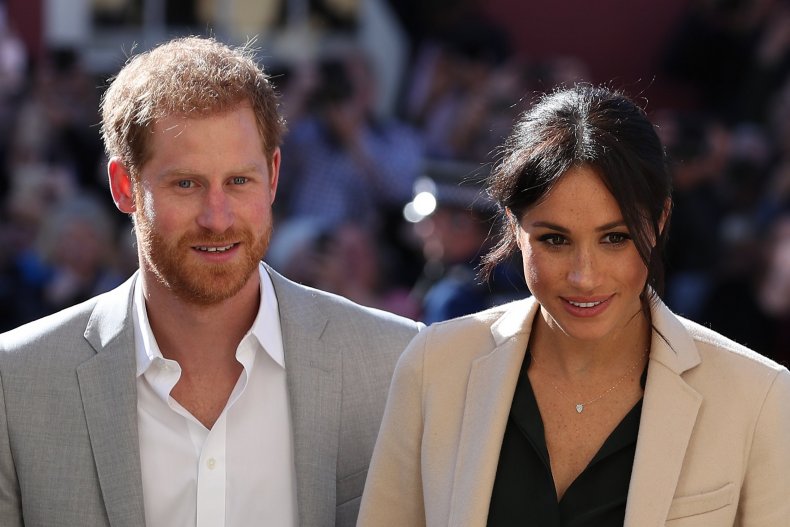 The Queen Always Knows First
Royal protocol would require Meghan and Harry to inform Queen Elizabeth II before anyone else. When the Duchess of Cambridge was expecting son Prince George, Vanity Fair reported how "there were calls to Kate's parents in Bucklebury, her sister and brother, Prince Charles and Camilla, and Prince Harry, all of whom were relieved and elated in equal measure" after the queen was informed.
Royals Don't Get to Have Baby Showers
Unlike the average pregnant woman, royals don't get to have their own baby showers. Victoria Arbiter, a royals expert for ABC News, said in 2013 royals don't get to experience this part of pregnancy because "there's nothing they can't go out and buy themselves" and "a lavish baby shower would be seen as highly inappropriate" since they're "very wealthy." If an expecting royal family member receives a gift, she is required to "respectfully" give it back, Arbiter said.
Royal Babies Are Typically Given About Three to Four Names
It's challenging to come up with the perfect name for a newborn child, so just imagine having to select multiple names. Royal babies are typically given between three to four names. For example, Prince William's name is William Arthur Philip Louis Windsor, and Prince Harry's is Henry Charles Albert David. The Duke and Duchess of Cambridge gave their children three names: George Alexander Louis, Charlotte Elizabeth Diana and Louis Arthur Charles.
Royal Family Members Get Maternity Leave
After Prince Louis was born in April, Kate continued maternity leave after getting an early start in late March. This period concluded October 2, five months after Louis was born, but she still was spotted from time to time during her leave.
All Royal Babies Wear the Same Gown During Their Christening
As a royal family tradition, all babies are required to wear the same gown during their christening ceremony. According to the Royal Collection Trust's website, 62 royal babies have been dressed in the gown, which was originally created by Janet Sutherland with Spitalfields silk and Honiton lace. This gown was retired in 2004, but a replicated version of the outfit was made in its place. Prince George, Princess Charlotte and Prince Louis all wore the replica gown during their christenings.