Pregnant Asian Woman Spit On at Oakland Stoplight: 'I Had a Mini Meltdown'
A pregnant Asian woman says she was spit on by a stranger in what she believes was a racially motivated attack.
The woman and her husband were sitting in their car at a red light near Broadway and 14th Street in downtown Oakland, California, this past Friday when they were approached by a stranger who then spat in the woman's face through the vehicle's window.
The incident was caught on dashcam video, in which you can hear a man spitting on the woman in the passenger seat. The video also shows the woman, Tina, telling her husband not to get out of the car after the attack.
"He was just circling our car trying to talk to my husband to get out, but being pregnant I didn't want to put us and my baby at risk," Tina told KRON-TV.
Tina, who is seven months pregnant, did not want to appear on camera but was encouraged to share her account in hopes of inspiring others to speak out about similar experiences.
Tina and her husband, who are both health care workers, were on their way to work after dropping off a relative when they pulled up to the red light.
"It was terrible. I had a meltdown at work," she told the TV station. "Right when I got to work I washed my face, I did an eyewash, I made sure nothing was on me, and then I spoke to my providers. You know, I had a mini meltdown."
She said she got a coronavirus test right after the incident and consulted with her doctors.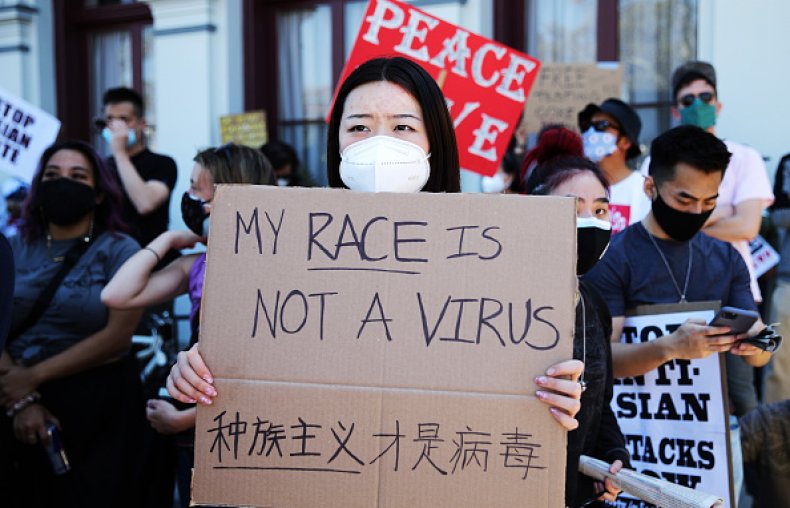 Both Tina and her husband are Asian, and they suspect they were targeted because of their race.
"After he was yelling at us and shouting at us and that's when I felt like this was because we were Asian, and because our windows were down it was a perfect time to target us," she recalled to KRON-TV.
The couple has treated Asian patients in the community who have been in their care for occurrences similar to what Tina faced last week.
"I work in Oakland, downtown Chinatown, and I see grandmas and grandpas every day coming in, you know, to our clinic because of the same reasons," she said.
Asian communities across the nation, particularly in areas like Oakland, San Francisco and New York City, have seen an increase in racially motivated, violent crimes in recent months. Activists have attributed the attacks to racist rhetoric that falsely links Asian Americans to the coronavirus pandemic.
A national report from Stop AAPI Hate found that the number of hate incidents doubled in March of this year from March 2020. Among the more than 6,000 incidents reported, attacks against women made up nearly 65 percent of all incidents.
Tina said she plans to report the incident to organizations that track these attacks, like Stop AAPI Hate. She has already reported the incident to the Oakland Police Department.
"Now is the perfect time to stand up for ourselves. We have to advocate for ourselves, so I hope this helps others to do the same," she told KRON.
Newsweek reached out to the Oakland Police Department for comment but did not hear back before publication.