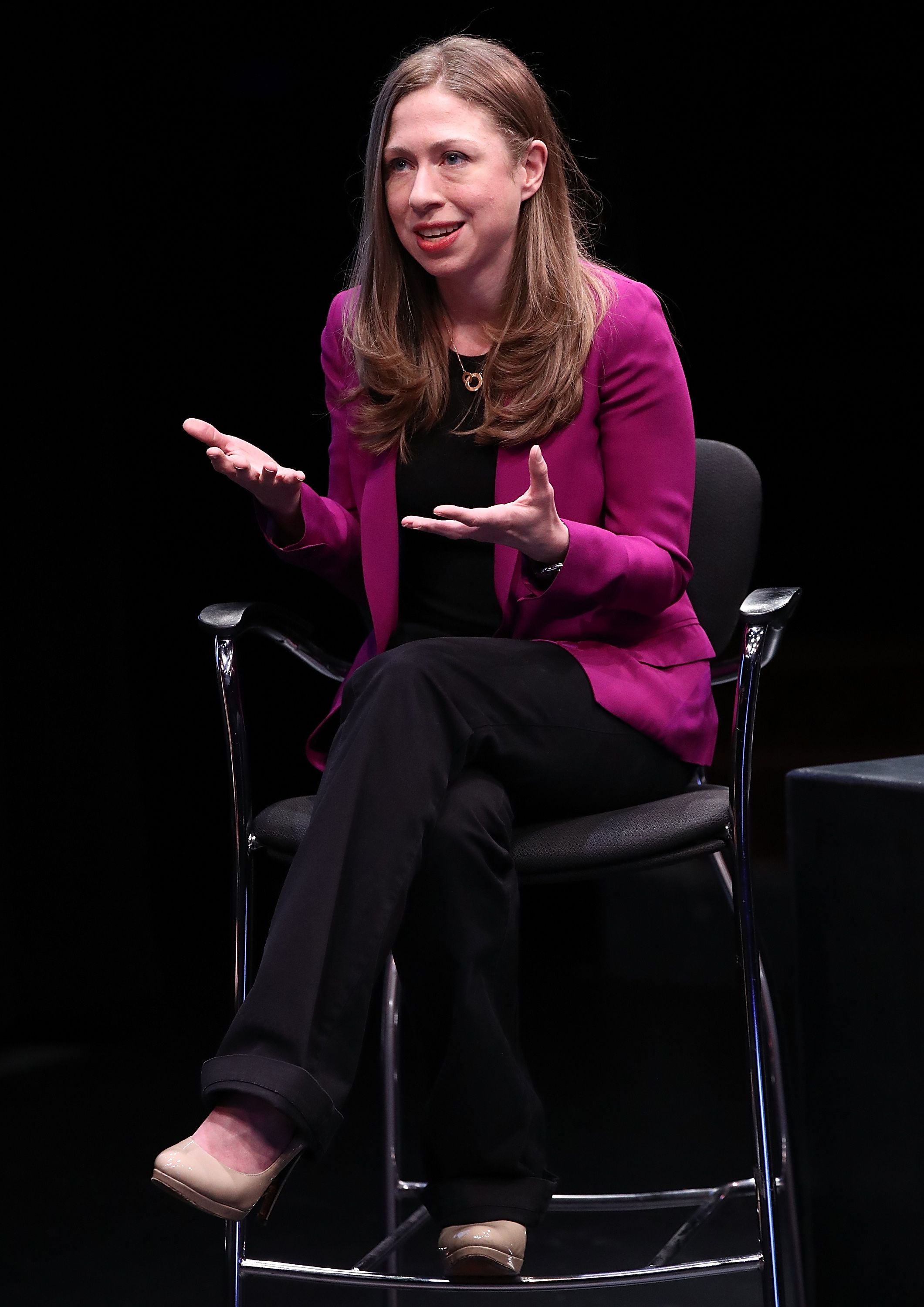 Chelsea Clinton announced on Twitter on Tuesday that she and her husband, Marc Mezvinsky, are expecting their third child next summer.
The couple has two other children: Charlotte, 4, and Aidan, 2, whom Clinton mentioned in her tweet.
"Marc and I have loved watching Charlotte be such a wonderful big sister and we're excited to watch Aidan become a big brother," Clinton tweeted. "We cannot wait to meet our newest addition later this summer."
The couple married in 2010.
The daughter and lone child of Bill Clinton and Hillary Clinton, Chelsea Clinton wears many hats and describes herself as "Mom of Charlotte & Aidan, Married to Marc, Advocate, Author, Teacher, @ClintonFdn & @CHAI health & @HealthierGen, New Yorker."
On Instagram, 2016 presidential candidate Hillary Clinton wryly describes herself as a "Doting grandmother, among other things." Her long political career also includes former first lady and U.S. Secretary of State, of course.
Chelsea Clinton, vice chairwoman for the family Clinton Foundation, heads the vision and programs for the nonprofit. She partners with the foundation's leadership – including her father, founder Bill Clinton – on early childhood education, health issues, resources for young leaders and girls' and women's empowerment projects.
Chelsea Clinton, 38, teaches at Columbia University's Mailman School of Public Health and serves on several health-related boards in New York City. Previously, she worked at McKinsey and Company and Avenue Capital.
She holds a doctorate in international relations and a master's degree in philosophy from Oxford University. She also earned a master's in public health from Columbia and a bachelor of arts from Stanford University.
She co-wrote Governing Global Health: Who Runs the World and Why? With Devi Sridhar, plus several children's books and books for youth.
Her latest title, Don't Let Them Disappear, a children's picture book, is due for release on April 2 and deals with endangered species. Last October, she told The Journal News about her passion for writing:
"The biggest shift since becoming a parent is talking to my children about why we make these choices at home and why it's important that we all be part of making these choices regardless of our age," she said.
Among her book titles are Start Now! You Can Make a Difference for children ages 7 to 10; it teaches them issues such as health, hunger, bullying and climate change.