Dr. Jane Martin calls her decision to get vaccinated against COVID-19 while pregnant an "easy" one after she treated other expecting mothers in the intensive care unit for coronavirus during the pandemic.
Martin, who is a maternal fetal medicine fellow at Ochsner Baptist Medical Center in New Orleans, received her first vaccine dose at 34 weeks of her pregnancy and the second dose three weeks later.
"At the time that I received the vaccine, I was taking care of many sick pregnant women with COVID and the decision was pretty easy for me," Martin said during a Friday press briefing.
"There was also a report published by the [Centers for Disease Control and Prevention] in November that showed that pregnant women are at a much higher risk of being admitted to the hospital, being intubated, being put in the ICU and, unfortunately, dying from COVID when compared to non-pregnant women who are the same age," she added. "That information really helped me make my decision."
Pregnant women can be all over the COVID-19 scale, from asymptomatic to mild to really severe illness.
Martin, who specializes in high-risk pregnancy care, said many of the women she has treated have had to receive critical care after being infected with the virus.
"We've had many patients admitted to the hospital requiring supplemental oxygen. We've had many patients in the ICU and, unfortunately, many patients that have been intubated and have required mechanical ventilation for a long period of time," she told Newsweek.
She explained that needing those types of care not only affect expecting moms, but it could also potentially have an impact on their unborn babies.
"Each of those things can affect the fetus and the pregnancy in general," she said. "Some of these patients are at a higher risk of pre-term delivery, among other pregnancy complications, when they have COVID in pregnancy."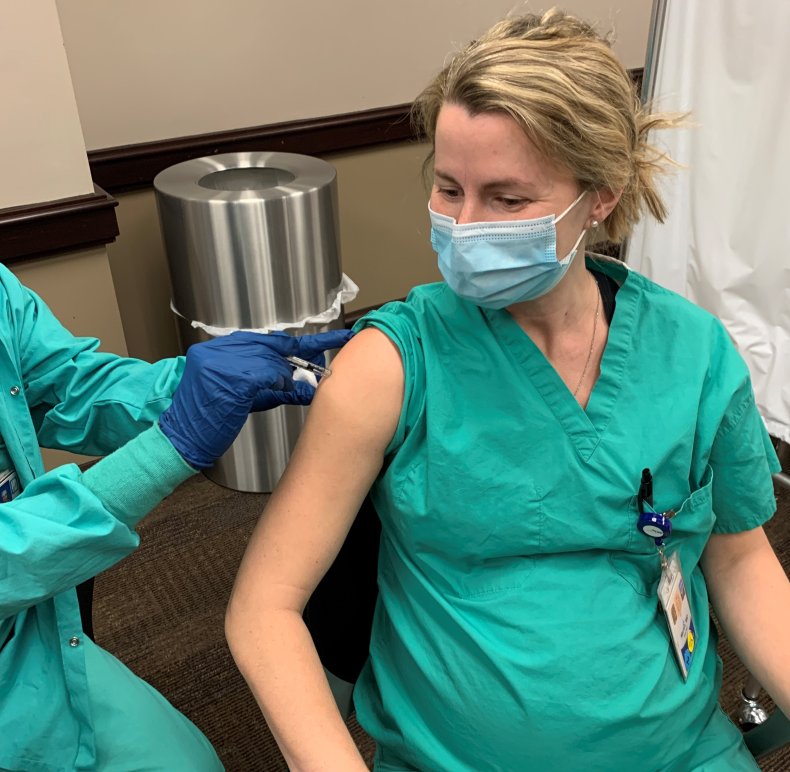 With new data emerging about the vaccines, Martin said she's even more confident in her decision.
New studies are indicating that expecting moms who get vaccinated can pass on the protective antibodies to their new babies through the placenta as well as breast milk.
"I have three small children. The other older two have not had the opportunity to be vaccinated yet, but it at least makes me feel better that the baby likely has some level or protection, some level of immunity," Martin said.
She urges other pregnant women to get their vaccines, especially as the Delta variant surges across the nation, and particularly in Louisiana.
"Your OBGYN doctors and your high-risk OB doctors are begging you to please go get the vaccine because we are seeing the Delta variant in the masses in pregnant women right now," Martin said.
Ochsner has seen a massive increase in COVID hospitalizations due to the Delta variant.
"Our positivity rates in general for COVID are the highest since last March, at 20.6 percent," Dr. Katherine Baumgarten, medical director of infection control and prevention at Ochsner Health, said Friday. "One month ago, our rates were only at 6.4 percent, so that's a huge increase—three times about what we were seeing just a month ago."