A migrant woman who tested positive for coronavirus gave birth on a helicopter while being airlifted to the hospital. The woman being was airlifted from an overcrowded holding center on the island of Lampedusa off the south coast of Sicily when she went into labor.
She was staying at a migrant holding center designed to hold around 100 people but an increase in arrivals meant that there were nearly 1,000 people at the center, as reported by Reuters.
Health operators planned to transfer her to the Cervello hospital in Palermo, Sicily, which is an hour flight from Lampedusa.
However, the woman gave birth on the helicopter as it was flying over Sicily's southern coast, near Agrigento. The woman is now in hospital in Palermo with her baby.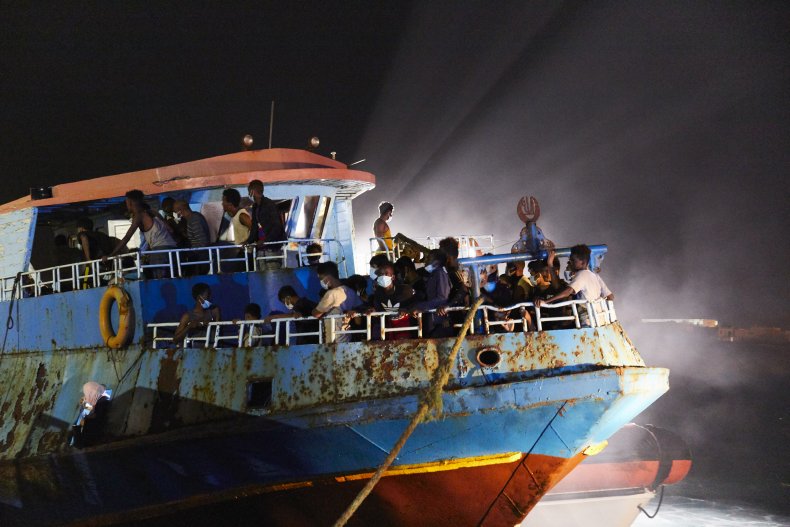 The Sicilian and the national government have been in dispute recently over migrants. Sicily's regional governor Nello Musumeci has accused Rome of not helping enough with dealing with the landings from Africa.
In August, Musumeci gave overnight orders to transfer refugees from Sicily and to ban new migrants from arriving, out of fears of the spread of the coronavirus.
Though the number of migrants attempting to cross the Mediterranean to reach Italy declined in recent years—and despite Rome closing its ports to migrants because of the coronavirus—there has been an increase in the number of migrants trying to reach Italy.
Reuters reported that official data show that around 19,400 migrants have landed in Italy so far in 2020, compared to around 5,200 in the same period last year.
In a joint statement issued on Saturday, the UNHCR, the UN Refugee Agency, and the International Organization of Migration called for "the immediate disembarkation of more than 400 rescued migrants and refugees" on board three vessels in the Central Mediterranean.
According to the statement, a group of around 27 migrants and refugees, including children and pregnant women, who departed from Libya have been onboard a commercial vessel for an "unacceptable" three-week period since they were rescued on August 5.
The statement also called for the disembarkation of more than 200 more rescued refugees and migrants on a search and rescue vessel Louise Michel, which is beyond its safe carrying capacity.
Additionally, they also called for a further 200 rescued people on the Sea Watch 4 NGO vessel to be provided with a safe port. The charity Sea Watch announced on Twitter on Tuesday that 353 people on the Sea Watch 4 vessel "have a place of safety in Palermo, Sicily," and that they will be first transferred to a ship for quarantine.