Pregnant Mom Says Disney Cruise Line Denied Family Entry To Ship
Updated | One pregnant mother's story has gone viral after she claimed her family, including two small children, were poorly treated while being denied boarding for their Disney cruise.
A family of vloggers who call themselves the Jackson Hive posted videos on their YouTube channel in which they filmed and discussed the situation, which occurred last week. The mother was not allowed to board the ship, which was docked in Miami, because she was too far along in her pregnancy.
Disney Cruise Line notes on its website that women who are at least 24 weeks pregnant or will reach that marker during the length of the journey "will be refused passage due to safety concerns."
"Neither a doctor's medical statement nor a waiver of liability will be accepted," according to the cruise line. "In addition, Disney Cruise Line cannot be held responsible or liable for any complications relating to pregnancy at any stage."
It is a common rule—including 24 weeks as the cutoff—in the cruise industry. Carnival, for example, will also not allow women to board if they are that far along in their pregnancy or will reach that stage during the trip.
A spokesperson for Disney Cruise Line told Newsweek that the family was issued a refund for their tickets.
"Forget the policy, that is not my issue," mother Emily Jackson said in one of her family's videos. "We just wanted to get our luggage and leave. … Our problem is how they treated us after that point."
According to the mother, she had just reached 25 weeks into her pregnancy and had traveled from St. Louis to Miami with her family for the cruise. After being denied passage, the trouble grew because the family's luggage was already on the ship and it had to be retrieved.
"I'm mad because they made my two babies under 2 [years old] wait outside with no water in the heat and get red-faced," Jackson said in a video. "The fact that they felt they needed AR-15s to escort us out when they knew we had no weapons because we had been through security."
The luggage took some time to be brought back from the ship, and it was during that time that the local police department arrived at the scene.
"While we understand the guests' disappointment with not being able to board the ship, for health and safety reasons, our policy does not allow women who have reached the 24th week of pregnancy to travel, which is consistent with other cruise lines and is noted on our website and in travel documents our guests receive before sailing," the Disney Cruise Line spokesperson told Newsweek.
The spokesperson continued that Disney security was not armed or responsible for port-side enforcement.
"The Miami-Dade Police Department is responsible for security at the port and handled the situation as they felt appropriate given the guest's actions," the spokesperson said.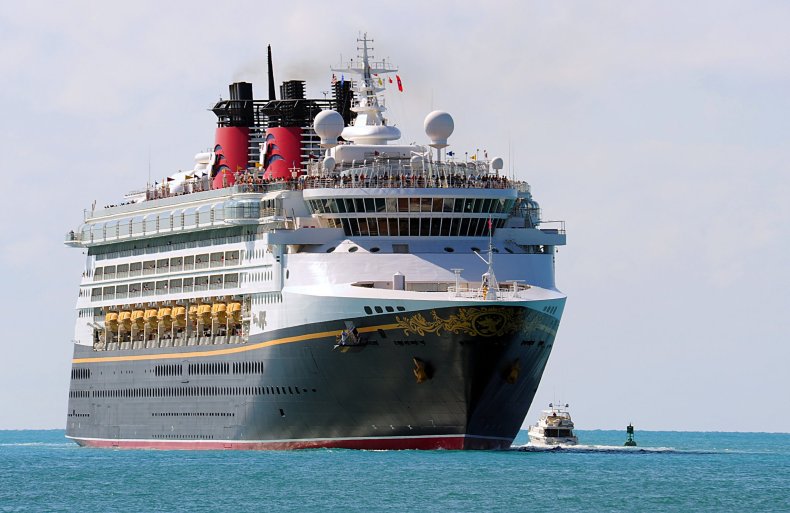 This story was updated to include information from Disney Cruise Line and reflect the fact that the company does not use armed guards.