A pregnant Russian soldier has been jailed for evading mobilization in the first case of its kind since Vladimir Putin launched a full-scale invasion of neighboring Ukraine in February 2022.
Lance Corporal Madina Kabaloyeva was sentenced by Southern Russia's Vladikavkaz Garrison Military Court to six years in prison for failing to report for military service after Putin declared a "partial mobilization" of the population in September 2022, Russian daily newspaper Kommersant reported on Monday.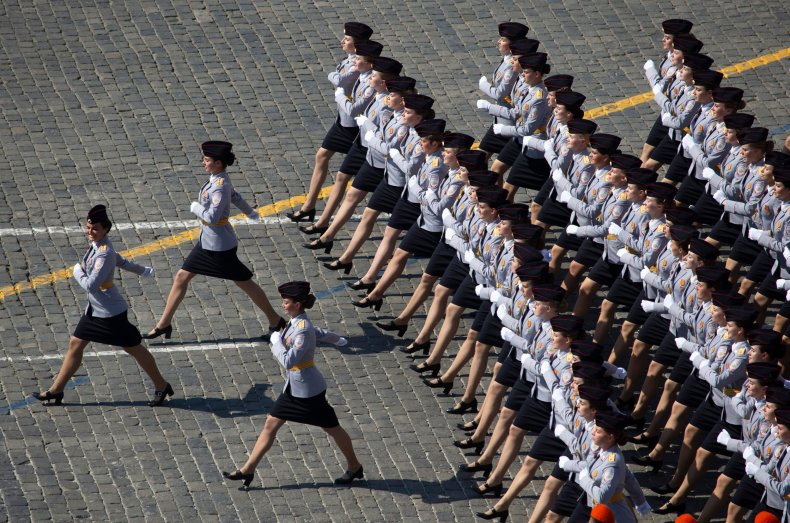 Kabaloyeva is the first female soldier to be convicted for draft dodging, which is punishable by up to 10 years in prison in Russia.
According to Kommersant, because Kabaloyeva was pregnant and had a young child born in 2018, she had received an official recommendation from her military unit's medical company that she be temporarily exempted from military service.
She didn't turn up for military service, and said she was confident that her military unit's medical company would notify authorities of the recommendation.
However, military prosecutors said Kabaloyeva continued to receive a military allowance and benefits, and so she was on paper serving and therefore could be charged for evading mobilization.
The Vladikavkaz Garrison Military Court postponed execution of her sentence until 2032—when her child turns 14.
Putin's move in September 2022 to order the mobilization of 300,000 reservists to fight in Ukraine sparked several protests across the nation and an exodus of Russians fleeing across the border to neighboring countries like Georgia, Finland, Kazakhstan and Mongolia to avoid being conscripted.
The Russian president has adopted measures in recent months to crack down on Russian citizens attempting to avoid military service.
In April, the lower house of Russia's parliament, the State Duma, approved implementing a new digital register of all those eligible for military service, making it harder for those attempting to avoid fighting in Ukraine with Russia's military to dodge authorities.
The measure is to allow military registration and enlistment offices in Russia to send subpoenas by registered mail or electronically. Once issued, the individual handed the summons will be prohibited from leaving the country until they go to a military registration and enlistment office. A "draft dodger" is to be deprived of the right to drive a car, register real estate and take loans, according to local media reports.
In doing so, the Russian government has effectively removed "one obstacle which has previously allowed some to dodge the draft," the British Defense Ministry said at the time.
And in July, the Russian president signed into law legislation that increases fines for failing to turn up to military enlistment office after receiving a draft notice. The law, which comes into force on October 1, raises fines from the current range of 500-3,000 rubles ($5-31) to 10,000-30,000 ($103-310).
Do you have a tip on a world news story that Newsweek should be covering? Do you have a question about the Russia-Ukraine war? Let us know via worldnews@newsweek.com.