Pregnant Singer Shot Dead after Being Told to Stand up While Performing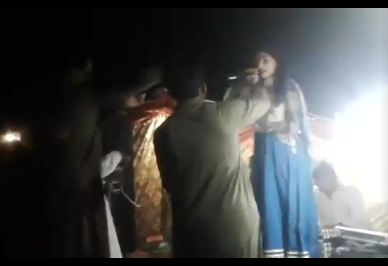 A pregnant singer was shot dead while performing at an event in the Kanga village in Pakistan's southeastern Sindh province on Tuesday.
The victim was identified as 24-year-old Samina Samoon, also known as Samina Sindhu, Pakistani newspaper Dawn reported. She was six months pregnant.
The singer's husband, whose name was not reported in Pakistani media, told reporters that he wants to see the man and his two accomplices charged with double homicide—for his wife and his unborn child.
Police arrested one suspect, Tarique Ahmed Jatoi though the motive remains unclear, with some reports indicating he ordered the woman to stand up and dance rather than performing while sitting down, Jatoi maintains she was hit by accident by bullets he shot in the air, according to the BBC Urdu language service.
A video of her death was broadcasted on several Pakistani channels and shared widely on social media, where hundreds of people expressed outrage. The footage shows the woman performing a song sitting on a stage, with several musicians behind her. At one point, three men approach the stage appearing to throw pieces of paper, most likely bank notes, at the singer, who then stands up without interrupting her song.
The men walk away, but three gunshots can be heard soon afterwards, with the singer collapsing to the ground as soon as the first shot is fired. Musicians come to her rescue and the video blacks out.
[Warning: the following video may contain disturbing images]
The woman was taken to a hospital but died from the wounds. A video and pictures of her body laying in a hospital bed, her eyes covered under bandages and still wearing the blue dress in which she performed, were also circulating on social media.
A post-mortem has yet to be issued, but her husband told the BBC she was shot in the stomach.
Local artists and singers held a protest on Wednesday to demand protection and the arrest of the suspects, the news outlet The Nation reported.
Bilawal Bhutto Zardar, the chairman of the opposition Pakistani People's Party, expressed his condolences to the singer's family in a statement published on Thursday. He also strongly condemned the killing saying, "The murder of an artist and a woman is a heinous crime which would not be tolerated by the society."