Pregnant Woman 'Bombarded' by Mom Praised for Banning Her Visiting the Baby
A mother has been praised online for banning her mother from visiting her in the hospital when the baby is born.
In a viral post shared on U.K.-discussion website Mumsnet, which can be seen here, user Abbiewilliams96 explained she was due to give birth to her second child in the next three weeks.
The woman added that when her son was born, she was bombarded with visitors that morning and 13 family members arrived; some needed to be told to leave.
She said: "It also caused arguments between both families so this time I don't want anyone at the hospital.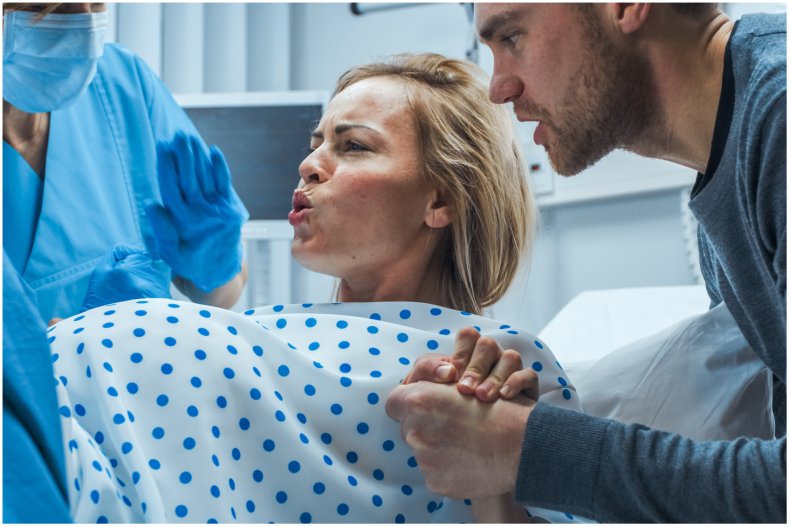 "My in-laws have already said that they will visit when we are ready. I had the conversation with my mother today and told her we don't want visitors as soon as we're home and just want a day to settle in as a little family and have our special time.
"My mother got quite annoyed about it. She started saying things like we don't want her to see the baby and said well that's fine I won't come and visit him at all then."
The post continued: "Also said she's never heard of anyone not wanting visitors straight away and we're the only ones and it's silly. She's said being bombarded with visitors straight after is usually what happens and can't understand why we don't want that. Am I being unreasonable?"
Since being shared Wednesday, the post has attracted more than 119 comments. Many praised the mother for taking a stand against her family.
One Mumsnet user said: "Your mum is being ridiculous. You'll have just gone through labor, have a brand new baby and be getting used to being a new family of four.
"I'd be tempted to just not tell her the baby was born until you're ready for visitors and your first child has met their first sibling.
"Shame on her for trying to make your special moment all about her and causing you stress. Babies don't spoil, she can wait a day (at the very least) to meet them. If she wants to throw a temper tantrum and cut her nose off to spite her face. Just ignore her."
Another added: "It sounds like she's feeling hurt, but you are allowed to have boundaries. Hopefully, she will simmer down and apologize."
While a third posted: "Stick to your guns she's being ridiculous. I'd never impose myself on my daughters like that. My eldest had her last two babies and I gave her a few days to settle and visited when she was ready. Other dd (dear daughter) wanted me there straight away to help (first baby). She should respect your wishes
According to the Centers for Disease Control and Prevention, 3,605,201 children were born in the U.S in 2020, a 4 percent decline from 2019.
If you have a similar family dilemma, let us know via life@newsweek.com. We can ask experts for advice, and your story could be featured on Newsweek.