Pregnant California Teen Dies After Being Shot in the Head in Drive-by Shooting
A 19-year-old pregnant woman has died after she was shot in the head in a drive-by shooting in Berkeley, California.
Sereinat'e Henderson was driving in a car with her baby son, her mother and her siblings just before 7 p.m. on Wednesday at Prince Street near Ellis Street, her family told local media outlets.
Their car was suddenly boxed in by two vehicles before the occupant of one opened fire, they said. According to her family, the 19-year-old was shot once in the head and died a short time later at Oakland's Highland Hospital. She was two months pregnant when she died.
A small memorial of candles, flowers, balloons and a stuffed unicorn was set up on Thursday for the 19-year-old, near to where the shooting happened.
In the wake of the killing, Ben Bartlett of the South Berkeley City Council, said that he and Mayor Jesse Arreguín intend to launch "a regional effort to address gun violence."
He wrote on Twitter on Thursday evening: "Enough is enough. Please send your prayers and thoughts to the victim."
The Berkeley Police Department are reportedly searching for suspects and a motive for the drive-by shooting.
The force has said little about the shooting since the initial report Wednesday night. Newsweek has contacted the police force for a statement.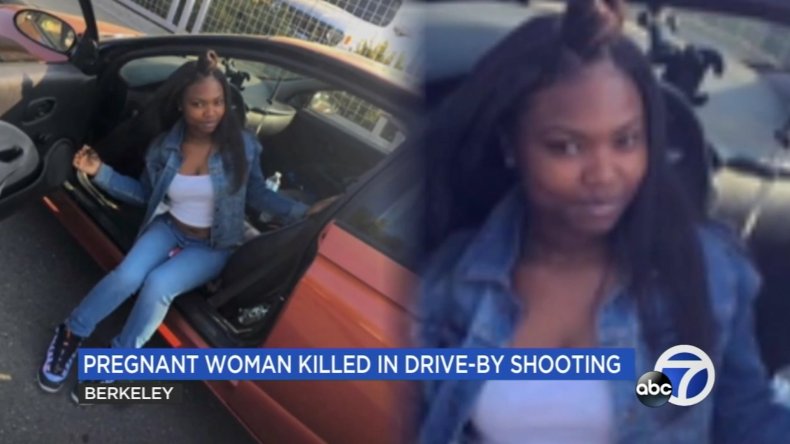 What the victim's family has said
The victim's mother, Salima Wyrick, said that the family were told there had been 22 shots fired into the car.
She told ABC News: "I just need some answers. I just want to know who would want to take a precious, smart young lady from her family."
Wyrick said that she was sitting in the passenger seat next to Sereinat'e who was driving the car. Her daughter's son and teenage siblings were in the back seat when the two cars pulled up to them.
She said: "It was a black car that pulled up behind us and a white car that pulled up on the side of us and the white car…just opened up fire."
Wyrick said her 14-year-old son shielded her baby grandson, Jah-hadi, in the backseat. No one else in the car was hit, reports said.
The grandmother of Sereinat'e, Janice Marie Small, also told the broadcaster: "They didn't even care about her baby being in the car."
She said: "We just want answers. She never bothered nobody. She never hurt anyone."
Todd Walker, a youth coach who is close with the family, told ABC News: "These people never bothered nobody."
He added: "Like now, you shoot innocent people right now. They're just shooting, because they don't feel like nobody care. They feel like nobody care, and that's sad."
Meanwhile, neighbours have been visiting the memorial to pay their respects, Berkeleyside reported.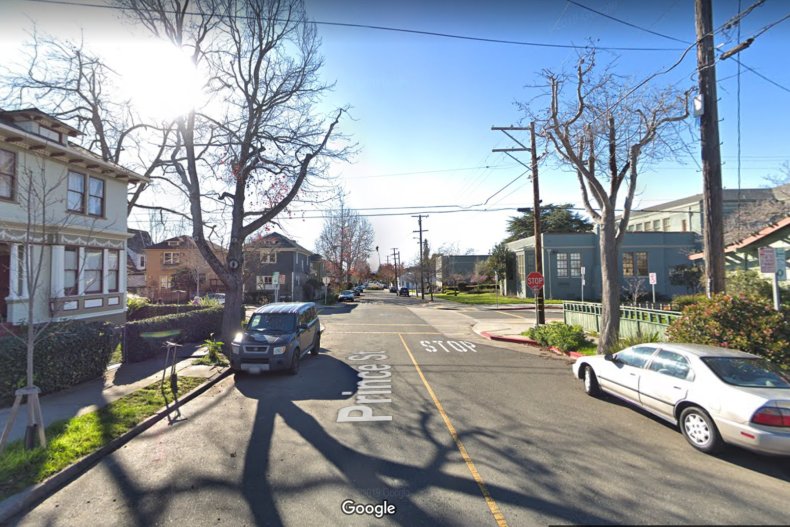 The victim's mother-in-law, who was asked to be identified only by her first initial K., told the publication that she heard about the shooting when her phone began ringing off the hook with calls from friends and family.
K. said that her son and Sereinat'e were high school sweethearts, adding: "They were each other's first love. They grew up together and had my grandson. And they were about to have another one."
She said: "It just doesn't make sense. She was pregnant. She just had her ultrasound yesterday."
Newsweek has contacted the family for comment.
Update 10/23/20, 11.27a.m. ET: This article was updated to a photo of Sereinat'e Henderson.