Pregnant Woman Killed, Baby Pulled From Her Stomach
A pregnant woman was found dead in Brazil after her unborn baby had been removed from her stomach, police said.
Pâmella Ferreira Andrade Martins, 21, was reportedly found locked in the bathroom of her home in the town of Macaé in Rio de Janeiro state.
A witness told the Brazilian news outlet G1 the victim was only found after the bathroom door was broken down.
The military police alleged that a 22-year-old woman took the baby and later turned up at a nearby hospital claiming he was her son.
Staff at the hospital told G1 the suspect claimed to have given birth to the boy and that she had fallen down the stairs with the baby. However, tests confirmed she had not been pregnant.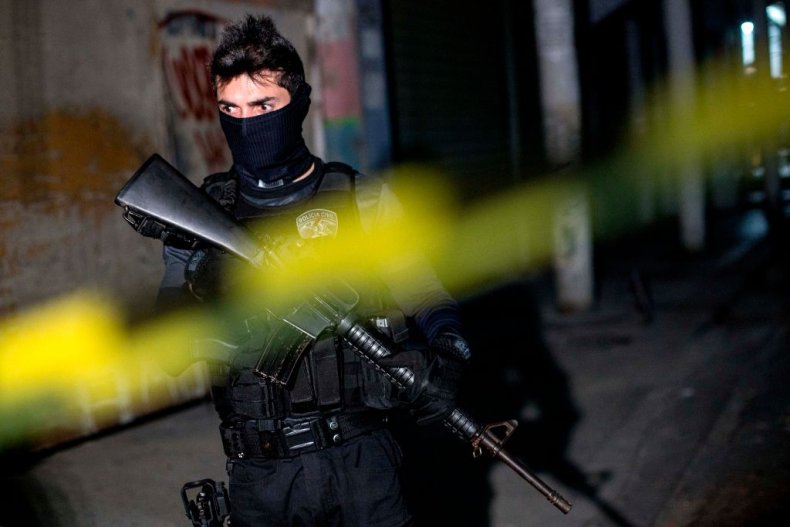 Martins, who was eight months pregnant at the time of her death, was married and had a two-year-old son.
The O Dia newspaper reported that the baby boy died shortly after being admitted to hospital in Macaé.
Police told the paper two knives were found in the suspect's bags and were believed to have been used to kill the pregnant woman and remove the baby from her stomach.
The exact circumstances of the attack are still under investigation.
Last October a heavily pregnant woman and her unborn baby died in Texas after another woman cut the baby out of her womb, authorities said.
The 22-year-old victim—later named as Reagan Michelle Simmons Hancock—was almost eight months pregnant, The Texarkana Gazette reported. Her baby did not survive.
A friend of the victim, Taylor Rene Parker, has been charged with two counts of murder and one of kidnapping. The state said in January that it would seek the death penalty for Parker, 28. She has pleaded not guilty.
Police in New Boston, Texas, said officers responded to a 911 call on October 9. "Upon arrival, a deceased female was discovered inside a residence," the New Boston Police Department said.
Friends set up a Facebook fundraiser to help the victim's family, raising tens of thousands of dollars.
In January this year, the U.S. government executed a woman convicted of killing a pregnant woman and cutting her baby out of her womb in 2004.
Lisa Montgomery, who was the only female inmate on federal death row, received a lethal injection after the U.S. Supreme Court lifted a last-minute stay of execution. She was the 11th person put to death after the Trump administration resumed federal executions in its final months.