Pregnant Woman in Pajamas Arrested on Facebook Live for Allegedly Inciting Anti-Lockdown Protest
Police arrested a 28-year-old woman in the Australian state of Victoria for allegedly encouraging people to participate in an anti-lockdown protest. The arrest was captured in a Facebook Live video, in which the woman can be heard telling police she is pregnant.
"Excuse me. What on earth?" the woman asks two Victoria Police Department officers, while one places her in handcuffs and the other explains she is being charged with incitement. The latter officer says her charge relates to a social media post where she allegedly prompted followers to attend a rally in Ballarat protesting the region's COVID-19 restrictions.
"I'm in my pajamas. I have an ultrasound in an hour," the woman continues. She offers to delete the social media post, but police tell her she "already committed the offense." Both the woman arrested and man recording the video, who seems to be her partner, question why the post's contents constitute a crime.
"I didn't realize I was doing anything wrong," she says. "This is ridiculous."
Victoria police confirmed the woman's arrest and incitement charge in a statement sent to Newsweek on Wednesday.
"Victoria Police is aware of a prohibited gathering which is planned for Ballarat on Saturday. Any gathering of this nature is in blatant breach of the Chief Health Officer's directions and puts Victorian lives at risk," police said in the statement. "Victoria Police has already taken action as part of an ongoing investigation into the planning and encouragement of protest activity in Ballarat."
Officials in Victoria issued several COVID-19 regulations at the beginning of last month. An announcement from the state's Department of Health and Human Services (DHHS) said all residents were mandated to wear face coverings outside of their homes starting August 2. The department effected Stage 4 stay-at-home restrictions in Melbourne, Victoria's capital and most populous city, that same day. It implemented Stage 3 restrictions across the west of the state, which went into effect on August 5.
Melbourne, Australia's second largest metropolitan city, saw a spike in cases of the novel coronavirus prior to the onset of August's heightened restrictions. Its lockdown procedures are some of the strictest in the world. Stage 4 restrictions included a nightly curfew for Melbourne residents, which prevents individuals from leaving their homes between 8:00 p.m. and 5:00 a.m., according to the DHHS.
In general, Stage 4 restrictions only permit people to leave their homes for "necessary goods and services," such as supermarket, pharmacy or post office trips. One individual per household can leave the residence for essential goods and services.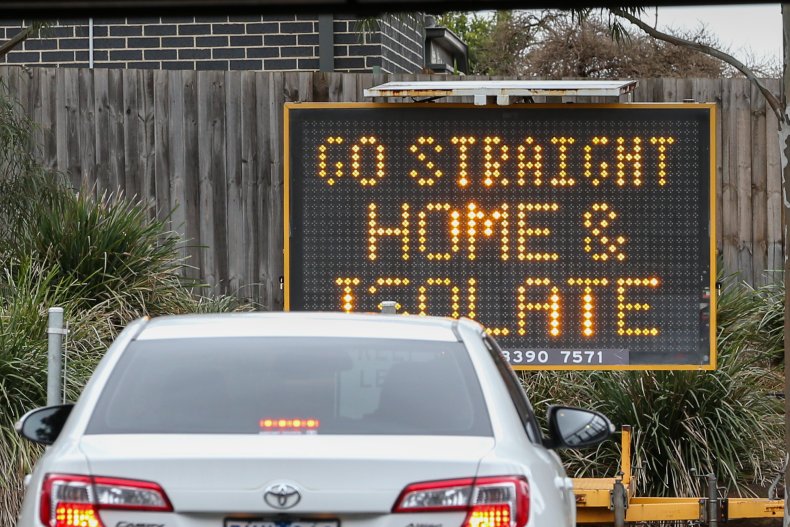 Stage 3 restrictions similarly prohibit most activities that take place outside of an individual's residence. Shopping for essential goods or services, providing care, seeking medical treatment, exercising outdoors, and attending work or school—if remote attendance is not possible—are the only endeavors permitted.
Health officials diagnosed 90 new coronavirus cases on Wednesday, September 2, bringing the state's total to 19,224 cases, the DHHS reported. More than 25,900 people have tested positive for the respiratory illness across Australia since the pandemic began, resulting in 663 deaths as of Wednesday, according to Johns Hopkins University's tracker.