Pregnant Woman Shot Dead Attempting to Break Up Fight After Her Own Baby Shower
A pregnant woman was shot dead after attending her own baby shower on Sunday, police told WPIX.
The woman, Shanice Young, 31, had reportedly been attempting to break up a fight between two men outside her building in the Harlem neighborhood of Manhattan, which led to her being fatally shot in the face.
The fight that Young attempted to break up was believed to have been between her current partner and her ex, according to sources who spoke to WPIX. The ex-boyfriend had not been invited to the shower.
The New York City Police Department has not released any information about the suspected shooter at this time. The shooter was potentially her ex, based on a report from The New York Daily News, which cited a source who said that Young and her boyfriend were confronted by the shooter prior to the fight starting.
"Upon arrival police observed in front of 300 West 128 Street a 31-year-old female with a gunshot wound to the head, unconscious and unresponsive," the NYPD said in a statement to Newsweek. "EMS transported the female to NYC Health + Hospitals/Harlem, where she was pronounced deceased. There are no arrests at this time. The investigation is ongoing."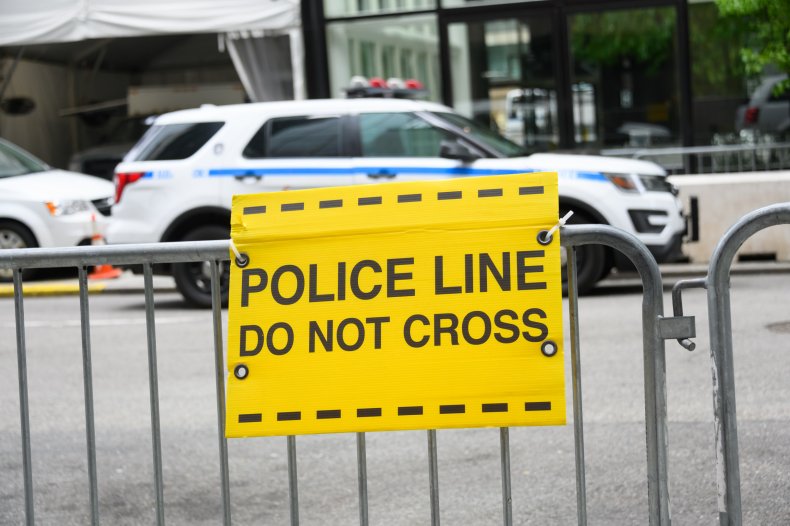 Young, already a mother of four, had been pregnant with her fifth child. It is believed that she was eight months pregnant at the time of her death, according to People. At least two of her children were known to have been at the party.
The shooter allegedly confronted Young and her boyfriend while the pair were bringing presents into their building after returning home from the shower, the building super Jose Morales told the Daily News.
The confrontation eventually escalated and spilled out into street, where Young made her ill-fated attempt to defuse the situation.
The shooter fled as soon as Young was shot. It is unclear at this time whether or not the shooter intentionally fired on her or if the gun was discharged accidentally amid the chaos.
A similarly tragic incident involving a mother and child occurred in Brooklyn, New York on Saturday night.
A car driving the wrong way crashed into another car, causing both to careen onto the nearby sidewalk and hit a mother walking her three-month-old daughter in a stroller.
The infant was pronounced dead after being taken to a nearby hospital, while the mother was reported to be in critical condition after being taken to a different facility.
One of the occupants of the instigating vehicle was apprehended, while the other remained at large as of Sunday morning.