Pregnant Woman Found Shot in the Neck in Her Own Home
A pregnant mother is in a critical condition in hospital after being shot in the neck at her home in New York City.
The NYPD was called to reports of an assault at a Lower East Side apartment at 8:20 p.m. on Thursday and found the woman with a bullet wound in her neck. Her 8-year-old son was also at the home, but unharmed.
An update issued by the police department this morning announced that officers had apprehended their prime suspect, a 28-year-old man believed to be the woman's boyfriend. He had reportedly fled the scene on foot.
An NYPD spokesperson told Newsweek via email: "An individual was taken into custody in NJ [New Jersey] yesterday and is awaiting extradition to NYC. Charges are pending at this time."
After the incident on Madison Street, the woman's young son was also taken to hospital as a precautionary measure, but he showed no signs of physical injuries.
According to the NYPD, the victim and the suspect were in an apparent relationship that was thought to have previously involved domestic violence.
Local news site Pix11 has reported that police officers had responded to the address for domestic disturbances on three occasions, but no charges were ever pressed.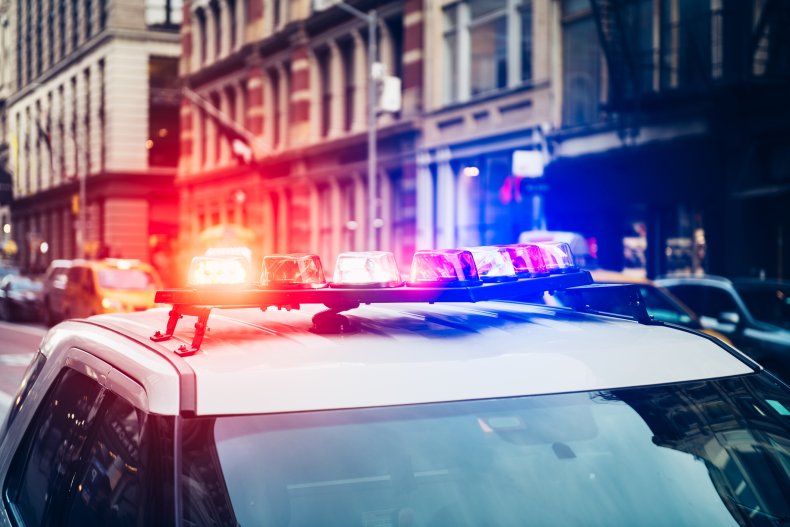 The suspect is also believed to have prior arrests, including once for selling a loaded weapon, according to Pix 11.
The shooting came eight days after the NYPD released its latest set of crime statistics, which showed a reduction in murders and shootings in October this year, compared with the same month in 2020.
Although murder decreased by 9.8 percent while shooting incidents fell by 4.4 percent, the police department report notes that "overall index crime in New York City increased by 11.2 percent."
The NYPD statement added: "Burglary saw a 13.7 percent decrease for October 2021, robbery increased by 15.8 percent and felonious assault increased by 13.8 percent."
On Thursday, the police department released a shocking video depicting the moment a man was struck on the back of the head, before being attacked by seven men who stabbed and slashed him as he walked near 315 W 44 St. in Manhattan.
The 62-year-old victim sustained "stab and slash wounds to his body, head and nose," according to a police spokesperson. The NYPD hopes the video can help New Yorkers identity the seven attackers.
Another clip, which surfaced in October when it went viral on TikTok, showed the moment that a man punched a woman on New York's subway after she reportedly told him to take a "chill pill."
At the beginning of the video, which is believed to have been filmed on a D train, the man shouts: "Say it to my face now. Tell me to take a chill pill. Say the word 'chill pill.'"
The victim stares at the man and says: "Chill pill." Immediately after she says it, he launches his fist into the side of her face.