Pregnant Woman Trying to Kick Stepdaughter Out to Make Room for Baby Bashed
A pregnant woman wanting to throw her stepdaughter out to make room for her new baby is being blasted online.
In a post to Reddit's infamous Am I the A******? (AITA) forum, user u/Sharp_Candy said she is currently pregnant with her first child. The 33-year-old shares her home with her husband and his 23-year-old daughter, but wants the girl's room for her own child.
"Stepdaughter and I get along fine, no big issues, but we also are not super close," she wrote.
"Now that the baby is coming we need more space [and] unfortunately we can't afford a new home."
She then asked her husband to tell his daughter to move out. He agreed, and the pair told the stepdaughter over dinner. They offered to help her with her first two months of rent, but the news didn't go down well.
"My reasoning is that we really need her room for the new baby and she is an adult with a full time job so it is time for her to be on her own anyway," she said.
"I told her it would be fun her and I could go shopping and I will help her decorate her new apartment.
"We tried to be as gentle as we could but she was very quiet."
Privately, the stepdaughter told her dad that she didn't want to leave. She said even though she has a full-time job, she can't afford to live alone.
"My husband told her she didn't need to move out so now we are scrambling trying to find space for new baby," the poster said.
"The other day I was home alone with stepdaughter and tried to talk to her about it again. I offered to help her find a roommate and she snapped on me.
"She told me to just leave her alone and locked herself in her room."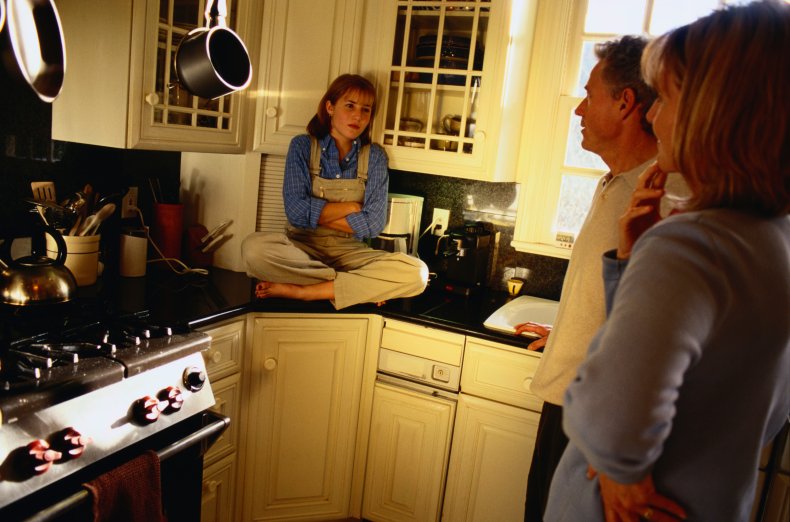 When her husband found out what happened, he was furious and told her to drop the subject.
"Things have been awkward and uncomfortable since, making my pregnancy very stressful," she continued.
"She is 23, old enough to be on her own. She has a job and we are willing to help her.
"We need space for our baby. I do not see how I am in the wrong here."
Reddit users were disgusted by the woman's attempt to push her stepdaughter out of the house, with the story receiving almost 11,000 upvotes and 7,500 comments.
Young People Are Living at Home for Longer
You might think your child is ready to face the big, wide world—but they might disagree.
The cost-of-living crisis is making it more difficult than ever for young people to save or strike out on their own, with the Pew Research Center reporting that one in four young adults live with their parents or another family member.
Sam Zand, chief medical officer at Better U, said if you're planning to ask your adult child to move out, do so with "empathy and consideration."
"Moving out of the family home can be a significant milestone in a person's life, and it is crucial to respect any sense of abandonment or displacement that the Redditor's stepdaughter may feel," Zand told Newsweek.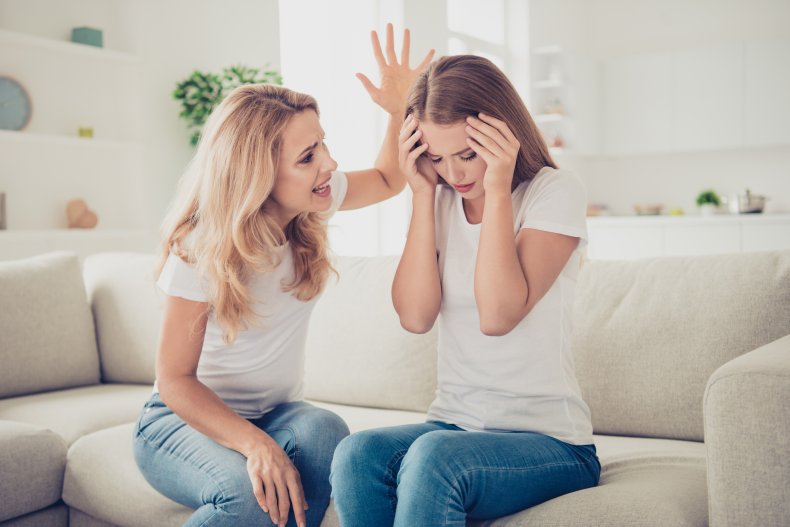 He said it's important to validate the stepdaughter's feelings, allowing her to be heard and understood.
"This may involve putting the stepdaughter's needs and emotions first and supporting her through this transition," he said.
"As her husband is the biological parent, Zand recommends that the poster lets him guide these conversations.
"This approach also allows the stepdaughter to feel heard and loved by her father," he said.
"It is important for the stepmother to remember that she is a member of the family, and that her role is to support and facilitate healthy communication between her husband and his daughter."
'She's Literally the Man's Daughter'
In the poll attached to the post, Redditors voted Sharp_Candy "YTA" or "You're the A******."
"So, you and your husband can't afford another place to live but you expect her to?" asked wolfeye18.
"If the two adults can't afford 3 bedrooms, how do they think the young adult probably just starting her career can afford 1?" wondered Not-nuts.
"My partner and I make above minimum wage and still are struggling with a one bedroom I can't imagine doing it alone," said WolfieSammy.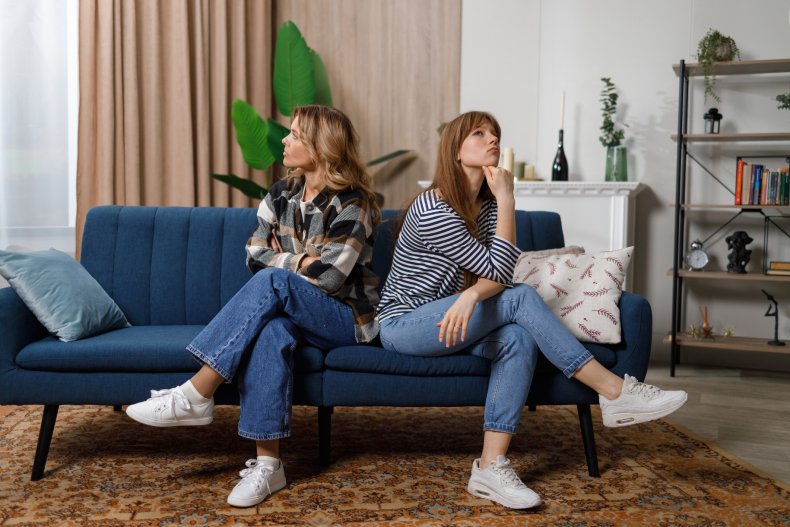 "You can't just kick out one of your family members because you're bringing another one into the world," wrote Odd-Caterpillar8337.
"She's literally the man's daughter," wrote DreamStunning9223. "That's her home, no matter how old she is."
"The people saying kick her out have no sense of family and what that means," agreed ShoddyTerm4385. "23 is still young and if the daughter isn't ready to leave then that's the end of it."
While DeltaVDeficit commented: "You're barely a decade older than your step-daughter, leave her parenting to her actual parent."
Newsweek reached out to u/Sharp_Candy for comment. We couldn't verify the details of the case.
If you have a family dilemma, let us know via life@newsweek.com. We can ask experts for advice, and your story could be featured on Newsweek.