Pregnant Woman Warned Partner Pack of Dogs Could Attack Her by Phone Before Being Bitten to Death
A pregnant French woman is believed to have called her partner to say she was worried about being attacked by "threatening" dogs just before she was mauled to death while walking her dog at the same time a group of hunters were using hounds to hunt deer.
The lifeless body of the unnamed 29-year-old woman was found by authorities Saturday in a forest just outside of Villers-Cotterêts, France, a small town located about 55 miles northeast of Paris. An investigation has been launched by police.
On Tuesday, Prosecutor Frederic Trinh told The Guardian that an autopsy found that the woman had died due to massive blood loss from "several dog bites to the upper and lower limbs and the head." Some of the bites were said to have happened after the woman had died.
Authorities say tests have been conducted to collect evidence from 93 dogs, including five belonging to the woman and some of the dogs involved in the deer hunt. They hope the evidence will help determine if any of the dogs attacked the woman.
Prosecutors say the woman had called her partner to before the attack to tell him she was concerned about the presence of "threatening" dogs in the area. He later went searching for the woman and reportedly made the initial discovery of her body when he heard her dogs making sounds of distress.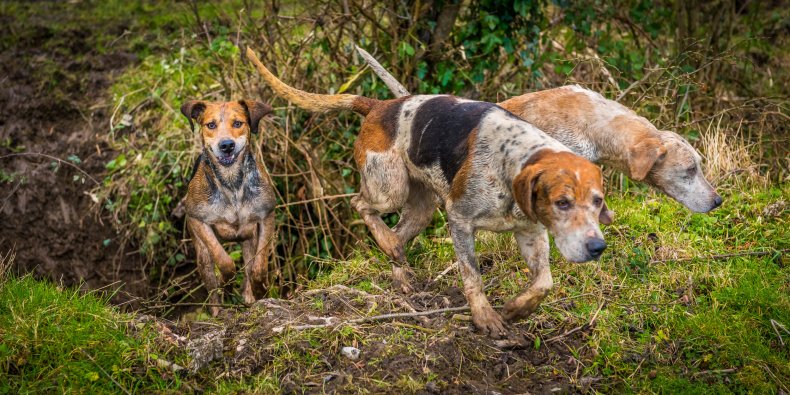 France is believed to have population of over 30,000 hunting hounds. The hounds are typically used in packs to help hunters kill prey, often utilizing their enhanced sense of smell to assist them in tracking and killing animals. Reports of the dogs attacking people are unusual, but not unheard of.
French film icon Brigitte Bardot was said to be "shocked" by the news and wrote a letter to a French government official urging them immediately suspend all hunting activity for the season. Bardot is a longtime animal rights activist. She established the animal welfare group The Brigitte Bardot Foundation in 1986.
Bardot has spoken out against hunting before, calling hunters "the terrorists of the animal world" with the "bloated faces of drunkards" in an editorial found on the foundation's website.
Although activists like Bardot have been known to protest the hunts, hunting with hounds appears to be less controversial in France than some neighboring European countries. In Germany, the practice is entirely banned, and it's mostly prohibited in the U.K., although there are some exceptions.
The French hunting association claims an alternate explanation must be to blame for the woman's death and disputes any notion that the hunting hounds could be responsible for the mauling.
"Nothing shows the involvement of hunting hounds in the death of this woman," the group claimed. "These dogs are trained to hunt a particular animal and obey man in all circumstances."
Pregnant Woman Warned Partner Pack of Dogs Could Attack Her by Phone Before Being Bitten to Death | News