Monalisa Perez: Pregnant Woman Who Shot Boyfriend Dead in Failed YouTube Prank to Receive Plea Deal Sentence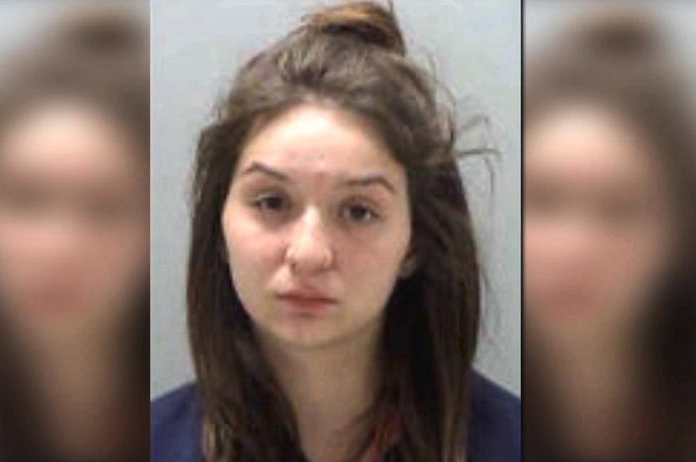 The 20-year-old Minnesota woman who shot her boyfriend dead in a failed stunt to attract internet fame is set for sentencing Wednesday. Monalisa Perez pleaded guilty to manslaughter back in December in order to avoid a 4-year prison term.
Attorneys for Perez say they expect Judge Jeffrey Remick to OK a plea deal that includes a lifetime ban from possessing a firearm, 180 days in jail and 10 years of supervised probation, WDAY-TV reports. Formal sentencing Wednesday follows the June 2017 incident in which Perez, who was pregnant at the time with the couple's second child, fired a handgun at 22-year-old Pedro Ruiz III while he held a book over his chest.
"Me and Pedro are probably going to shoot one of the most dangerous videos ever. HIS idea not MINE," Perez tweeted just hours before the incident. There are at least two separate camera angles of the shooting outside a house on Highway 75. An aunt of Ruiz told WDAY-TV she questioned him about the motive behind performing such a stunt and he responded that it was solely to attract a YouTube audience.
"Because we want more viewers. We want to get famous," the 22-year-old reportedly told his aunt before the incident. "Imagine when we have 300,000 subscribers...the bigger we get, I'll be throwing parties."
Perez's Norman County attorney, James Brue, described the book used in the recorded incident as a hardcover encyclopedia. The firearm was a .50 caliber Desert Eagle handgun. Perez can be seen shooting at the book the two believed would stop the bullet, but it pierced through and struck Ruiz. Court documents obtained by the Star-Tribune say: "Perez stated that she shot from about a foot away while [Ruiz] held the book to his chest."
Brue told the Star-Tribune Monday, "I expect her to be sentenced with what is outlined [in the December 2017 plea agreement]." Family members from both side say the intend on making statements in court Wednesday and several of them are "in support" of the proposed sentencing.
Perez and Ruiz had been together nearly six years at the time of the incident. The two had their first child when she was 15 years old.