Pregnant Women With COVID-19 Passing Coronavirus on to Babies 'Cannot Be Ruled Out,' Scientists Say
The potential for mothers to pass the new coronavirus, which causes COVID-19, on to their babies "cannot be ruled," according to the authors of a study.
The paper published in the journal JAMA Pediatrics involved 33 pregnant women diagnosed with COVID-19, and their babies, who were recruited from Wuhan Children's Hospital in the central city of Wuhan, where the disease first emerged late last year. Since then, COVID-19 has spread to every continent except Antarctica, with more than half a million cases confirmed, according to Johns Hopkins University and shown in the Statista map below. More than 127,500 people are known to have recovered, while over 25,000 people have died. All of the mothers and babies who took part in the study survived.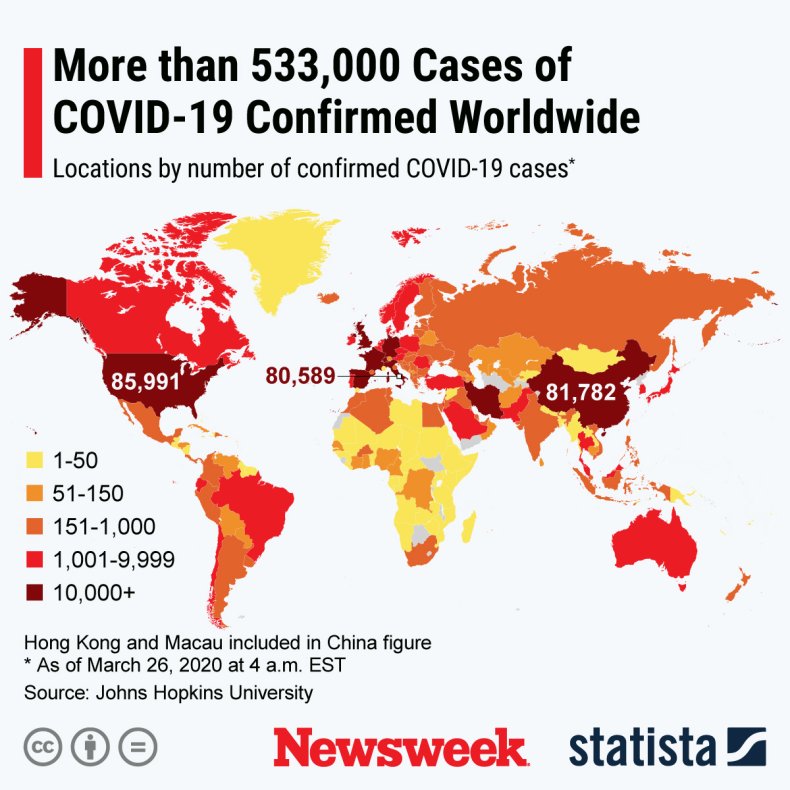 The researchers found three babies tested positive for SARS-Cov-2, the virus that causes COVID-19, at two days old. The babies, who were delivered via cesarean section, tested negative for the virus around a week after they were diagnosed. The most seriously ill child, who needed resuscitation, may have been sick because of conditions other than COVID-19, they said.
The authors wrote that, consistent with previous studies on this topic, the symptoms of the 33 babies who had or were at risk of having COVID-19 "were mild and outcomes were favorable."
As strict measures were taken to prevent the babies from being infected during delivery, the team believes the infants may have caught SARS-CoV-2 from their mothers.
While the team acknowledged two recent studies on babies diagnosed with COVID-19 born to mothers with the disease which found amniotic fluid, cord blood, and breast milk tested negative for SARS-CoV-2, they said their new study showed that the potential for the bug being passed on "cannot be ruled out."
"Therefore, it is crucial to screen pregnant women and implement strict infection control measures, quarantine of infected mothers, and close monitoring of neonates [new born babies] at risk of COVID-19," the authors wrote.
Marian Knight, professor of maternal and child population health at the U.K.'s University of Oxford who did not work on the paper, told Newsweek: "This information is very reassuring for mothers. None of the infants who had a positive test were severely unwell because of COVID-19 disease. One infant was born preterm, and this was likely to be the cause of most of his symptoms."
Highlighting the limitations of the study, Knight said: "The babies in this study only had a positive test for the virus on day two of life. The study thus does not show evidence that these babies acquired their infection whilst still in the womb. The infection may have been acquired after birth.
"Further research is needed to determine whether mothers can pass [the disease] on to babies before they are born. As yet, there is not enough evidence to suggest this could be the case."
Knight explained: "Many infections, for example the previous H1N1 influenza pandemic, cause disproportionately severe illness in pregnant women. Other viruses, such as Hepatitis B, are known to be transmitted from mother to infant while in the womb. As Sars-CoV-2 is so new, whether pregnant women or their babies are affected in similar ways is not known."
She advised: "The best advice for pregnant mothers is to try to avoid infection by observing strict social distancing measures and household isolation. As yet we don't have enough information to advise women who are trying for a baby as to whether they should stop trying. As with women who are already pregnant, the most important advice is to follow strict social distancing measures to avoid getting the infection, and then there would be no potential for adverse effect on their health even if in the early stages of pregnancy."
Claire Thorne, professor of infectious disease epidemiology at the University College London Great Ormond Street Institute of Child Health, who did not work on the paper, told Newsweek: "These new findings suggest that vertical transmission in utero can occur—but more research is needed to confirm these results and to improve our understanding of COVID-19 in pregnancy and its implications."
This article has been updated with comment from Professor Claire Thorne.
World Health Organization advice for avoiding spread of coronavirus disease (COVID-19)
Hygiene advice
Clean hands frequently with soap and water, or alcohol-based hand rub.
Wash hands after coughing or sneezing; when caring for the sick; before, during and after food preparation; before eating; after using the toilet; when hands are visibly dirty; and after handling animals or waste.
Maintain at least 1 meter (3 feet) distance from anyone who is coughing or sneezing.
Avoid touching your hands, nose and mouth. Do not spit in public.
Cover your mouth and nose with a tissue or bent elbow when coughing or sneezing. Discard the tissue immediately and clean your hands.
Medical advice
Avoid close contact with others if you have any symptoms.
Stay at home if you feel unwell, even with mild symptoms such as headache and runny nose, to avoid potential spread of the disease to medical facilities and other people.
If you develop serious symptoms (fever, cough, difficulty breathing) seek medical care early and contact local health authorities in advance.
Note any recent contact with others and travel details to provide to authorities who can trace and prevent spread of the disease.
Stay up to date on COVID-19 developments issued by health authorities and follow their guidance.
Mask and glove usage
Healthy individuals only need to wear a mask if taking care of a sick person.
Wear a mask if you are coughing or sneezing.
Masks are effective when used in combination with frequent hand cleaning.
Do not touch the mask while wearing it. Clean hands if you touch the mask.
Learn how to properly put on, remove and dispose of masks. Clean hands after disposing of the mask.
Do not reuse single-use masks.
Regularly washing bare hands is more effective against catching COVID-19 than wearing rubber gloves.
The COVID-19 virus can still be picked up on rubber gloves and transmitted by touching your face.