A Bus Journey Away Yet Worlds Apart—How Fans Are Reacting to the Power Shift in North London Football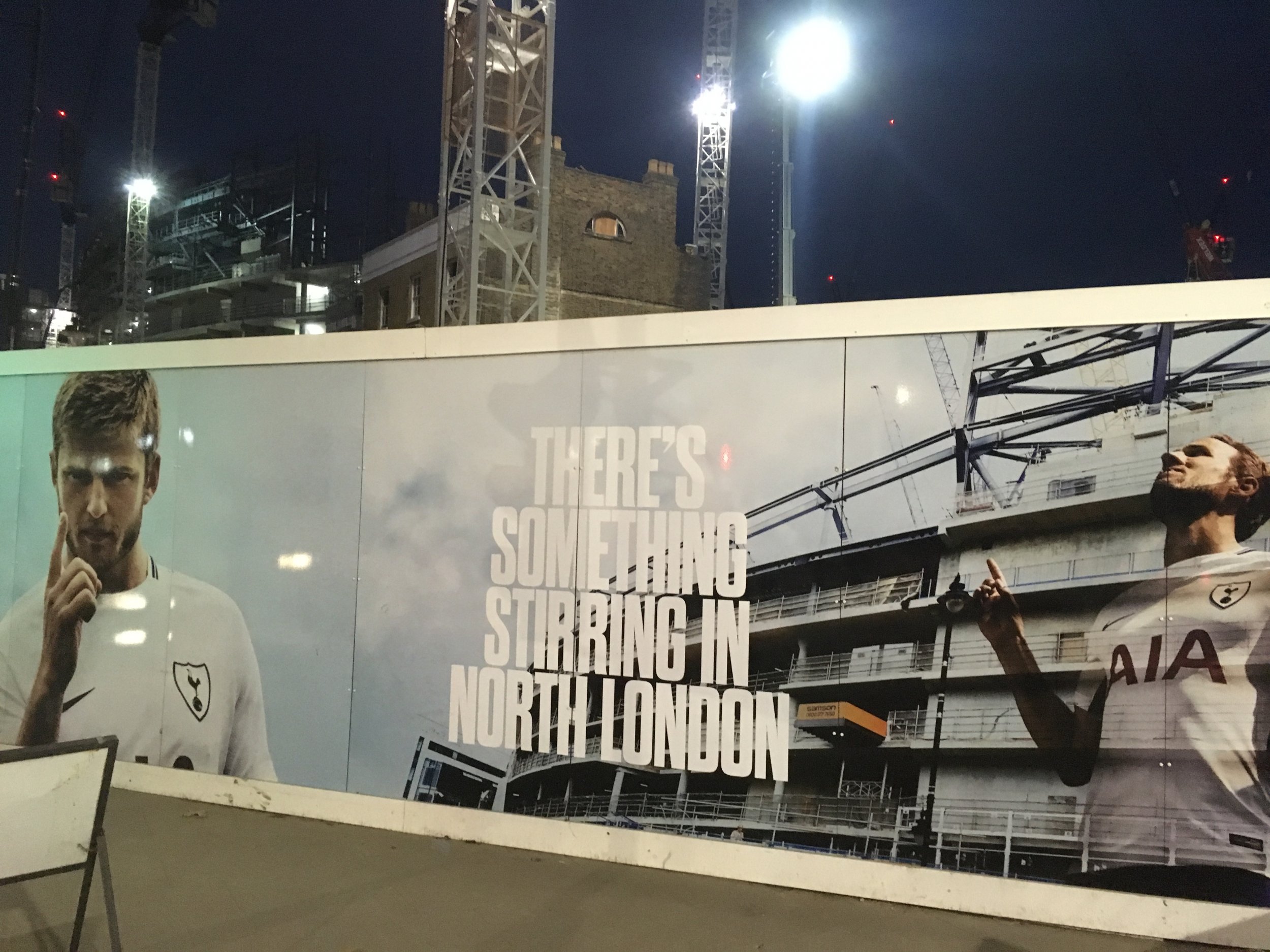 With their respective stadiums just five miles apart in North London, Arsenal and Tottenham represent one of the most bitter rivalries in English football.
For most of the last century, Tottenham—most often referred to simply as Spurs—has played underdog to its neighbor, Arsenal, only managing victory in 62 of the 193 matches played between the clubs.
But over the past two years that trend has been reversed. Arsenal, long the richer and more successful of the two clubs, has not won the Premier League—English football's highest honor—in 13 years. Meanwhile, Spurs have seen a raft of new investment and a successful run that saw them finish only a point behind Arsenal in the 2015-16 season and a healthy 11 points above them last year, narrowly missing out on winning the league title.
As the hoardings that surround White Hart Lane—the Tottenham ground that is currently undergoing an £800 million renovation, prompting the club to play its home games at England's national stadium Wembley—boldly claim 'There's something stirring in North London.'
Related: Mesut Ozil Identifies Three Clubs He Would Leave Arsenal For—And Arsene Wenger Won't Be Pleased
At the Coach and Horses, a pub just a few hundred yards from the stadium and the pre- and post-match watering hole for many diehard Spurs fans, owner Steve Brandon, 57, explains the roots of the rivalry between the two clubs.
"It's simple, you are either brought up as a Spurs fan or you are brought up to be an Arsenal fan," he tells Newsweek, nodding towards a wall of the pub covered head-to-toe in Spurs flags. Brandon, who has been a season ticket holder all his adult life, says that whatever the individual fortunes of Arsenal and Tottenham, the North London derby— as matches between two regional rivals are dubbed in England—will be important: "It's important to win and have the bragging rights," he says.
Arsenal fans are rarely not reminded by their rivals that of the two North London clubs, Spurs was there first. Arsenal moved from South East London to Highbury, its former stadium in North London, in 1913, instantly creating friction with Tottenham. It is an animosity that has been passed down through generations: From the playground to the pub to the terraces when the clubs meet on match day.
In the modern era, it has been Arsenal that has dominated, going unbeaten against Spurs at home for 16 years between 1993 to 2009. At the peak of its success in 2004—during the club's so-called 'invincible' season—Arsenal won the Premier League title at White Hart Lane, the ultimate insult to Spurs.
But over a decade later, the two rivals have been heading in opposite directions, with Arsenal only managing one victory over Spurs in the last six meetings. Tottenham is also exceeding expectations in the European Champions League this season group stage, having beaten back-to-back winners Real Madrid at home and holding them to a draw in Spain, while Arsenal failed to secure a spot in the tournament for the first time since manager Arsene Wenger's tenure began 21 years ago. That failure only added to calls for his resignation.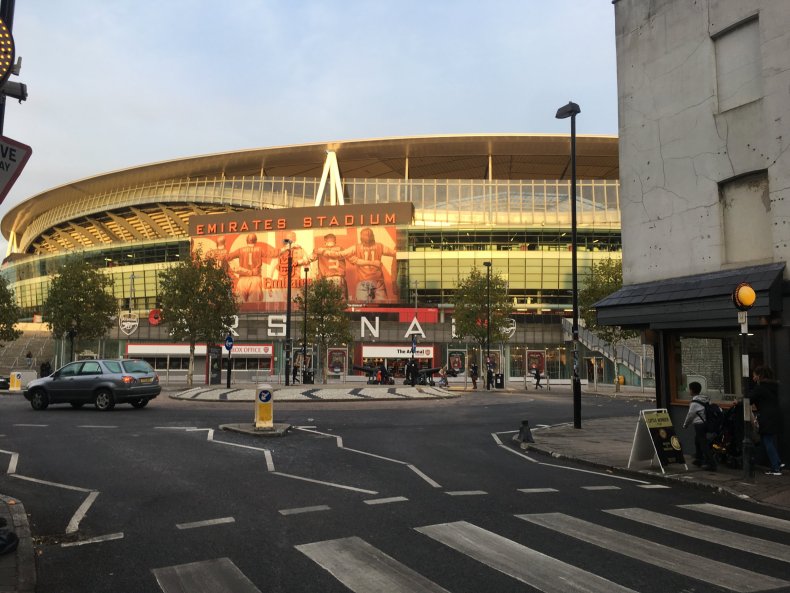 Little surprise, then, that in the shadow of the mighty Emirates Stadium in Holloway ahead of the North London Derby on Saturday, the atmosphere is muted at best. In the Little Wonder Cafe, filled with Arsenal memorabilia including signed shirts and photos, lifelong season ticket holder Stephen Fagg, 64, is despondent.
"I think Tottenham have progressed, Arsenal have stood still or even gone backwards," said Fagg, who has been watching Arsenal since 1966. "Spurs are a better side."
It is a painful thing for an Arsenal fan to admit, but Fagg sees Arsenal's problems as running all the way from the top, with a chief executive who never leaves his office, a chairman who is more interested in making a profit, and the stubborn manager who refuses to listen to anyone.
Like many Arsenal fans, he bemoans the preference of part-owner Stan Kroenke and Chairman Chips Keswick to treat the club like a business, while doubt about Wenger at the helm remains a recurring theme.
At The Tollington Arms, voted "Best Arsenal Pub" in 2014, Kevin Herron, 53, echoes these concerns. He has supported Arsenal for 34 years since moving to London in 1983, and puts the blame for their recent performance firmly at Wenger's door.
"Arsene Wenger has been there a bit too long, got a bit complacent. He's too old, he's past it," he says, shaking his head glumly.
Herron, who lives on the doorstep of the Emirates Stadium, says not only has the life been sapped from his club, but fans are expected to pay more and more for the privilege of watching it.
For the cheapest season ticket at the Emirates this year, fans pay £891, more expensive than any other team in the Premier League; Spurs on the other hand, only charge £695 for their equivalent.
"They're the most expensive tickets in the world but they're not a world class team anymore," he says.
Stubborn as ever, Wenger does not share the skepticism of the fans, insisting at a press conference on Thursday that it will be Arsenal's performance on the pitch that should settle the question. But with Spurs stars Harry Kane, Dele Alli and Harry Winks all set to return on Saturday, Tottenham fans will relish the thought of terrorising Arsenal's defence, leaving the red half of North London hoping to avoid humiliation yet again at the hands of their neighbors.
Herron, nursing a pint in the Tollington Arms, is not looking forward to the clash: "We used to turn up and smash Tottenham for fun, but the balance of power has changed in the last four or five years, big time," he says.
"It's always good to beat Tottenham but I don't think we're going to beat them this weekend. I have a horrible feeling we're going to get spanked, not just beat I mean hammered!"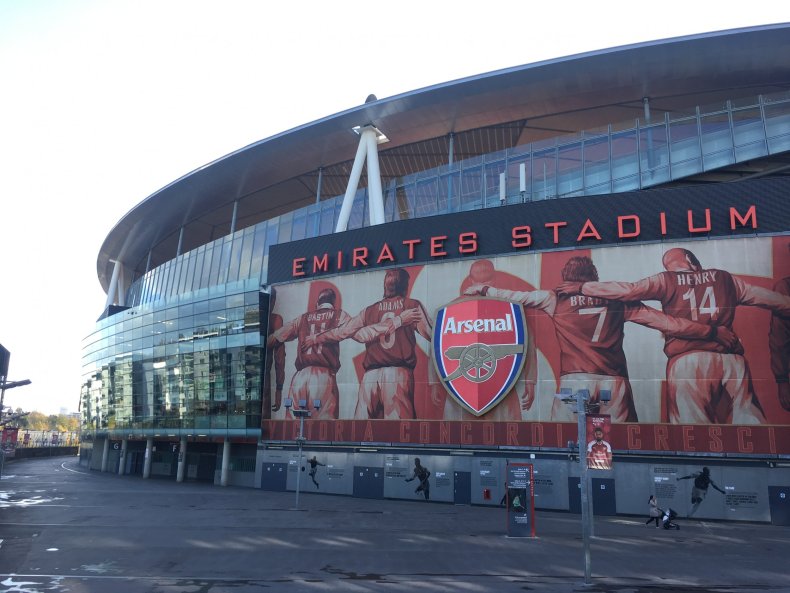 Fagg, gazing up at at the Emirates stadium over his coffee, is a little more circumspect: "Time will tell," he says, "but it doesn't look good."
If recent results are anything to go by, it certainly doesn't. Arsenal's domination of football in this section of London has been uncertain for some time, but Saturday could mark the final shift into a new era—one with a white heart.