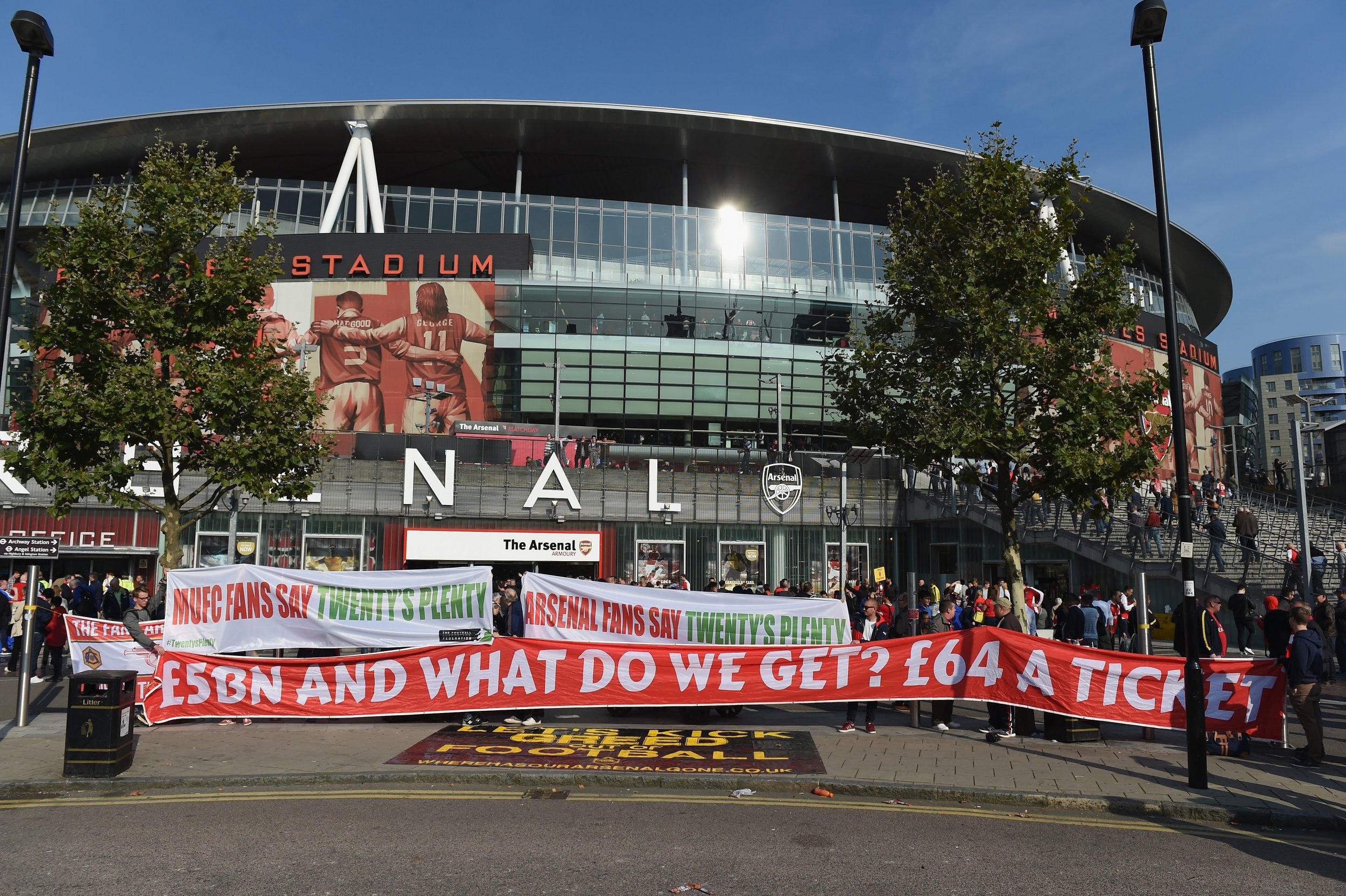 Arsenal inadvertently kicked off a chain of events earlier this month that led to a national debate on just how much football tickets are costing the game's fans.
Just two weeks before its big UEFA Champions League clash with Barcelona, Arsenal emailed every season-ticket holder, informing them they were pay a surcharge of about £20. The explanation for this action was that the club had "regraded" the status of the opposition so that a higher charge now applied.
This surcharge was imposed despite season-ticket holders having paid between £1,000 ($1,447) and £2,000 ($2,894) upfront, in June 2015, for 19 league and seven cup ties. It also called into question the claim that Arsenal had frozen season ticket prices this year.
Perhaps Arsenal thought that its weary fans would once again cough up. They were wrong. A huge backlash ensued and within 24 hours the club had retreated.
So what led to such a fight back from Arsenal fans, and the even more drastic action of a walkout at Liverpool the next day over owner Fenway Sports Group's plan to charge £77 for a ticket in the new main stand at Anfield?
Quite simply, supporters are saying enough is enough. They can see ever greater riches flooding into the game and perceive their loyalty is being taken for granted.
Arsenal's decision to surcharge its fans in this way was even starker when you realize it was made just 24 hours after a Premier League meeting in which it was confirmed that the 20 clubs would share £8.4 billion under a new television deal.
This protest movement been a long time coming.
At a meeting of all Premier League clubs in March 2015 when the scale of the new television riches was becoming clear, it was agreed that a total of at least £1 billion from the sale of UK live rights would be shared beyond the Premier League in the 2016-17 to 2018-19 period. This would include investing in a "fan engagement and matchday experience."
The Arsenal Supporters' Trust welcomed this policy and hoped it would lead to something meaningful. We discussed the proposal with other Premier League Supporters' Trusts groups including those at Liverpool, Spurs, Manchester United, Chelsea, Aston Villa, Everton, Crystal Palace and Norwich.
The shared view of all of these trusts was that a small portion (and we are actually talking extremely small in monetary terms here) of the new TV money should be used to secure the following benefits for all match-going fans across the game:
1) A freeze on all ticket prices for the three years of the new television contract.
2) New money to be set aside to allocate every club a £1 million per season Away Supporters' Initiative fund, an end to away match categorization and a cap on away ticket prices.
3) Price reductions for 18 to 21-year-old fans—the future generation of supporters.
Different clubs run many initiatives and promotions that we hope will continue, but we believe there is merit in having three core policy proposals applied across all clubs so that everyone benefits.
We wrote to Arsenal and asked it to support these ideas at the next Premier League meeting. Other trusts did the same with their clubs.
We hoped that clubs would see the opportunity to take practical action to address concerns and send out a positive message about the responsible way the Premier League is using its new windfall.
As supporters we do not just clutch ideas out of the air. We give them careful consideration and the areas we highlight for support — away fans and younger adult fans — are two categories we believe merit extra attention as they are key to the future social and economic health of the game.
Away fans are vital to the atmosphere and experience every fan attending a game enjoys. They bring the tribalism and sense of contest that so enhances the television pictures beamed around the world.
Young fans are the future of the game. They are also very likely to be among those fans who are the loudest and most vocal at games. Yet as they are often in full-time education or lower paid employment it is important that more focus is given to making football affordable for them.
The proposal for a general price freeze would ensure benefits filter through to all fans. With every club in the Premier League expecting an additional income stream of at least £45 million per season from the new domestic television deal, as well as increasing revenue from overseas rights, it is a policy that can comfortably be afforded and would generate much goodwill for clubs and the league.
So it is over to the clubs, who meet again in March. Let us hope common sense prevails.
Tim Payton is a board member of the Arsenal Supporters' Trust and tweets at @timpayton.
Uncommon Knowledge
Newsweek is committed to challenging conventional wisdom and finding connections in the search for common ground.
Newsweek is committed to challenging conventional wisdom and finding connections in the search for common ground.