Black Lives Matter risks Premier League Support Loss over Anti-Israel Views
The U.K. Black Lives Matter (BLM) group has come under criticism from prominent figures in U.K. football after releasing statements about support for "Free Palestine" and comments about "defunding the police."
The Black Lives Matter U.K. account tweeted: "As Israel moves forward with the annexation of the West Bank, and mainstream British politics is gagged of the right to critique Zionism, and Israel's settler colonial pursuits, we loudly and clearly stand beside our Palestinian comrades.
"Free Palestine."
The President of the Board of Deputies of British Jews, Marie van der Zyl, criticized the tweet, describing it as "beyond disappointing" and for leaning into an "antisemitic trope that British politics is "gagged."
In another social media post, when calls to "defund the police" made by protesters were criticized by Labour Party leader Keir Starmer, the Black Lives Matter account tweeted a staunch defense of the comments:
"When we say 'Defund the police' we mean 'Invest in programmes that actually keep us safe like youth services, mental health and social care, education, jobs and housing," the group tweeted.
"Key services to support the most vulnerable before they come into contact with the criminal justice system'."
This has led some prominent football figures to question whether or not they should wear a Black Lives Matter badge.
All Premier League footballers are wearing the Black Lives Matter badges on their shirts accompanied by the names being replaced with the BLM title and all footballers taking a knee before the start of all the first games played after the league's restart.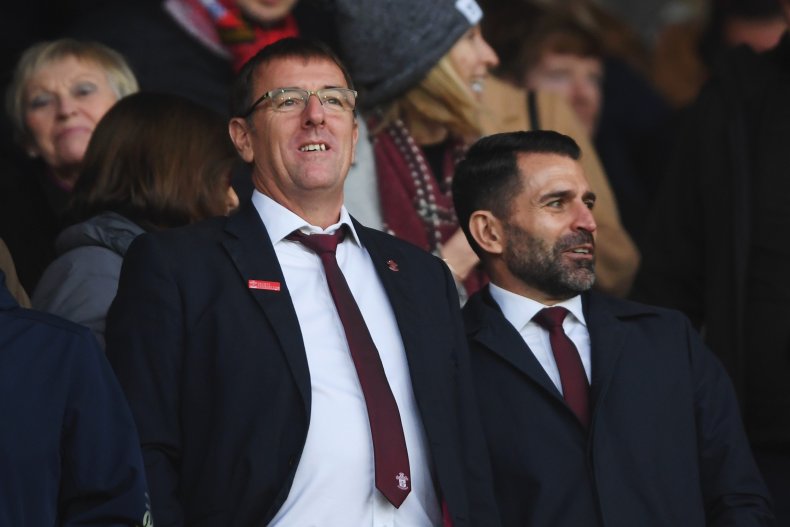 Sky Sports pundit Matt Le Tissier is reported to have told bosses that he could not support the cause due to its "anti-Police and capitalist aims," Sportsmail reported.
He was asked on Twitter that if he was in the political center, why he wore a badge promoting "far-left ideology" to which Le Tissier replied: "That's a good point and one which I've made to my boss already. I'll let you guess the rest."
He later tweeted that he was not on the side of racists.
"If you're a racist let me be clear, I am NOT on your side. Thank you and enjoy your day as I will mine," he said.
Fellow Sky Sports pundits and former top-level footballers Jamie Redknapp, Patrice Evra and Gary Neville decided not to wear the Black Lives Matter badge for Manchester United's game against Brighton on Tuesday night.
None of the three have commented on why they chose not to wear the badge.
Former Wolves midfielder Karl Henry also took to Twitter to criticize BLM UK.
He wrote: "I think the majority of the UK have now had enough of that organization. A new inclusive and politically-neutral anti-racism movement to follow and get behind is much needed. Black people's lives matter!"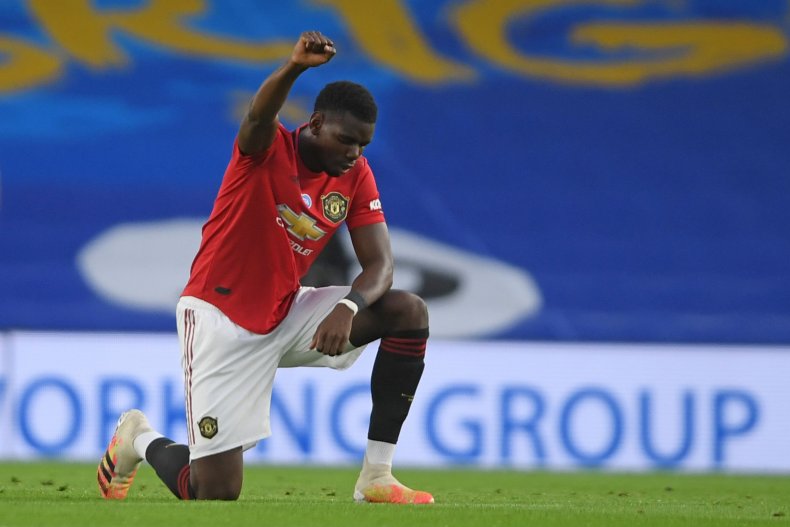 A group of Premier League captains are reported to be considering whether to make a public statement on the matter, which as of yet Newsweek cannot confirm.
Meanwhile, the Premier League itself has defended its support of the campaign saying it did not amount to the endorsement of a political movement and saying that the badges would remain.
In a statement, the Premier League said it was "aware of the risk posed by groups that seek to hijack popular causes to promote their own political views."
The statement said: "The Premier League offered this backing as we wholly agree with the players' single objective of eradicating racial prejudice wherever it exists. And we are unequivocal in the belief that there is no room for racism in our competition, football as a whole, or the wider community."
However, the league added that it did not endorse any political organization or movement.
"We do not endorse any political organization or movement, nor support any group that calls for violence or condones illegal activity," it said.
Black Lives Matter U.K. has been contacted for comment.