Everything You Need to Know About the Premier League's Return
After more than a three-month break, the wait for millions of football fans is over, as the English Premier League returns.
With the last game played exactly 100 days ago on March 9 between Leicester City and Aston Villa, four teams return to action today, albeit behind closed doors with no fans and social distancing measures in place.
Aston Villa play Sheffield United to kick off the return of England's top division, followed by Arsenal taking on Manchester City, as games are played according to staggered kick-off times, allowing fans to catch all of the action.
The rest of the teams will play across Friday, Saturday and Sunday.
No Crowds
Although there will be no fans in stadiums, some teams will install screens in their stadiums showing fans watching the game but the players will not be able to hear any sound.
There will also be tunnel cameras and audio from the coin toss, as the league adjusts to a new normal.
Clubs are also planning on placing covering on the seats nearest to the pitch and when it comes to goal celebrations, players are expected to maintain social distancing guidelines and cannot crowd around match officials either.
Who will win the league?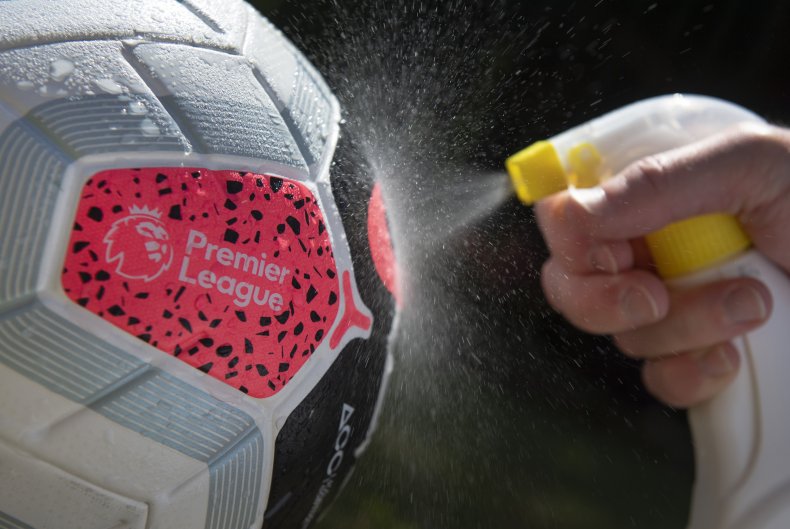 Premier League leaders Liverpool, who are 25 points clear at the top of the table need only two wins to secure their first league title in 30 years.
Meanwhile, at the other end of the table, teams are battling relegation, with Norwich, Aston Villa, Bournemouth, Watford, West Ham and Brighton all in danger of relegation.
Norwich sit bottom of the table, six points clear of safety, with Aston Villa and Bournemouth also occupying the three relegation spots.
As the league returns, a minute's silence will be held before the first matches to remember those who have lost their lives to COVID-19, with kits featuring heart-shaped badges in a tribute to frontline NHS staff who have died battling the virus.
Following the death of George Floyd in the U.S., which led to protests against racism and police brutality in the U.K. too, all player names on the back of shirts will be replaced with "Black Lives Matter".
The season is currently scheduled to finish on Sunday July 26.
What happens if there is a sudden spike in the number of COVID-19 cases?
Over eight rounds of twice-weekly coronavirus screenings of Premier League players and staff which began on May 17, there have been 16 positive results from 8,687 tests.
If cases of COVID-19 spike, The Premier League has not laid out any concrete plans for what will happen should the league be canceled. Any final decision will be made by the Premier League's board who will consult with the 20 clubs.
In other countries, there have been different approaches, with The Netherlands' Eredivisie deciding that the title would not be awarded and that there would be no relegation either.
While in France's Ligue 1, Paris Saint-Germain were awarded the title, given that they were 12 points clear when the league was suspended.
However, a precedent has already been set in England, with Leagues One and Two already announced they will not be resuming their respective leagues following the COVID-19 outbreak.
Clubs across both divisions voted in favor of ending the season with immediate effect and determining the outcomes through a points-per-game formula. Should the season be canceled it remains to be seen whether a similar path is followed for the Premier League.
What are the first 10 fixtures of the Premier League?
Wednesday June 17
Aston Villa v Sheffield United
Manchester City v Arsenal
Friday June 19
Norwich City v Southampton
Spurs v Man Utd
Saturday June 20
Watford v Leicester City
Brighton v Arsenal
West Ham v Wolves
AFC Bournemouth v Crystal Palace
Sunday June 21
Newcastle United v Sheff Utd
Aston Villa v Chelsea