Premier League: Will Summer Transfer Spending Ever Stop Increasing?
Spending hit new heights in the Premier League in the summer 2017 transfer window.
Buoyed by a record-breaking television deal, Premier League clubs spent £1.41 billion this summer, an increase of £250 million on the summer of 2016. Since 2013, when Premier League clubs spent "just" £629.54 million, spending has risen sharply past the billion-pound mark.
Unsurprisingly, then, eight of the summer's most expensive transfers were to Premier League teams, including the £76.2 million purchase of Romelu Lukaku by Manchester United from Everton.
With new billionaire owner Farhad Moshiri and the Lukaku money, Everton also spent heavily. Ronald Koeman's club features in the top ten of Europe's most expensive transfers this summer, having purchased Gylfi Sigurdsson from Swansea City for £45 million.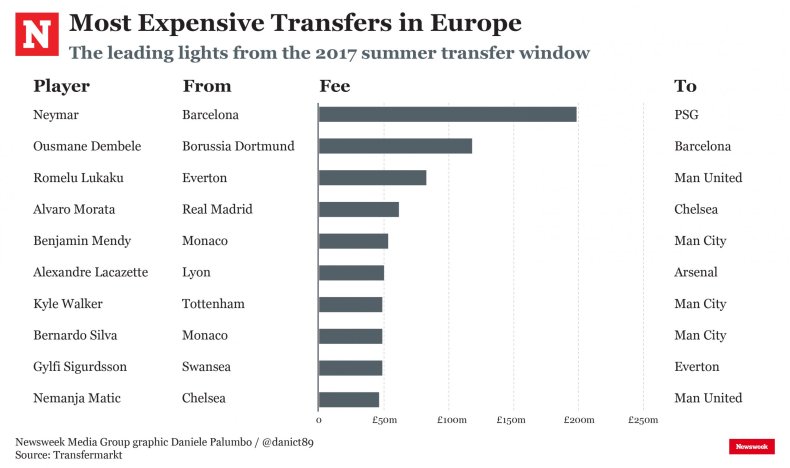 While the Premier League clubs collectively spent the most money of any league in Europe, the biggest individual transfer fees came from Paris Saint-Germain (PSG) and Barcelona.
PSG, the Qatari-funded French giant with its eyes on the Champions League, spent a world-record fee on Neymar from Barcelona of £199.8 million. Needing a commensurate replacement to appease its supporters, Barcelona spent £94.5 million on Ousmane Dembele from Borussia Dortmund. That deal, according to The Telegraph, could eventually rise to £135.5 million once add-ons have been taken into account.
You can view how Premier League summer spending has increased since the year 2000 via the graphic below.