Preschool Teacher Forced From Job After 'Racial Harassment' From Shadowing Teacher
A preschool teacher from Tennessee resigned last week after allegedly enduring "racial harassment" from a new teacher.
Carl Gillette taught at Knoxville's Little Oaks Academy, where a new teacher was assigned to shadow him last Thursday as part of her training. He said the shadowing went well until she started to talk to him about race, saying she does not like Black people, which took him "for a surprise," WBIR-TV, a local television news station reported.
"I was like, 'Wait you know I'm Black, right? You are talking to an African American man who you're addressing this to and you're stating this to me that you don't like Blacks,'" he told WBIR.
He said he went to talk to the school's director about the incident, but she made light of the situation. He said he was "floored" when she told him "everyone had their own opinions."
"I was a little taken back but I was like, 'You know what? I have to get out of here,' and I wish them the best of luck," Gillette said.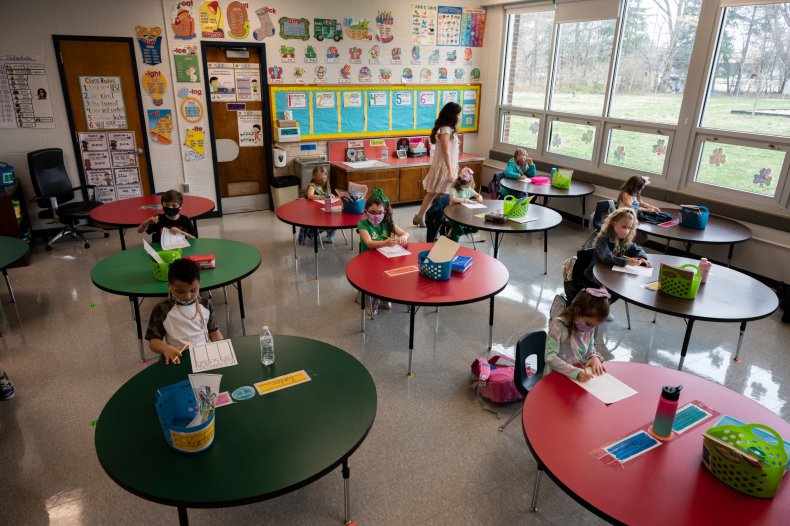 He said that while the new employee's remarks were "upsetting," the way it was handled was worse.
"The girl said some ignorant thing that she should not have said, but what got me is when I was sitting there and I am expressing to my director that I am feeling unsafe and I am feeling uncomfortable, she did not act accordingly," Gillette explained.
He said the situation caused him to resign and that he was "heartbroken" over it.
"Who wants to leave like that? No one wants to leave like that," he said. "Especially not saying goodbye to the children who I truly love."
In a statement to Newsweek, theLittle Oaks Academy board of directors said the teacher has since been fired, but should not have made it through the hiring process. The board said they were "at fault for being blindsided by blatant racism occurring in our center."
"Due to our lack of a comfortable staffing margin, Mr. Gillete was forced to wait to report the incident to our administrators until he could safely step away from the children in his care," the statement said.
After Gillette reported the incident, an administrator took his place in the classroom, firing the teacher afterward. The board said both Gillette and families would have "been better served" by sending students home to fire the teacher.
"We are examining our operations at every level in order to identify gaps and make real and lasting change to prevent future incidents and to have better handling if a situation does arise," the statement said.
Little Oaks Academy wrote in a Facebook post that the events "do not represent the environment in which we want our children to grow, or for our staff to thrive" and that the teacher who allegedly harassed Gillette had been fired.
"Members of the Board of Directors have spoken with the harassed teacher. We expressed our sincerest apologies for what they experienced today," the Facebook post reads. "We are continuing to speak with center staff to better understand the interactions that took place. This situation is ongoing and we are committed to taking action to prevent any similar incidents from taking place in the future."
Newsweek reached out to Gillette for comment.
In recent weeks, there have been other instances of teachers espousing racism.
Earlier this month, a teacher from North Carolina was accused of telling Black studentsthey could have been her "field slaves" if the Constitution did not exist.
In September, a video of a South Carolina teacher using a racial slur in class prompted an investigation.
Update 10/18/21, 3:44 p.m. ET: This article was updated with a statement from the Little Oaks Academy board of directors.