Preschool Teacher Gives Lessons Virtually From Son's Hospital Room While Helping Him Recover
A North Carolina preschool teacher has been teaching her class virtually from her son's hospital room while he recovers from an accident.
Teacher Tanya Curry faced an emergency when her five-year-old son Ayden swallowed a small, round battery and had to go to the hospital.
But Curry, who was already preparing to begin the school year virtually at Guilford County Schools, continued teaching her students from the hospital room while helping her son recover.
Curry told KETV: "My family comes first, but because we're remote I was able to fulfill both [roles] at one time.
"I'm not going to say it's easy. It is challenging being a mother of three young boys, I have twins, the youngest is four. But also being a teacher during a global pandemic, both of those are very challenging, but God has given me the grace to do both of them."
Curry also said that both her roles are important: "I know I am a mom, but also I'm a teacher. So I wanted to make sure I was able to fulfill both roles."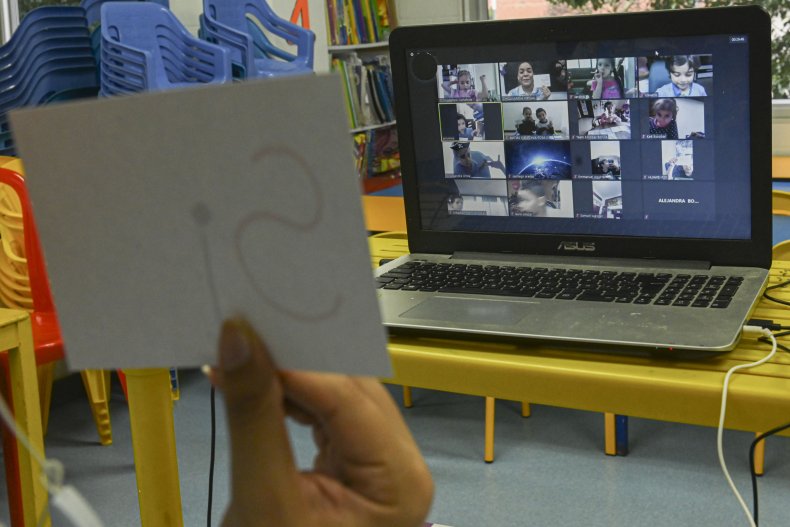 Curry has been praised on social media for being a dedicated teacher and mother and managing to fulfill both roles under pressure.
Marie Bullock said: "This speaks volumes about the lengths that educators will go to for both of their families! (Biological and School).
"We all need to remember to have a little more patience and grace with each other...we can get through!"
Lindsay Phillips said: "This right here. THIS is why I love public education. What other professional would do this?!?!"
Not only are teachers having to teach their classes remotely across the U.S. due to restrictions designed to help the spread of the coronavirus, but they're having to go above and beyond to keep them engaged via a webcam.
Teachers have taken to TikTok to show how they manage to educate their classes remotely. Videos of teachers talking to their classes with tonnes of energy and patience have gone viral on the social media app and people are seriously impressed with how hard they work.
Curry's story of teaching her class from the hospital is yet another example of how passionate teachers remain dedicated to their students, even when under intense stress.