Preschool Teacher Who Was Laid Off in September Wins $250K Lottery Prize
Months after a Charlotte, North Carolina man was laid off following two decades as a preschool teacher, he won $250,000 on a scratch-off lottery ticket.
Joe Camp, who became a car salesman after losing his job on September 6, had the shock of a lifetime when he scratched off the second of two $5 "Gold Rush" North Carolina Education Lottery tickets that he had purchased at a local gas staso gtion convenience store last week.
"Thursday morning, I went to the store and bought a scratch-off ticket like I usually do," Camp said in a lottery press release. "And I bought two tickets. I didn't win on the first one, so I tried the second and I scratched it off, and I fell to my knees at the gas pump."
"I was a teacher for 20 years, a preschool teacher, and I got laid off on September 6," he added. "A month after that, my dad passed away. And it put me in a dark place. But I have a lot of friends and family that just told me to keep sticking in there, keep believing in myself."
Lottery officials say that Camp took home $176,876 after federal and state taxes were withheld, which is a legal requirement for jackpot winners. The former teacher claimed his winning ticket at lottery headquarters in Raleigh on Monday.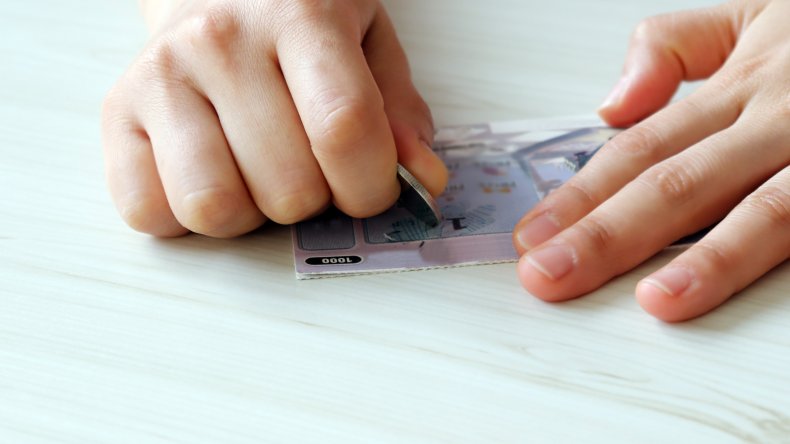 When asked what he would do with his winnings, Camp replied that the money would be spent on "having a future for my daughter," adding that he hoped to save for her education and buy a new home that they would both live in.
"I want to get a home because I want to set it up for my family, my grandkids," Camp said. "I want to have something for us. I never had anything, no one passed anything down, and that's what I want to do."
North Carolina's lottery is one of the most recently established state lotteries in the U.S., having started in 2005. All net proceeds from the lottery go to fund education in the state.
Newsweek reached out to the North Carolina Education Lottery for comment.
With an increasing number of Americans finding their finances in tatters due to economic fallout from the COVID-19 pandemic, some have pinned their hopes on reversing their misfortunate by winning the lottery. Winning a major prize would certainly be life-changing for most. Jackpots for the two games with the largest payouts, Powerball and Mega Millions, were at a combined estimated total of $673 million as of Wednesday night.
However, those having financial difficulties would be wise to avoid spending any significant amount of what money they do have chasing jackpots that they are extremely unlikely to ever win. The odds of winning either of the Powerball or Mega Millions jackpots are exceedingly slim at around 1 in 300,000,000 each. The lifetime odds of being struck by lightning are about 1 in 12,000, while being killed in a hot tap water mishap is also far more likely than winning the lottery at around 1 in 5,000,000.