Prescription Drugs Have Pushed Heroin Into the Suburbs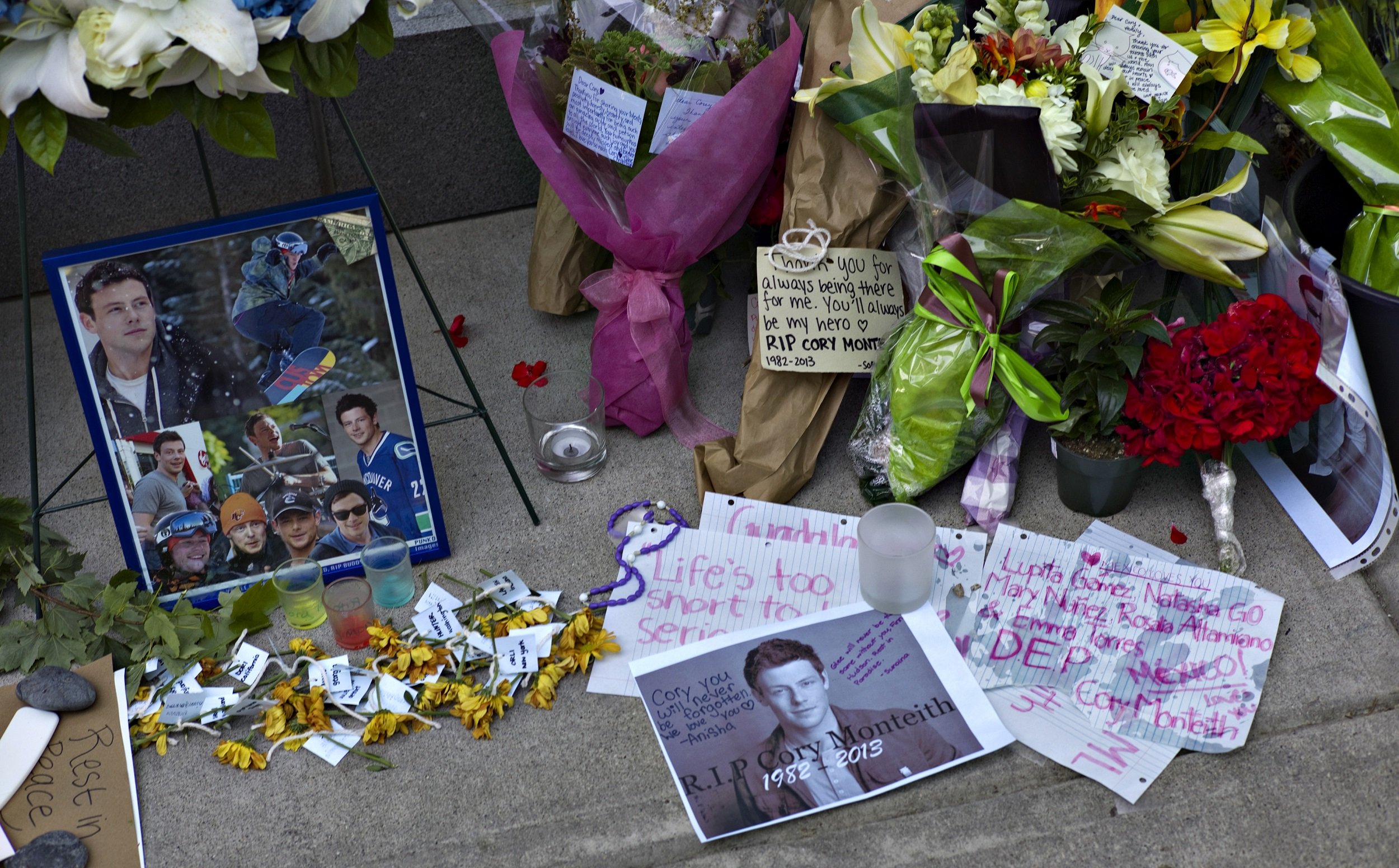 When clean-cut TV heartthrob Cory Monteith was found dead in his Vancouver, Canada, hotel room last summer, it was like being hit with a bucket of ice water for his fans. An autopsy found that Monteith, of Glee fame, had a toxic combination of heroin and alcohol coursing through his body. Suddenly, a hidden nationwide epidemic was front-page news.
"When heroin hits the suburbs, everything changes," said The Washington Post. The Chicago Sun-Times reported a "Heroin Highway" bringing the drug from inner-city Chicago out to suburban Dupage County. USA Today ran a series of pieces, including one that announced, "Heroin epidemic plagues N.Y. suburbs," and another that highlighted a "new twist: Heroin is no longer just an inner-city plague." In New Hampshire, heroin use in the suburbs was reportedly reaching "epidemic" proportions.
It wasn't just in the Anywhere, USA, suburbs of the Midwest, or the vast, Breaking Bad-style exurban sprawl of the fast-growing cities in the Southwest. It was the most posh and desirable suburbs in the country.
"Every part of Bergen County is touched in some way, shape or form by the heroin epidemic," Lieutenant Thomas Dombroski of the Bergen County, New Jersey, Prosecutor's Office told ABC News in 2013. That same year, the Bergen Record was nominated for a Pulitzer Prize for its coverage of heroin addiction's toll on the young adults of North Jersey's wealthiest suburbs. Bergen County is mostly made up of New York City bedroom communities—park- and mansion-filled townlets where the average household income is $84,255.
These reports were bolstered by the stories of numerous individuals, usually young, usually white and always living in enviable ZIP codes. People like Monteith, who looked nothing like the inner-city users typically associated with shooting up.
A new study, published today in JAMA Psychiatry, argues that these anecdotal reports aren't just incidental; they are indicative of a verifiable shift in demography in heroin use. Heroin addicts these days are more likely than ever before to be rich, white and suburban. And, the authors say, that shift is likely attributable to the unanswerable demand for one of medicine's greatest—and most controversial—discoveries: prescription opioids.
The study, led by Theodore Cicero of Washington University in St. Louis, is titled "The Changing Face of Heroin Use in the United States." Cicero and his team used data from the ongoing, nationwide Survey of Key Informants' Patients (SKIP), which includes over 150 treatment centers in 48 states. Patients at these treatment centers who agreed to participate in the study were asked a number of questions, both qualitative and quantitative, about their use of opiates, including heroin and prescription drugs. Using the data gathered, the researchers were able to figure out the decade each patient's opioid habit began, and then infer some key demographic information.
"The country has been abusing heroin since back in the 1940s," says Cicero, "but at that time it was viewed as a dirty, low-class kind of drug." By the 1960s and 1970s—heroin's first heyday—users were thought to be mostly entirely minorities from disadvantaged backgrounds. Numerous studies published in the 1970s depicted the drug as an "inner-city" problem.
That characterization was likely an overstatement—of those who started to use heroin in the 1960s, 55 percent were white and 45 were nonwhite, according to Cicero's data. In the studies undertaken in the 1970s, "there probably was a tendency to overlook that population, because no one expected to see [heroin abuse] there," he says. Instead, those studies worked off the assumption that heroin was an inner-city problem. We know now there was always a problem in white communities, dating back almost four decades.
But that problem grew tremendously: By the 2010s, 90 percent of new heroin users were white.
Although the exact numbers are hard to pin down, it's clear that the total amount of people using heroin in the U.S. grew tremendously during the past decade. According to the federal Substance Abuse and Mental Health Services Administration, heroin users jumped from about 373,000 in 2007 to 669,000 in 2012, and the number of those with heroin "dependence or abuse" more than doubled from 2002 to 2012, going from about 214,000 to 467,000 in 10 years. A recent report commissioned by the Office of National Drug Control Policy and prepared by the Rand Corp. says that in 2010 there were closer to 1.5 million "chronic heroin users" in the U.S.
The spike, however, has been relegated to white populations. Alex Kral, an epidemiologist with the nonprofit research institute RTI International, says there is no data to suggest a corresponding rise in heroin use among minorities. His own work in the streets of San Francisco and Oakland, California, is an anecdotal verification of the trend. Cicero says his team is working on better numbers regarding heroin use among disadvantaged populations.
With the spike in overall usage has come a corresponding increase in deaths. The U.S. Centers for Disease Control and Prevention counted 38,329 heroin overdose deaths in 2010 (the last year for which there are reliable statistics). That's over 100 a day, and more than twice the 16,849 such deaths in 1999.
There are some ways to alleviate this growing public health problem. For the most part, heroin overdoses are curable, using an antidote called naloxone. Just yesterday, May 27, officials in New York City announced a $1.2 million program where police officers will carry naloxone. It "will literally save lives," said State Attorney General Eric T. Schneiderman in a statement. Of course, says Kral, this won't stop heroin use. But it will alleviate some of its most horrific impacts.
Some have placed the blame for the increase in heroin use on South American drug cartels, claiming that diminishing profits from traditional imports like marijuana and cocaine led the cartels to try a new market. While it's clear that the cartels are now shipping in heroin—Joe Moses, a Drug Enforcement Agency spokesman, recently told Time that heroin confiscation at the border almost quadrupled between 2008 and 2010—it's not clear that they are the ones driving up demand.
Cicero and Kral both argue that the demand actually comes from the pharmaceutical industry, which has developed prescription opioids—like OxyContin—for use as painkillers. Because these drugs come from a pharmacy, in a discreet, "safe" pill form, the public has latched on to them.
"The hottest issue in medicine right now is painkillers," says Kral.
"[The cartels] are flooding the market," says Cicero, "but I think what it's indicating is that the dealers have solved their competition—the prescription opioids, which are expensive and become less and less available. They realized if they priced their product right, they'd capture their share of the market." In other words, the availability of prescription drugs created the initial demand, then the demand grew to the point where prescription drugs could not keep up and the cartels rushed in to fill that demand.
"I think you can put this squarely on the pharmaceutical industry," says Kral, who wasn't involved in Cicero's study.
According to Kral, the fact that rich, white adults (who tend to make up the majority of suburban populations) are more likely to have health insurance and access to doctors means they are more likely to be able to get a prescription for—and become addicted to—opioids like OxyContin. He cites studies that show that doctors had no clue whether the pills they were prescribing were being abused or not.
"Physicians have a lot of biases," he says, "and a lot of those are racialized, or along class lines."
When an addict's prescription for pain pills runs out, the user still needs an opiate—and heroin is more affordable and readily available than pills. In fact, in Cicero's study, almost all—94 percent—opioid users said they chose to use heroin because prescription opioids were "far more expensive and harder to obtain."
The key numbers in Cicero's study are the perfect fodder for Kral, and any other advocate who wants to reform the practice of prescribing opioids in the U.S. Over time, the gateway drug to heroin abuse has shifted dramatically from heroin itself to prescription opioids. Over 80 percent of heroin users who can trace their use back to the 1960s became addicted to heroin right away, while 65 percent of those who began using in the 2010s started with a prescription opioid addiction—and then moved on to heroin.
Understanding how heroin addicts start is key to finding a way to help.
"History tells us that if there is a demand for the drug, that demand will be met," says Cicero about current U.S. drug policies. That's why, Cicero and Kral both say that if we want to curb the heroin epidemic, we need policies that focus on the demand side of the issue, not the supply side.
"Every piece of drug regulation passed in order to stem drug use of some sort has completely failed," says Kral. To cut off demand, he says, you need to fight it at the source—by regulating pharmaceutical companies.
But that might take time, and it might not be easy to go cold turkey. Some of the new regulations that the Food and Drug Administration has passed in recent years have helped limit the access people have to prescription opioids, says Kral, but "what's happening is when you are choking that, heroin use, and the black market, grows."