Ohio Morticians Remove Tattooed Skin of Deceased to Preserve as Artwork Memorial
A pair of morticians in Ohio run a business that removes tattooed skin from dead loved ones and transforms it into a loving tribute.
Michael Sherwood and his son Kyle started Save My Ink Forever in 2016 after "one of my dad's friends told him he would like his tattoo preserved" when he died, Kyle told 9 News Australia.
"With the art in tattoos and how much they mean to people, why not keep them after they die?" he added. "People put ashes in urns on mantles and visit stones with their loved one's names on them."
Shortly after that conversation, he and Michael began researching how to keep skin intact and healthy after removal. They're rather secretive about the process they use to cure the skin, though, which can take three to four months. Pricing is based on the size of the tattoo—a typical job runs around $1,000, according to The Independent.
Funeral homes need to contact the Sherwoods within 48 to 72 hours of receiving a body. Once the team finished treating the tattooed skin, it has the consistency of parchment paper and the ink remains bright and clear. It's then framed and delivered to the next of kin.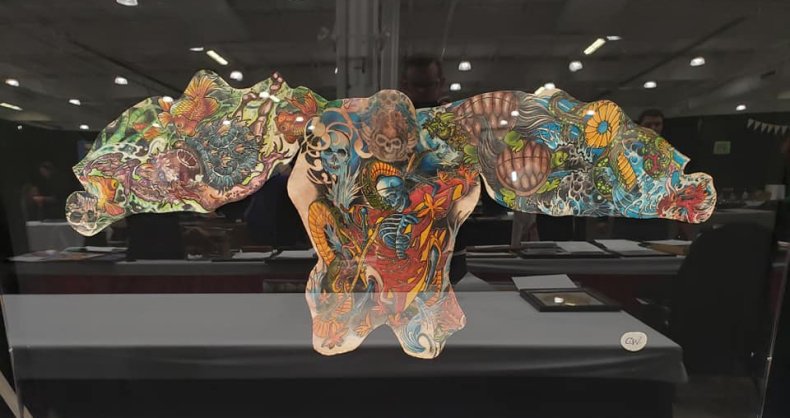 The Sherwoods have saved tattoos from a variety of body parts, including several impressive backpieces. But they insist they won't preserve facial or genital tattoos.
They also only deliver the skin flat for framing, declining requests to create book covers, lampshades or other objects out of the inked epidermis. "We are helping families and fulfilling their last wishes," Kyle told The Washington Post. "We are not trying to create a freak show."
Save My Ink Forever isn't the first to preserve tattoo art after death: In the early part of the 20th century, Japanese doctor Fukushi Masaichi was studying skin lesions caused by syphilis when he discovered that they would not develop on areas covered by tattoos.Fukushi began removing tattooed skin from corpses. By World War II had amassed 2000 samples. Many were lost in the war, but his son, Fukushi Katsunari, carried on the family tradition for years later at Tokyo University's Medical Pathology Museum.
According to Wear Your Dreams: My Life In Tattoos, a memoir by renowned body artist Don Ed Hardy, the younger Fukushi would travel to charity hospitals and offer to pay patients to complete their tattoos, with the promise that he could remove their skin and preserve it after they passed.
.