Preserving Parenthood for Young Cancer Patients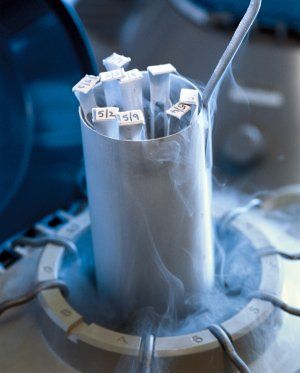 When Sam Hornikel was 2 years old, he was diagnosed with a fast-growing malignant tumor in his bladder. It was the size of a grapefruit. Within hours, his parents, Erin and Joe, were inundated with complicated information. But there was one surprisingly hopeful proposition from Dr. Jill Ginsberg, head of the Cancer Survivorship Program at Children's Hospital of Philadelphia: would the Hornikels like to consider an experimental procedure that might preserve Sam's fertility? The thought of their critically sick little boy becoming a father one day allowed the couple to embrace the possibility that Sam might survive. "I thought, wow—if they actually think he's going to be around for 20 years, this is a good thing," says Erin.
Over the last decade, the fledgling field of "oncofertility" has focused largely on banking sperm or freezing eggs or embryos for teenagers and adults diagnosed with cancer. But these options aren't available for children who haven't yet hit puberty. With overall cure rates for childhood cancer approaching 80 percent, some specialists are now turning their attention to their youngest patients, including babies and toddlers. Under research protocols, they're offering to freeze ovarian or testicular tissue before the children receive toxic treatments for their illnesses (which may also include some noncancerous disorders) that will likely leave them infertile. An experimental procedure with no guarantee of success raises ethical questions, but it also offers the precious possibility of parenthood. "I think we're starting a new phase in fertility preservation," says Dr. Kutluk Oktay, head of reproductive medicine at New York Medical College, who recently removed an ovary from a 2-year-old girl who needed a bone-marrow transplant. Since Ginsberg's testicular-tissue-freezing research program was launched three years ago, 85 percent of parents have said yes. Two patients were under the age of 1.
Fewer than 15 babies have been born from frozen ovarian tissue, according to published reports; frozen testicular tissue has not yet been used. Researchers are hoping to advance the science in the lab. Ginsberg is collaborating with Ralph Brinster of Penn's School of Veterinary Medicine, who is attempting to culture and grow the immature testicular cells removed from patients so that more of them can be transplanted back years later. And Dr. Teresa Woodruff, director of Northwestern's Oncofertility Consortium, is spearheading research to ripen follicles into mature eggs. If they succeed, even the youngest patients may have a better shot at conception.