President Andrew Jackson's Grave Spray-Painted With 'Killer,' Anarchist Symbols in Nashville, Officials Say
The Nashville, Tennessee, graves of President Andrew Jackson and his wife Rachel Jackson were discovered Friday morning covered with back and red spray paint as well as anarchist symbols.
The vandals "used black and red spray paint to spray the covers of Andrew and Rachel Jackson's graves," Howard Kittell, president and CEO of the Andrew Jackson Foundation, told a local NBC affiliate. "Symbols of anarchy and obscenities sprayed on the tomb itself."
Kittell added to the Associated Press that the word "killer" was also written on the tomb.
Related: 'Antifa Civil War' Fake News Story Treated As 'Threat' by DHS Officials, Emails Reveal
Kittell also said that the tombs are being temporarily covered "so our guests aren't exposed to it."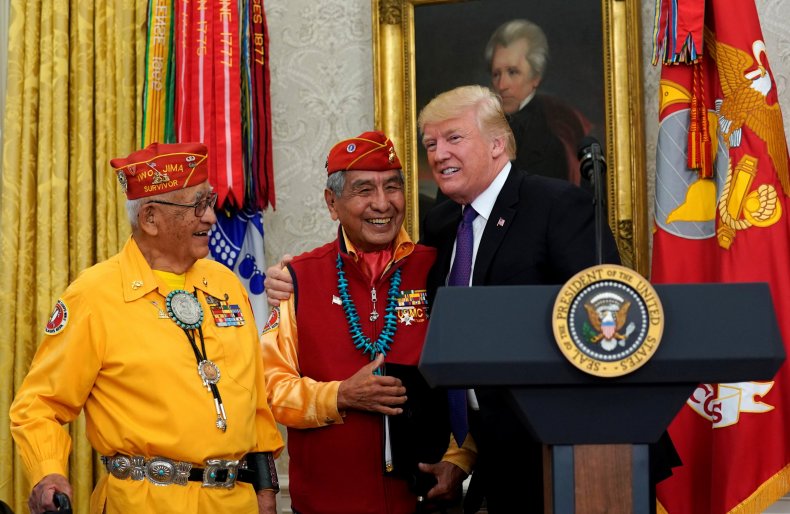 The vandalism coincided with a nearby white supremacist event that drew 60 or so antiracist counterprotesters. American Renaissance, a magazine and organization that produces "race-realist" propaganda, and is considered a hate group by the Southern Poverty Law Center, held a weekend conference in Burns, Tennessee. American Renaissance has written glowing praise of Jackson's legacy as a president in the past. Burns is about a 30-minute drive from Nashville, although it's unclear whether or not the events are related.
Jackson is an extremely polarizing figure whose legacy has been debated more avidly in recent years thanks to both President Trump and former President Obama. Trump has often praised the seventh president, sometimes from a point of view that critics argue has been ahistorical. Trump even keeps a portrait of Jackson in the Oval Office, which has drawn criticism from rights groups. Jackson was a slaveholder and signed the Indian Removal Act, which led to the death of thousands of Native Americans and drove many thousands more off of their land.
An Obama-era plan sought to remove Jackson from the face of the $20 bill and replace him with the abolitionist Harriet Tubman, but the Trump administration has reportedly put it on the backburner.
Kittle said that staff is looking at surveillance video from nearby areas to determine who desecrated the monuments. A request for comment from the Nashville Police Department was not immediately returned.