President Barack Obama Presents Ellen DeGeneres With Medal for Gay Rights Influence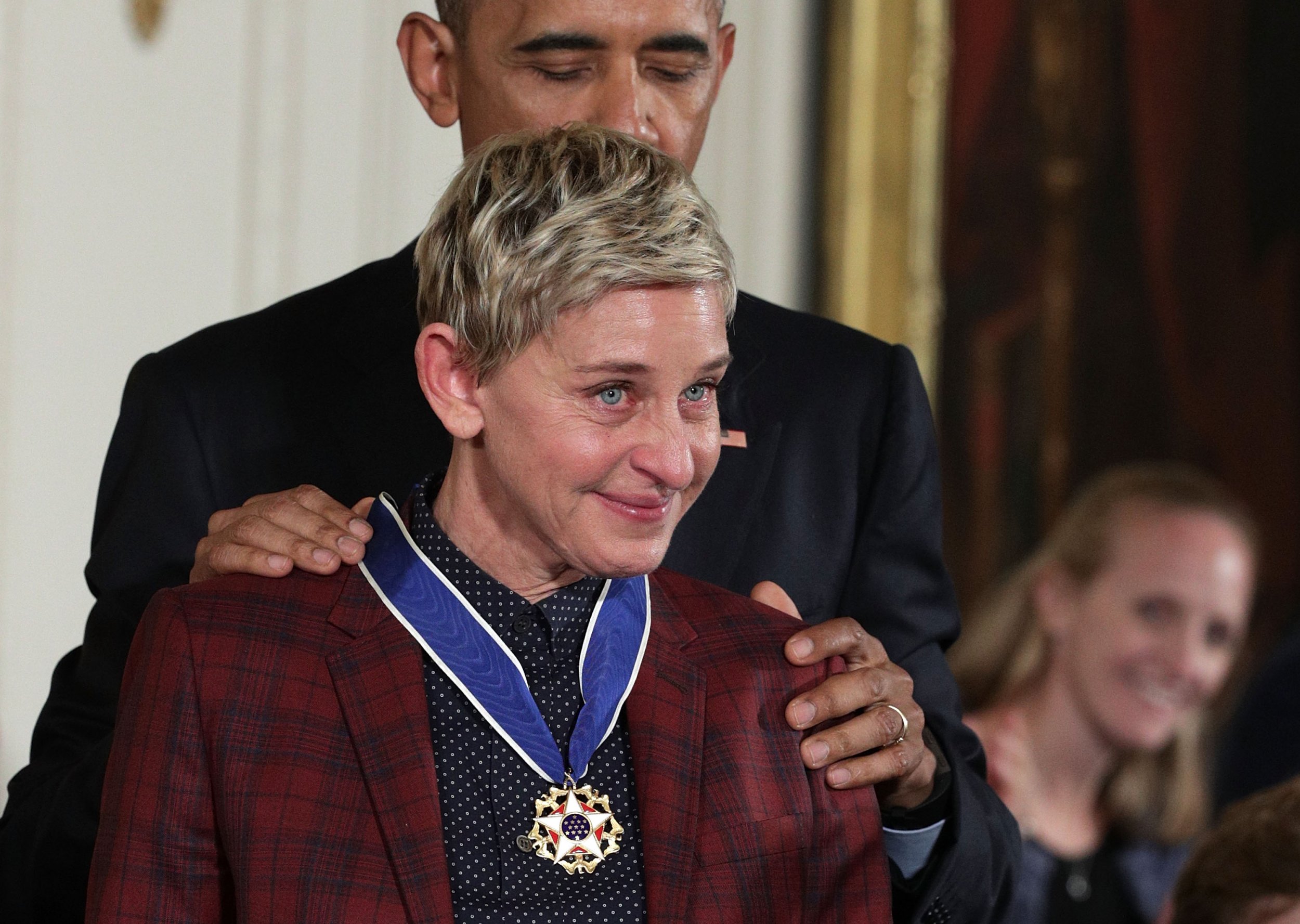 U.S. President Barack Obama has awarded gay comedian and actress Ellen DeGeneres America's highest civilian honor.
Obama presented DeGeneres with the Presidential Medal of Freedom in an emotional exchange at the White House in Washington, D.C. on Tuesday.
In 1997, DeGeneres came out as a lesbian, sparking intense interest from American tabloids. At the time, contentiousness of the media coverage affected DeGeneres's career and left her, she has said, "mired in depression."
DeGeneres is now married to Australian-American actor and philanthropist Portia de Rossi and hosts her own chat show, which is famed for its positive spirit, human-interest stories and parting message to "be kind to one another."
"It's easy to forget now just how much courage was required for Ellen to come out on the most public of stages 20 years ago," Obama said.
"What an incredible burden that was to bear—to risk your career like that—people don't do that very often. And then, to have the hopes of millions on your shoulders."
"In a career spanning three decades, Ellen DeGeneres has lifted our spirits and brought joy to our lives as a stand-up comic, actor and television star," an announcer said while Ellen stood next to Obama.
"In every role, she reminds us to be kind to one another and to treat people as each of us wants to be treated. At a pivotal moment, her courage and candor helped change the hearts and minds of millions of Americans, accelerating our nation's constant drive towards equality and acceptance for all. Again and again, Ellen DeGeneres has shown us that a single individual can make the world a more fun, more open, more loving place so long as we just keep swimming."
Actors Tom Hanks and Robert De Niro, retired basketball player Michael Jordan, co-creator and producer of Saturday Night Live Lorne Michaels and designer of the Vietnam Veterans Memorial Maya Lin were also bestowed with the accolade. Bruce Springsteen and Diana Ross were recognized for their contributions to music.