President Joe Biden delivered remarks on the economy and "lowering prices for the American people"
Biden announced Tuesday that the Department of Energy will make 50 million barrels of oil from the Strategic Petroleum Reserve available to lower gas prices
Inflation and higher-than-usual prices of gas, food and other products have caused economic anxiety for Americans ahead of the holiday season and has negatively impacted Biden's approval rating
Energy Secretary Jennifer Granholm said there is a "global mismatch" in oil supply and demand The supply remains low amid high demand as economies recover from the pandemic
The live updates for this blog have ended.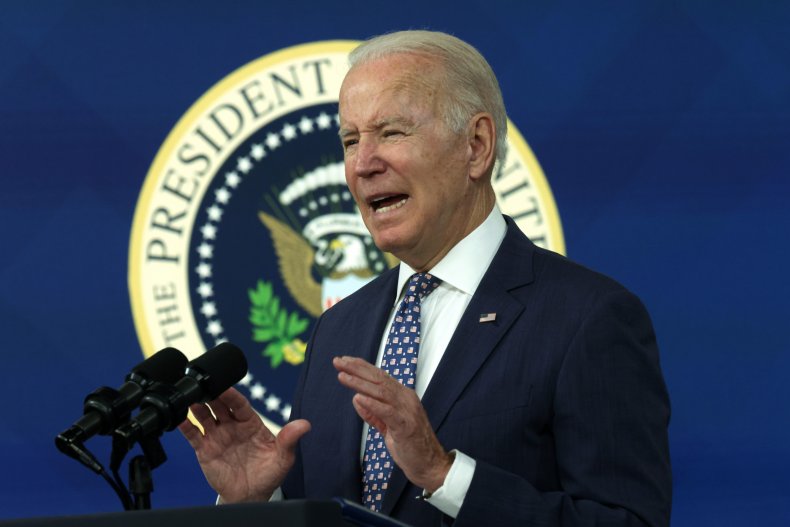 U.S. should stop relying on one source of 'volatile' energy, Energy Secretary says
Energy Secretary Jennifer Granholm said the United State should "stop relying on one source" of energy.
"Relying upon volatile sources of fuel from countries that may not have our best interests at heart hurts the American people," she said.
Granholm said diversifying U.S. energy sources to include more clean energy is "the best strategy long term."
She pointed to the Build Back Better and Infrastructure plan to cut energy costs, invest in the supply chain and create more jobs in the clean energy sector.
"Our administration is deeply committed to tackling this existential threat by transitioning to clean energy," she said.
Energy Secretary says there is a 'mismatch' in global oil supply and demand
Energy Secretary Jennifer Granholm discussed the oil supply and gas pricing issues reporters during a White House press briefing Tuesday.
"To be clear the president does not control the price of gasoline. No president does," she said.
Granholm said there is a "global mismatch in oil supply and demand."
The oil supply is low amid high demand as economies around the world recover from the pandemic.
She said the Biden administration is "leaving no stone unturned" to examine the price discrepancies "between the price of unfinished gasoline and the average price at the pump."
Biden says U.S. economy is stronger than before the pandemic
President Biden said the U.S. economy is better than it was before the pandemic.
"We're experiencing the strongest economic recovery in the world," he said. "Even after accounting for inflation, our economy is bigger and our families have more money in their pockets than they did before the pandemic. America is the only major economy in the world that can say that."
He added that household income and the economy as a whole is stronger now than it was before COVID-19 hit.
Biden clears up 'myth' about environmental policies' impact on gas prices
President Biden addressed a "myth" about the inflated gas price.
"My effort to combat climate change is raising the price of gas," Biden said.
He said his environmental measures are creating jobs in clean energy that will reduce energy costs.
"Let's do that, let's beat climate change with more extensive innovation and opportunities," he said.
Biden asks FTC to investigate 'potentially illegal' practices from oil and gas companies
President Biden said unfair practices of oil companies may be to blame for high gas prices.
He said the price of gasoline on the wholesale market has fallen but the price at the pump "hasn't budged a penny."
"In other words, gas supply companies are paying less and making a lot more," he said. "They do not seem to be passing that along to consumers at the pump."
He accuses gas companies of "pocketing the difference as profit."
Therefore, he asked the Federal Trade Commission (FTC) to consider whether "potentially illegal, non-competitive behavior" in the oil and gas industry is causing higher prices for consumers "so we can assure American people are paying a fair price of gasoline."
Shift to clean energy will reduce reliance on oil, Biden says
President Biden said he spoke with world leaders to reduce the price of oil globally.
He said that while the problem won't be solved overnight, the prices at the gas pump will go down. In the longer term, Biden said the country will reduce its reliance on oil as its shifts towards cleaner energy.
"Right now, I will do what needs to be done to reduce the price you pay at the pump," he said.
Biden says shelves will be fully stocked for the holidays
President Biden said there is "a lot to be proud of" in terms of boosting the economy, but the country's economy is still facing challenges due to the pandemic.
He said his Port Action Plan is working. The plan invested in ports, like those in Los Angeles and Long Beach, to relieve bottlenecks and ramp up operations to 24/7.
Biden said the burden on the supply chain is easing, as large retailers assured him their stocks will be fully stocked with food and other products for the holidays.
"More goods are moving more quickly and more cheaply out of our ports, onto your doorsteps, and onto store shelves," he said.