President Biden, Listen to Iranian Pro-Democracy Dissidents | Opinion
Joe Biden campaigned on a promise to unify the country. For unity to be real and not a mere facade, Biden needs to show openness to the principles and priorities of those who did not vote for him. This is as true on foreign policy as on the domestic front, and when it comes to national security, the threat of Iran is more fraught with bad-faith partisanship than any other issue. To put the national interest first, Biden should craft a new approach to Iran that has as its defining strength bipartisan consensus.
By turning what has become a political football between America's two parties into a coherent, consistent approach to Tehran, Biden can show the Islamic Republic and other brutal anti-American regimes that the American political establishment speaks with one voice. He can show tyrants and terrorists that they cannot play one American political party off the other, sow discord and distrust among our intelligence and national security communities and divide American society to their benefit.
The administration is inheriting tremendous leverage on Ayatollah Ali Khamenei's regime from the Trump administration's maximum pressure campaign. Using this leverage wisely and patiently can help forge new engagement with Tehran that achieves far more than the JCPOA did. The regime is the weakest and most desperate it has been since the 1979 revolution. For the Iranian people and for the entire Middle East, the gruesome reality of Tehran's wars, terror, repression, ineptitude and corruption is more evident than ever. This awareness has forged the new Abraham Accords between Arab countries and Israel. It is the reason for the deep resentment and repeated protests against Khamenei's cabal in more than 200 Iranian cities and across Tehran's imperial dominion, from Kabul to Beirut. It drives the fury against the so-called Iranian moderates who massacred over 1,500 peaceful protestors in November 2019 and drove the annihilation of Syria, with hundreds of thousands killed and many millions displaced, not to mention the countless other innocents killed and terrorized throughout the region and hundreds of American soldiers killed.
Freedom lovers in the Middle East know all too well that neither liberty nor peace is possible so long as Khamenei's Islamist empire rules. It is not only the prospect of a nuclear bomb that fills their lives with fear and insecurity. In the here and now, those who rule in the name of God threaten their lives and livelihood. From the apocalyptic explosion in Lebanon to the war and famine in Yemen, utter devastation of Syria, grotesque corruption in Iraq, possibility of the repeated loss of dignity in Afghanistan and the existential threat to Israel, all roads lead to Tehran.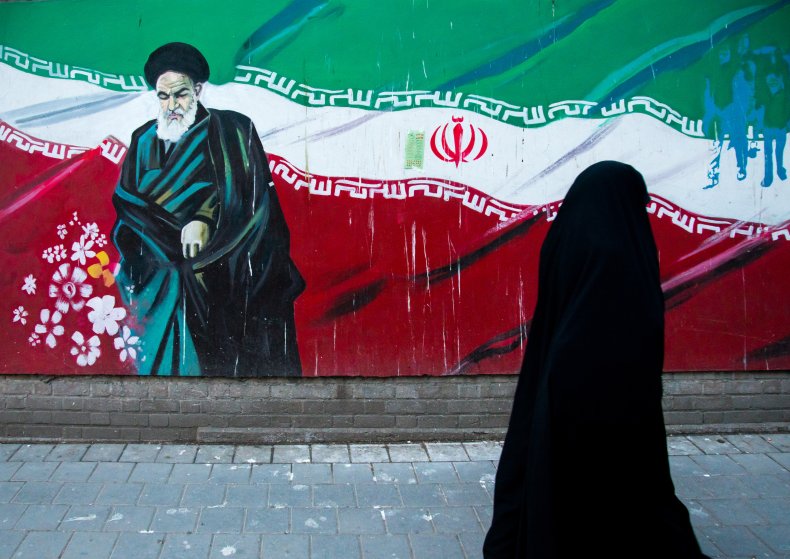 The regime uses its nuclear program for extortion, to gain concessions to endure as a predatory mafia state and maintain its imperial control. Even if it never acquires an atomic weapon, its pursuit guarantees its survival as one of the most brutal regimes in the world. By insisting on negotiating over its nuclear program, it not only avoids scrutiny of its terror and repression, but buys itself tacit acquiescence and legitimacy from the Free World. Even as it presses the new Biden administration to lift sanctions, Tehran is ramping up executions, taking more foreign hostages, and committing medieval punishment of dissidents in dungeons.
The Biden administration must honor the words of those dissidents. Just today more than three dozen of them released an open letter to President Biden urging him to keep sanctions and pressure on the regime to help foster a transition to democracy. As Bret Stephens has argued, putting dissidents first in policymaking is not merely a matter of morality but of the security of all free, law-abiding nations. Iranian dissidents today insist on what Vaclav Havel insisted on decades ago: giving credence to those who speak of peace but accommodate regimes that deny truth and the dignity of the individual achieves neither peace nor freedom. America should know better.
It is in that spirit that some of us, including those like me who supported Joe Biden's candidacy, wrote to oppose the appointment of Robert Malley as Iran envoy. Malley is the quintessentially polite, polished diplomat who seeks ways to legitimize and sustain the rule of those opposed to America's most treasured values. It is possible to negotiate with such regimes without emboldening them. It is possible to reach agreements without abandoning our faith in a free, peaceful future for the people of Iran and all the Middle East.
Biden promised to rise above partisan division, to govern from the center and reestablish an American polity grounded in shared commitments. The American people, regardless of party affiliation, have long known that the Islamist depravity ruling over Iran threatens the people of Iran and all the world. They expect their president to engage with that regime in such a way that does not prolong its rule but rather exerts American power to defeat it.
Mariam Memarsadeghi is a leading proponent for a democratic Iran. She previously was co-director of Tavaana: E-Learning Institute for Iranian Civil Society, which she co-founded. Follow her on Twitter @memarsadeghi.
The views expressed in this article are the writer's own.