When asked for an update on Ukraine, President Joe Biden answered ambiguously that he would send troops to Eastern Europe, but "not too many."
Biden made the remarks in a brief exchange with reporters on Friday after returning from a trip to Pittsburgh, Pennsylvania, to give a speech on the economy and infrastructure spending.
"I'll be moving troops to Eastern Europe in the NATO countries in the near term," Biden told reporters. "Not too many."
Biden did not offer a specific timeline or number of troops. But Biden on Tuesday said there will not be American forces in Ukraine, and any troops deployed would be used to reinforce NATO's mutual-defense obligations.
Newsweek has reached out the White House for further comment.
Currently, 8,500 troops based in the U.S. are on high alert for a possible deployment to Eastern Europe amid ongoing concerns of a Russian invasion of Ukraine. U.S. Defense Secretary Lloyd Austin said at a press briefing earlier on Friday that none of the troops have been moved, but they have been put on a higher alert.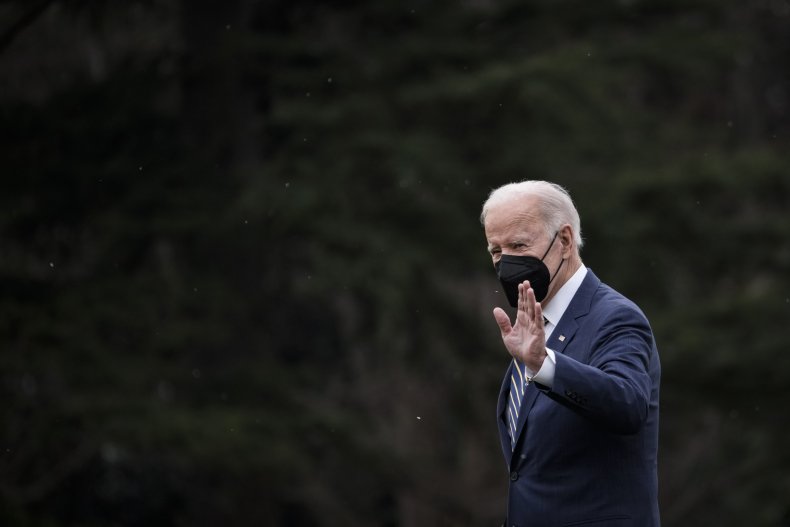 If activated, the troops would be used to support NATO, a Cold War-era alliance that has expanded to include multiple former Soviet republics in recent years, Chairman of the Joint Chiefs of Staff General Mark Milley said at the press briefing.
Earlier in the week, NATO members announced they were putting forces on standby, in addition to sending ships and fighter jets to Eastern European member countries as a deterrent against Russia.
Polish President Andrzej Duda said on Friday that while tensions between Russia and Ukraine were high, there are "no direct military threats to Poland right now," according to the Associated Press. Poland is a member of NATO.
There is a small contingent of U.S. and NATO advisers and trainers in Ukraine, said Milley. But he added, the U.S. "has zero offensive combat weapons systems, nor any permanent forces, nor bases in Ukraine."
Austin said the more than 100,000 Russian troops and amount of hardware amassed at the border "far exceeds" typical military exercises. But both said war can still be avoided.
Calling a Russian invasion of Ukraine "horrific," Milley said there would be a large number of civilian casualties.
"Conflict is not inevitable," said Milley. "There is still time and space for diplomacy."
The United Nations Security Council is set to meet on Monday to discuss the situation with Ukraine's borders.
"This is not a moment to wait and see," U.S. Ambassador to the U.N. Linda Thomas-Greenfield said in a statement Friday. "The Council's full attention is needed now, and we look forward to direct and purposeful discussion on Monday."