President Biden's SCOTUS Pick Receives Surprise Support From Fox News
President Joe Biden's Supreme Court nominee, Ketanji Brown Jackson, is receiving high praise from what could be seen as an unlikely source—Fox News.
An anchor of the right-leaning network discussed Jackson in glowing terms on Friday morning, shortly after Biden formally introduced her as his nominee, even though several congressional Republicans have opposed her nomination.
Jackson, the first-ever Black female Supreme Court nominee, spoke after Biden introduced her. In her speech, she shared a little about her family and the people who inspired her professional career. She also called the United States "the greatest beacon of hope and democracy the world has ever known."
Fox News contributor and legal scholar Jonathan Turley said, "I thought that her remarks were pitch-perfect. They were really terrific in terms of laying out the great honor that's been given to her but also the compelling aspects of her life. I mean, there's a life story to be told here. Hers is a particularly impressive one."
Turley also said she had a "stellar resume" and called her "a very impressive person."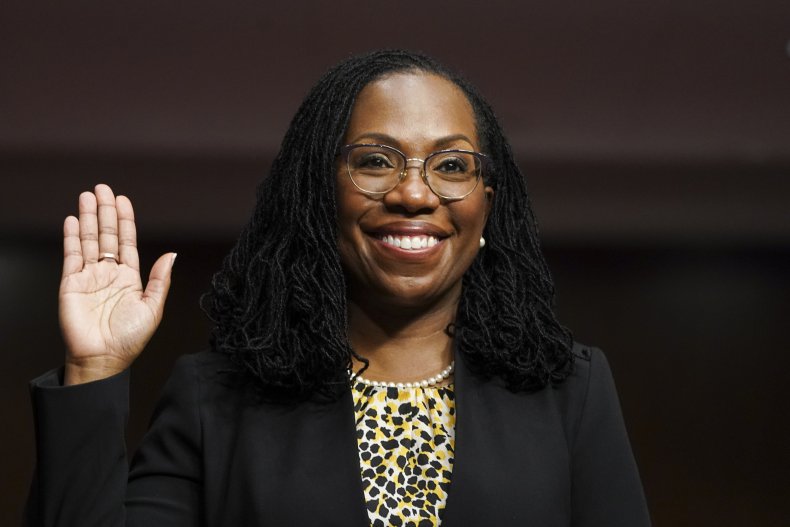 In her speech, Jackson praised Justice Stephen Breyer, the judge whose seat she would fill if confirmed by the Senate. Jackson served as a clerk for Justice Breyer from 1999 to 2000. She called the job "the greatest job that any young lawyer could ever hope to have."
"He also exemplified every day in every way that a Supreme Court justice can perform at the highest level of skill and integrity while also being guided by civility, grace, pragmatism and generosity of spirit," Jackson added. "Justice Breyer, the members of the Senate will decide if I fill your seat, but please know that I could never fill your shoes."
Jackson received her law degree from Harvard Law School in 1996, served as an assistant public defender in Washington, D.C. from 2005 to 2007 and served as vice chair of the U.S. Sentencing Commission from 2010 to 2014.
In 2012, Jackson was nominated to U.S. District Court for the District of Columbia. There, she served until she was elevated to the Court of Appeals in 2021.
Despite her resume, several Republican Congress members have opposed her nomination.
On Friday, Republican Senator Lindsey Graham of South Carolina said that Jackson's nomination was proof that "the radical Left has won President Biden over yet again."
Despite his comment, Graham was one of just three Republicans to vote in favor of her appointment to the U.S. Court of Appeals for the District of Columbia Circuit last June.
Last month, Republican Texas Senator Ted Cruz claimed that Biden's vow was "actually an insult to Black women." Republican Senator Roger Wicker of Mississippi said Biden's nominee was a "beneficiary" of affirmative action who will "misinterpret the law." Republican Senator Susan Collins of Maine said Biden's nomination of a Black female "helped politicize the entire nomination process."
Newsweek contacted the White House for comment.