President Donald Trump Attacks 'LGBTQ People For Who They Are,' Says Human Rights Campaign Head
Referring to President Trump's rollback of several Obama-era protections, the head of the Human Rights Campaign (HRC) called Trump "the worst president on LGBTQ issues ever" on Thursday.
During an interview on Rising, a news show airing on Hill.TV, HRC president Alphonso David made the comment, pointing to Trump administration's new rule that would allow faith-based foster care and adoption groups to exclude LGBT parents, reports The Hill.
Hill.TV co-host Saagar Enjeti responded that Trump is "openly pro-gay marriage" and that David's claim seemed "facile and ridiculous."
The HRC leader stressed that Trump is "attacking LGBTQ people for who they are."
Get your unlimited Newsweek trial >
"We are living in an uncharted territory where LGBT people are being attacked every single day by the Trump administration and the [Department of Health and Human Services] rule is just one of many examples where the Trump administration is targeting gay, lesbian, bisexual, transgender and queer people," said David.
He also argued that perceived discrimination is happening within a number of federal agencies, including the Department of Labor.
The discrimination he pointed to was how the Labor Department proposed a rule in August that allowed "religion-exercising organizations" with federal contracts to raise religious exemptions if they were accused of biased hiring practices.
The Labor Department maintains that this rule will protect religious freedoms.
Get your unlimited Newsweek trial >
But David said the proposed rule would give these groups a "blanket license to discriminate."
"If you are providing a service to the public, you can't allow these agencies to be essentially discriminating against same-sex couples or discriminating against women," he said on Rising.
"What this rule will allow these agencies to do is to discriminate in a blanket fashion," he continued.
"It's essentially saying, 'I'm not going to allow adoption-related services to any families unless they're Christian-based families.'"
In response to David's criticism, the Labor Department directed Hill.TV to a press release announcing the proposal.
"HHS is committed to fully enforcing the civil rights laws passed by Congress," the statement reads. "The proposed rule would better align its grants regulations with federal statutes, eliminating regulatory burden, including burden on the free exercise of religion."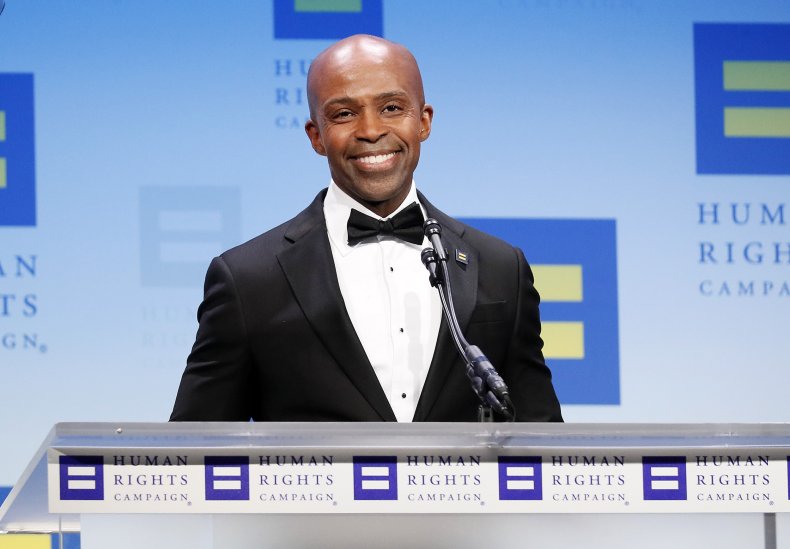 At David's first HRC National Dinner as president in September, he spoke passionately about the administration's treatment of LGBTQ community.
"There has been and continues to be a widespread indifference and bigotry advanced through the highest halls of power in a fundamental regression of our society," he said. "At the core of this moral recession is Donald Trump, Mike Pence and a cadre of lieutenants."
"This federal administration is using playbooks of the past to turn us against one another. They have artfully sought to use our identities as a sword and create false hierarchies to force us into believing that we lose something by simply recognizing someone else as a human being."
President Donald Trump Attacks 'LGBTQ People For Who They Are,' Says Human Rights Campaign Head | News