President Donald Trump Believes He Will 'Win Election Easier' if Democrats Start Impeachment Process
President Donald Trump suggested that any effort by his Democratic opponents to impeach him and possibly remove him from office would only strengthen his 2020 reelection campaign.
In a preview clip of an upcoming Meet the Press interview with Chuck Todd, Trump appeared to brush off concerns about impeachment.
"I think I win the election easier," the president responded, when asked by Todd what would happen if House Democrats began the impeachment process. "But I'm not sure that I like having it."
Trump reiterated his belief that he did "nothing wrong" in the interview, telling Todd that impeachment would be a "very unfair thing." The full interview is set to be broadcast Sunday morning.
Impeachment has continued to be a thorny topic for Democrats. Most party leaders, including Speaker of the House Nancy Pelosi, have publicly argued that impeachment is a politically risky move and stated there isn't currently enough bipartisan support to justify starting an inquiry.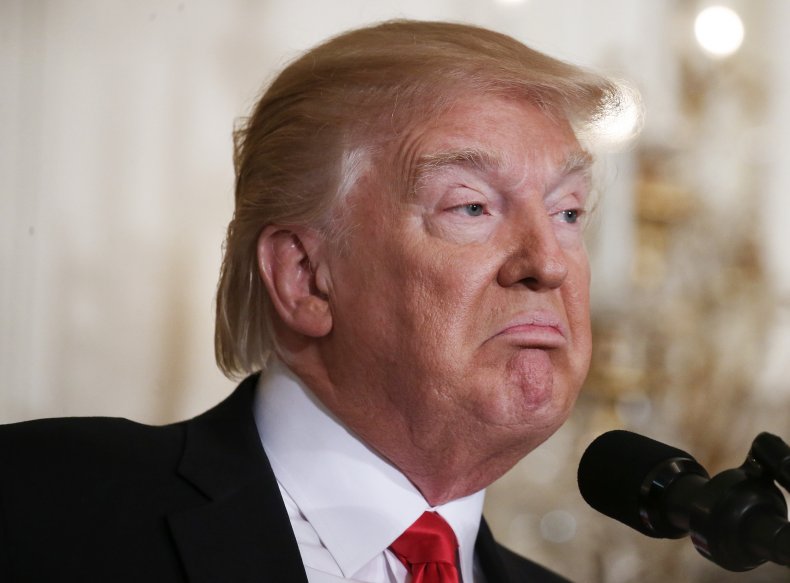 "You're wasting your time unless the evidence is so conclusive that the Republicans will understand," Pelosi told USA Today about drawing up articles of impeachment. "Otherwise, it's a gift to the president. We take our eye off the ball."
Pelosi and others have contended that the best way for Democrats to oust Trump from the Oval Office would be to defeat him in the 2020 election.
However, if the Democratic stronghold in the House were to successfully vote on formal impeachment charges, the case would then move to the Republican-controlled Senate. Successfully removing a sitting president requires two-thirds support for the process, which would require more than a dozen GOP senators to break rank and vote against the president.
So far, only one Republican on Capitol Hill has voiced support for impeachment proceedings—Congressman Justin Amash of Michigan. No GOP senators have expressed this sentiment.
But a growing number of lawmakers—more than 70 of the House's 235 Democratic representatives—have made public statements arguing that the president's behavior warrants starting the lengthy process regardless of political expediency. House Judiciary Committee Chairman Jerry Nadler, who is leading House investigations into the Trump administration, has reportedly urged Pelosi to open a formal impeachment inquiry based on allegations Trump obstructed justice during the special counsel's investigation into election meddling.
Like their representatives, the American public has appeared divided on the issue. While Trump's disapproval rating continues to hover around 52 percent, as it did in April, support for impeachment rose a modest 4 points in early June, from 37 percent to 41 percent. That number raises to 76 support when including only responses from Democrats,
James Clyburn, the Democratic Majority Whip in the U.S. House of Representatives, has sided with Pelosi on the issue—although he didn't rule out launching an inquiry in the near future. In a June interview, he said the goal is to educate voters before taking the drastic step.
"We do believe that if we sufficiently, effectively educate the public, then we will have done our jobs and we can move on an impeachment vote and it can stand," he said. "And maybe it can be what needs to be done to incentivize the Senate to act."