Trump Renews Attack On ABC Reporter, Says He Should Have Been Fired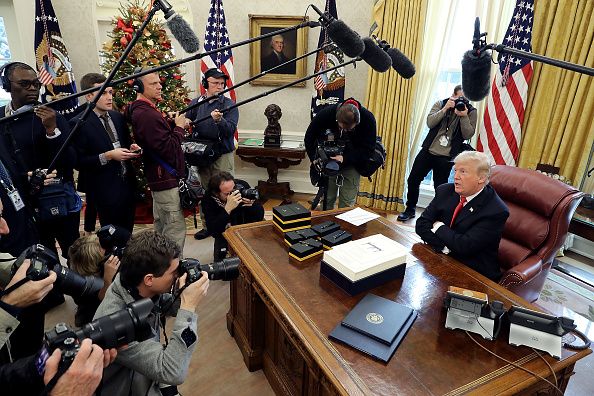 President Donald Trump took to Twitter on Saturday to slam an ABC reporter who made a mistake in his reporting over a month ago, calling on the company that they should have fired him.
"Brian Ross, the reporter who made a fraudulent live newscast about me that drove the Stock Market down 350 points (billions of dollars), was suspended for a month but is now back at ABC NEWS in a lower capacity. He is no longer allowed to report on Trump. Should have been fired!" Trump tweeted.
ABC News was forced to correct a report by Brian Ross in the beginning of December after he had said Trump discredited his former national security adviser Michael Flynn in order to make contact with Russian officials during the campaign. Trump issued the direction after he had already been elected, according to the corrected report.
Stocks plummeted after it was released on air before it was corrected. Ross was suspended for four weeks without pay for the error and is no longer allowed to cover stories about Trump.
This has not been the first time Trump has called Ross out. Ross was called a "fraudster" by Trump during a rally in a December rally and said he should have been fired for his mistake. Trump used his mistake and several other errors to call out the media for being biased and for producing "fake news."
Trump's attack on the media doesn't stop there. In early December, Trump called out a reporter from the Washington Post after he posted an inaccurate picture on Twitter about the crowd size at a Florida rally.
"@DaveWeigel @WashingtonPost put out a phony photo of an empty arena hours before I arrived @ the venue, w/ thousands of people outside, on their way in. Real photos now shown as I spoke. Packed house, many people unable to get in. Demand apology & retraction from FAKE NEWS WaPo!" Trump tweeted
Weigel has apologized for the mistake and said it was "fair" to call him out on it. The reporter also added that this was a story on his personal account page and not a story for the Washington Post.
"It was a bad tweet on my personal account, not a story for Washington Post. I deleted it after like 20 minutes. Very fair to call me out," tweeted Weigel.
Trump Renews Attack On ABC Reporter, Says He Should Have Been Fired | U.S.