While speaking in Osaka, Japan, on Saturday, President Donald Trump suggested a man and his nearly two-year-old daughter who died while trying to cross the Rio Grande River would have been saved by his proposed border wall.
Trump's mention of the family came during the press conference at the annual Group of 20 (G20) Summit in Osaka.
"If we had walls up, and we had it hard, the father and the beautiful daughter who drowned — you know the Rio Grande is very tough, it has moments where it can be very calm and then all of a sudden it becomes totally violent and then people get swept away— but if they thought it was hard to get in, they wouldn't be coming up. So many lives would be saved," Trump said in the recorded press conference.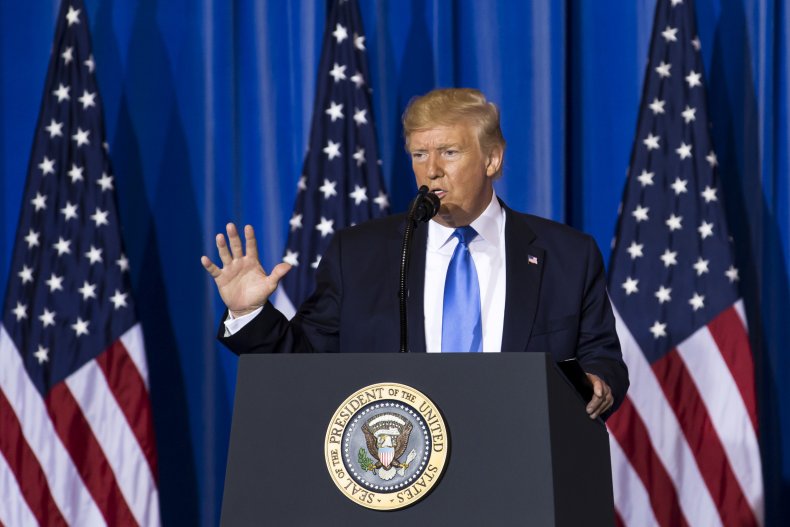 In the U.S., a photograph of drowning victims Oscar Alberto Martínez and 23-month-old daughter Angie Valeria sparked immediate outcry, with pundits and journalists drawing comparisons to other haunting photographs of war.
The photo, taken by journalist Julia Le Duc on Monday, depicts Martínez and his daughter lying facedown on the banks of the Rio Grande River near Brownsville, Texas. Martínez had reportedly attempted to carry his daughter across the banks of the river but the pair were swept away by the tumultuous current.
Tania Vanessa Ávalos, Martinez's wife and the young girl's mother, said they had previously been staying at a migrant camp in Matamoros, Mexico, in hopes of seeking asylum — a backlogged and lengthy process.
To some, the image has become an emblem of Trump's hard-line immigration policies and its consequences. Senate Minority Leader Charles Schumer took the photo with him on the Senate floor, pleading with the president to look at the human cost of an immigration stance that includes limiting the number of asylum seekers and holding detainees in reportedly inhumane conditions.
"President Trump, I want you to look at this photo," Schumer said. "These are not drug dealers or vagrants or criminals. They are people simply fleeing a horrible situation in their home country for a better life," he said. "So, President Trump, if you want to know the real reason there's chaos at the border, look in the mirror," Schumer said.
After the photograph was published on the front page of The New York Times and other newspapers, Trump's initial response was to blame it on "open borders" and Democrats.
"I hate it, and I know it could stop immediately if the Democrats change the law," Trump said last Wednesday, according to White House transcripts. "They have to change the laws. And then that father, who probably was this wonderful guy, with his daughter — things like that wouldn't happen."
So far, that argument seems to be the official stance of the Trump administration. Acting director of US Citizenship and Immigration Services Ken Cuccinelli reiterated a similar talking point in an interview with CNN host Erin Burnett.
"Until we fix the attractions in our asylum system, people like that father and that child are going to continue to come through a dangerous trip."
Filippo Grandi, the United Nations high commissioner for refugees, issued a statement calling the photos an "unacceptable."
"The deaths of Oscar and Valeria represent a failure to address the violence and desperation pushing people to take journeys of danger for the prospect of a life in safety and dignity," Grandi said. "This is compounded by the absence of safe pathways for people to seek protection, leaving people with no other choice than to risk their lives."