President Donald Trump Claims Closing Border with Mexico Would be 'Profit-Making Operation'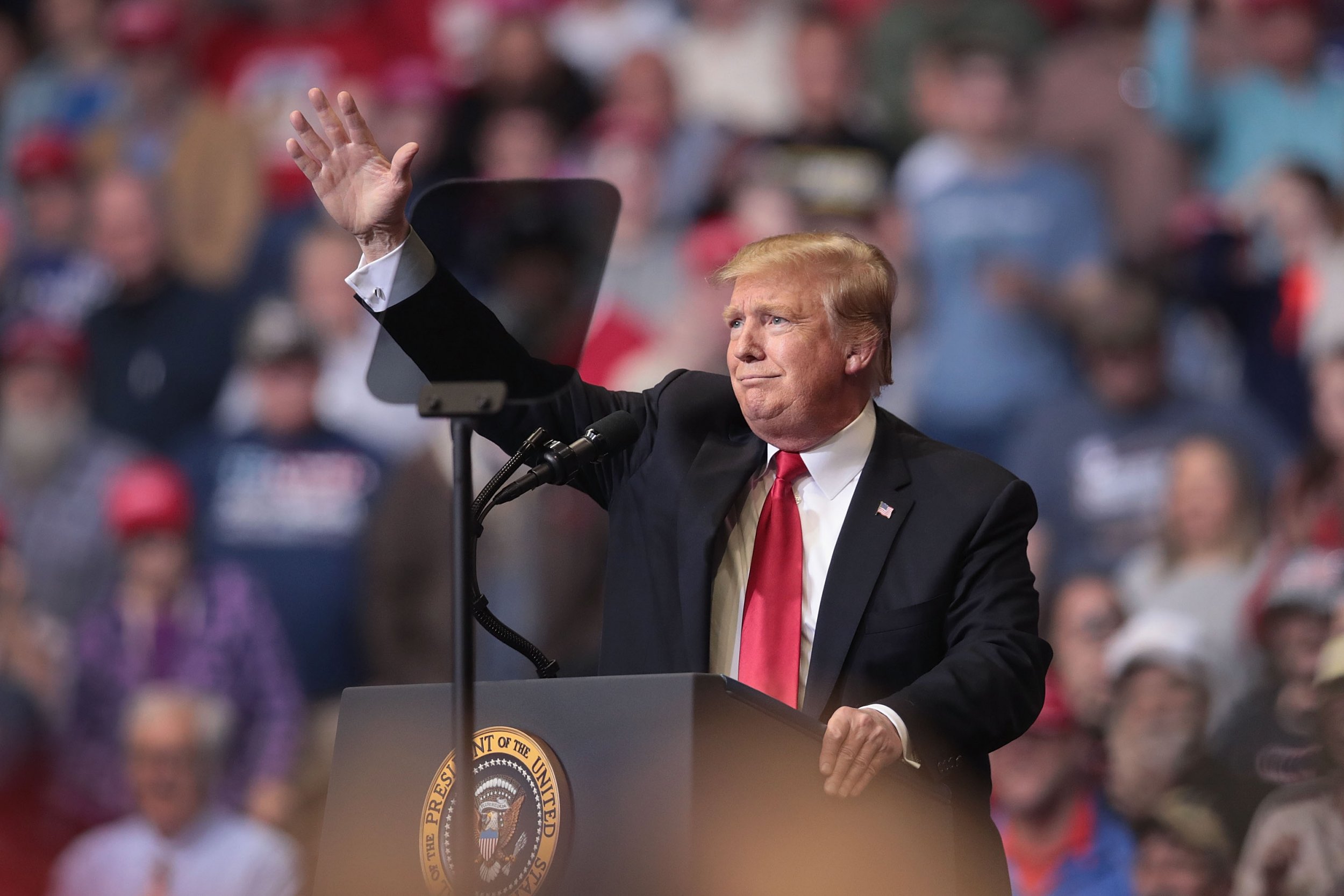 President Donald Trump spent much of Friday afternoon tweeting and talking about the likelihood that he will close the border to Mexico in very near future, arguing that doing so would actually be profitable.
"Mexico is going to have to do something, otherwise I'm closing the border. I'll just close the border," Trump told reporters in Florida on Friday afternoon, according to The Hill. "And with a deficit like we have with Mexico and have had for many years, closing border would be a profit-making operation."
The president appeared to once again be referencing America's trade deficit with Mexico. Though Trump has often portrayed trade deficits to be on par with budget deficits, a trade deficit simply means that the U.S. is importing more goods from Mexico than Mexico is bringing in from the U.S. Many economists contend that such a trade deficit is to be expected because the American economy is stronger and the cost of production and labor in Mexico is so much lower.
Trump has repeatedly pushed for tariffs and revised trade deals with the international community to reduce the trade deficit, those are long-term proposals aimed at encouraging companies to build and buy domestically.
Closing the border, however, would have an immediate impact on trade, and severing that connection to Mexico would have potentially disastrous effects on American businesses and workers, say some economists.
"Closing the border would be an economic disaster for the United States," Christopher Wilson, deputy director of the Wilson Center's Mexico Institute, told Buzzfeed News. He pointed out that over a billion dollars worth of goods go back and forth across this border each day, directly impacting millions of American jobs. "Shutting this down from one day to the next would force many factories across the United States to stop their assembly lines within days, cause produce to rot, and generally throw the economies of both the United States and Mexico into turmoil."
The president also argued on Friday that closing the border — meaning shutting down the actual ports of entry between Mexico and the United States — would "stop a lot of the drugs from coming in."
This statement would appear to run counter to previous claims Trump has made about the need for a often-promised wall along the Mexican border. During a speech in February, the president mocked those who argued that a wall would do little to stop the illegal flow of drugs, as — according to the Drug Enforcement Administration's own data — most of these drugs are smuggled through ports of entry.
"[W]hen you look and when you listen to politicians, particularly certain Democrats, they say 'It all comes through the ports of entry.' Wrong, it's wrong," Trump said at the time. "It's just a lie. It's all a lie. They say, 'Walls don't work.' Walls work 100%."
The president launched this latest ultimatum to close the border earlier on Friday via a series of tweets.
"The DEMOCRATS have given us the weakest immigration laws anywhere in the World," began Trump. "Mexico has the strongest, & they make more than $100 Billion a year on the U.S. Therefore, CONGRESS MUST CHANGE OUR WEAK IMMIGRATION LAWS NOW, & Mexico must stop illegals from entering the U.S. through their country and our Southern Border. Mexico has for many years made a fortune off of the U.S., far greater than Border Costs."
He continued, "If Mexico doesn't immediately stop ALL illegal immigration coming into the United States throug our Southern Border, I will be CLOSING the Border, or large sections of the Border, next week. This would be so easy for Mexico to do, but they just take our money and 'talk.' Besides, we lose so much money with them, especially when you add in drug trafficking etc.), that the Border closing would be a good thing!"