President Donald Trump Congratulates Golfer Tiger Woods After Masters Win
Tiger Woods won his fifth Masters tournament on Sunday, putting him one short of the record set by fellow golf legend Jack Nicklaus for the most Masters wins ever. One of the first to congratulate Woods on his achievement was President Donald Trump.
The president had been cheering on Woods via Twitter for most of Saturday, as the 43-year-old golfer climbed his way to the top of the leader board and ultimately beat the trio of Dustin Johnson, Xander Schauffele and Brooks Koepka by a mere one stroke.
"Great Masters going on right now. @TigerWoods is leading with 2 holes left to play. Very exciting, tune in!" wrote the president early Sunday afternoon, followed by, "Watching final hole of @TheMasters. @TigerWoods is looking GREAT!"
When Tiger finally donned the Green Jacket, completing his long-awaited, surprising-to-some comeback, Trump was there again to cheer him on.
"Congratulations to @TigerWoods., a truly Great Champion!" tweeted Trump. "Love people who are great under pressure. What a fantastic life comeback for a really great guy!"
Trump, a huge golf fan in addition to being the owner of several golf resorts, played a round with both Woods and Nicklaus earlier this year. In February, the trio got together at Trump's course in Jupiter, Florida.
Woods had previously played golf with Trump at least once before, in 2017. Afterwards, the athlete said the outing was not a matter of politics, but of him merely respecting the office of president.
"He's the President of the United States," said Woods. "You have to respect the office. No matter who is in the office, you may like, dislike personality or the politics, but we all must respect the office."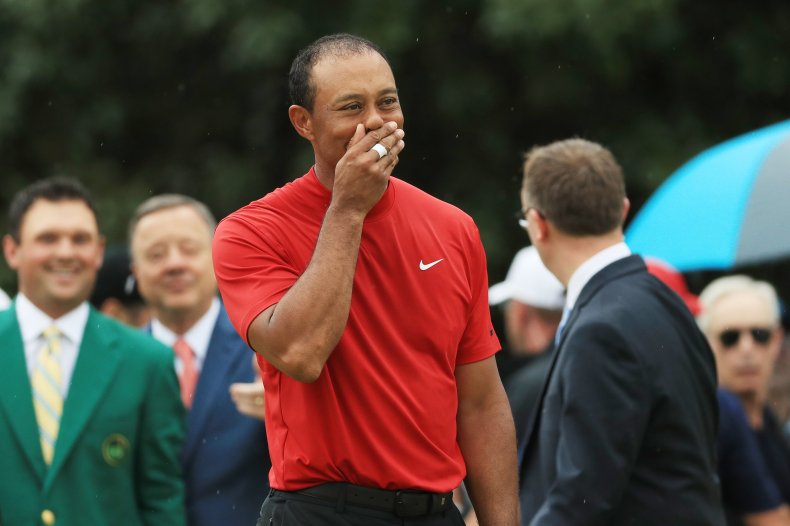 The headline of this article was updated to correct a typo. The body was updated to reflect that Tiger Woods is 43 years old and has won five Masters tournaments.