President Donald Trump to Coordinate Future Actions on North Korea Denuclearization With Japan PM Shinzo Abe at White House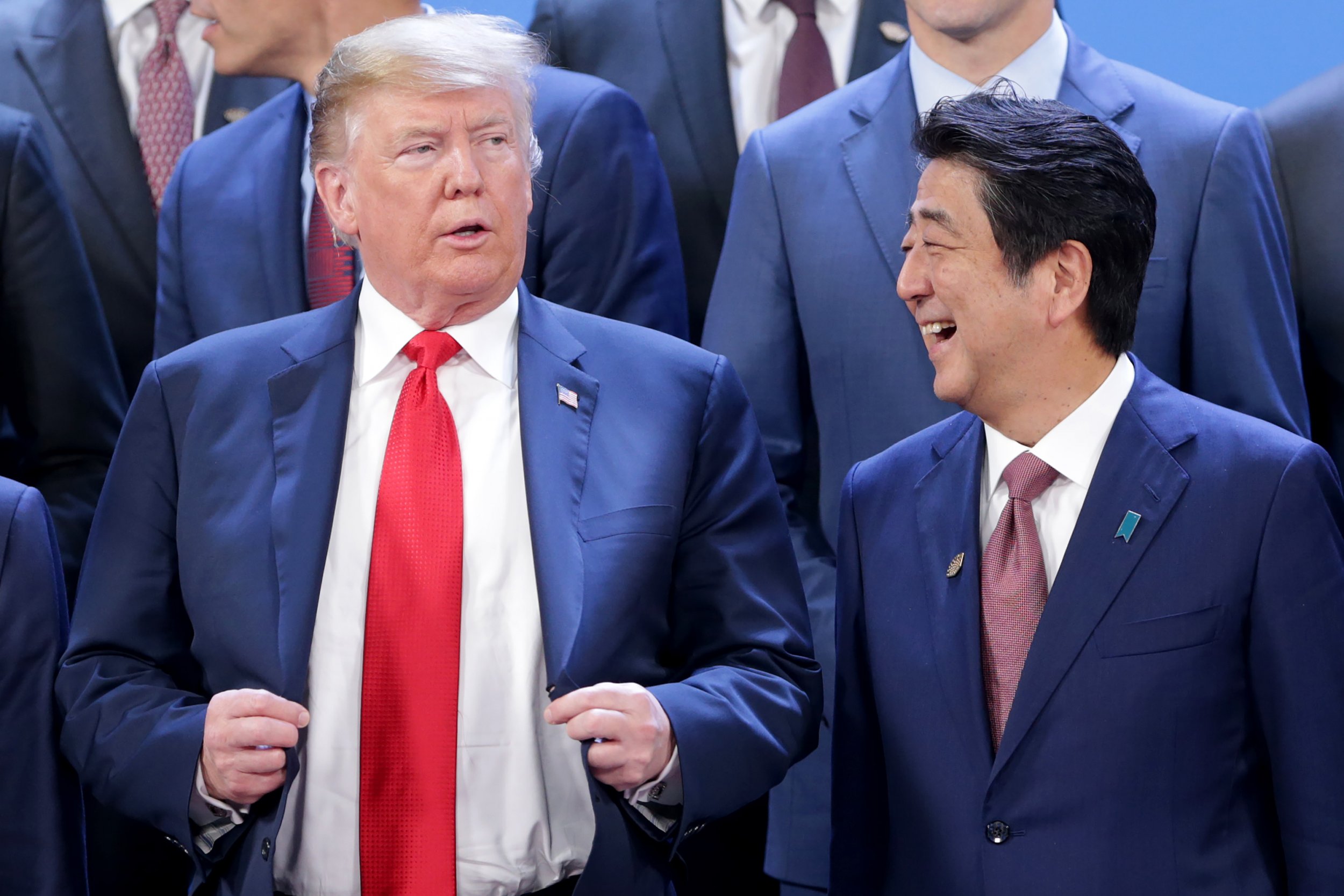 President Donald Trump will host Japan Prime Minister Shinzo Abe at the White House for a two-day summit on Friday, where the two world leaders will discuss next steps in ensuring the denuclearization of North Korea, national security and bolstering trade.
Trump and Abe will engage in a series of bilateral meetings which will include national security and foreign policy advisers as well as key economic and trade officials, a senior administration official told Newsweek and other news publications during a briefing Thursday afternoon.
The meeting of Trump and Abe presents an important opportunity for the leaders to exchange views on recent developments with North Korea, and to coordinate future actions, the official continued. Those future actions would also include consultations with U.S. ally the Republic of Korea, aimed at achieving the final fully verified denuclearization of North Korea.
The meeting comes as U.S. and Japanese officials commenced a second round of trade negotiations in Washington on Thursday to reach a deal on agricultural and automotive commodities. During their meeting tomorrow, Trump and Abe will likely continue talks on striking a bilateral trade deal between the two nations after the Trump administration's decision to pull out of the Trans-Pacific Partnership.
Since 2017, American and Japanese officials have held talks to achieve denuclearization of the Peninsula and worked together in protecting allies from the North Korean threat. In October and December 2017, South Korean, Japanese and U.S. militaries conducted joint ballistic missile defense exercises, according to the White House.
Trump met with North Korean leader Kim Jong Un for the second time in Hanoi, Vietnam, in February, following their historic June 2018 one-on-one summit in Singapore.
"Just landed - a long trip, but everybody can now feel much safer than the day I took office," the president tweeted after their meeting in 2018. "There is no longer a Nuclear Threat from North Korea. Meeting with Kim Jong Un was an interesting and very positive experience. North Korea has great potential for the future!"
After their first meeting, Trump repeatedly stated that he no longer saw a nuclear threat from North Korea. But numerous reports have since emerged detailing how the Pyongyang government was still expanding its nuclear capabilities. Trump walked away from his Hanoi face-to-face with Kim without a deal being struck on North Korea's nuclear arsenal due to disagreements over U.S. sanctions.
Russian President Vladimir Putin met with Kim on Thursday at a university campus in Vladivostok, Russia, during which the North Korean leader reportedly asked Putin to assist in resolving Pyongyang's nuclear stalemate with America. Putin agreed to share details of his Thursday meeting with the U.S. president, and what was said will likely be raised on Friday between Trump and Abe. Putin revealed that Kim was open to abandoning his nuclear weapons as long as he received concrete security guarantees.
Following their talks Friday, which also is first lady Melania Trump's 49th birthday, the president, the first lady, Abe and his wife, Akie Abe, will celebrate with a private dinner in the White House residence.