Donald Trump Cuts Joe Biden's Lead in Half After Ruth Bader Ginsburg's Death: Poll
With the first U.S. presidential debate of 2020 expected to occur on Tuesday, polling data released Thursday showed President Donald Trump gaining on Democratic presidential candidate Joe Biden.
Biden is ahead of Trump nationwide by an average of 7 points according to RealClearPolitics. How Biden performs during the debates could be a determining factor in how some voters cast their ballots. Trump has called Biden mentally unfit to run the U.S. and called his performance during the Democratic debates "a disaster." Biden said in September he was "looking forward" to debating the president.
In a Yahoo News/YouGov poll, 45 percent of registered voters in the U.S. plan on voting for Biden. President Trump had the support of 40 percent of those surveyed. When the question was presented by the poll to voters earlier this month, Biden led by 49 percent while President Trump garnered 39 percent.
More than half of voters surveyed, 54 percent, plan on watching the first debate between Biden and Trump. Another 26 percent said they would not watch, while 20 percent of the voters surveyed said they were not sure.
Interest among voters in the 2020 presidential debates as opposed to the debates during 2016, when Trump ran against Hillary Clinton, is only slightly higher. While 39 percent of the people surveyed said they more interested in the debates between Trump and Biden, 37 percent said their level of interest in the debates was the same as it was during Trump's first presidential campaign.
The poll also revealed an increase in people who have decided not to vote. In the previous poll, conducted September 9-11, only 2 percent said they would not vote. That number has increased to 7 percent in this week's poll. In addition, the number of undecideds fell from 9 percent to 7 percent.
The poll was conducted between September 21-23, after the death of Supreme Court Justice Ruth Bader Ginsburg. Following Ginsburg's death, Democrats and Republicans have been arguing over whether to replace her on the Court before January's inauguration.
In 2016, after Justice Antonin Scalia died, then-President Barack Obama nominated Judge Merrick Garland. Senate Majority Leader Mitch McConnell refused to hold a hearing for Garland, saying it was too close to the election.
This weekend, however, McConnell said hearings would be held for Trump's nominee, expected to be announced Saturday.
Newsweek reached out to the campaigns of both Biden and Trump for comment.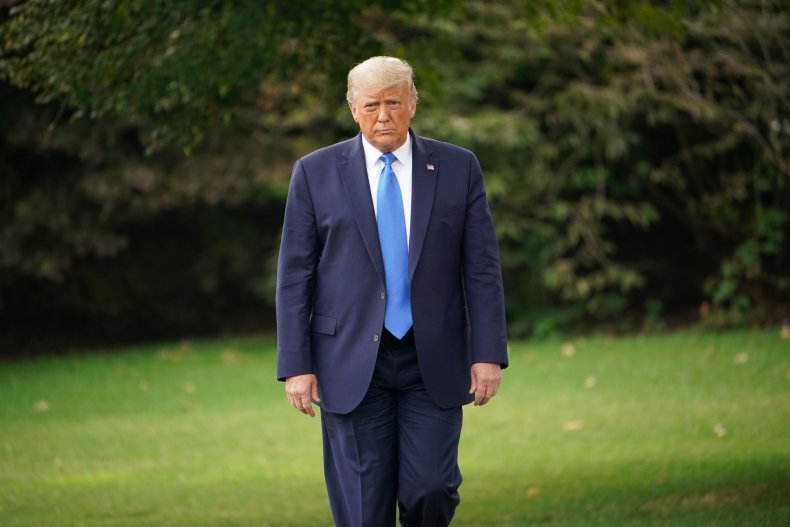 The Yahoo News/YouGov poll was conducted from a pool of 1,284 registered voters and carried a margin of error of plus or minus 4.1 percent.
In a September interview with Fox & Friends, President Trump said he was preparing to debate Biden by holding in-person campaign events across the country. Because of the threat of spreading the coronavirus, Biden's in-person campaign appearances have been few.
"I've been all over the place," Trump said, "and I watch this guy sitting home, and I think, maybe I'm doing it wrong."
Trump has also called for Biden to take a drug test before the presidential debates.
"He's taking something, or taking something that gives him some clarity," Trump said, adding that he would also be willingly be tested for drugs.
During a fundraiser in September, Biden said the debate would afford him the opportunity to hold President Trump "accountable."
"I think I know how to handle bullies," Biden said. "We'll find out."
Case Western Reserve University in Cleveland, Ohio is expected to host the first debate between Trump and Biden in September. Fox News anchor Chris Wallace is slated to be the sole moderator of the event.